At a recent Senate Banking Committee hearing, Senator Robert Menendez of New Jersey, responding to comments about large transit subsidies, remarked that the last federal highway bill included $200 billion in subsidies for highways.
The Senator should know better. The federal highway bill builds highways with fees paid by highway users, not by subsidies. Perhaps the Senator was frustrated at having just heard an effective fact-based dismantling of transit lore in testimony by the Cato Institute's Randal O'Toole and felt it necessary to strike out at the mode by which nearly all travel occurs in the United States.
In fact, virtually all of Senator Menendez's $200 billion for federal highway spending come from user fees, which are paid by people and companies that use the highways, not subsidies. The Menendez comment might simply result from ignorance. But often the error appears to be the purposeful muddying of an issue that has become so common in public affairs.
The "subsidy" litany is accepted by many in the public, who have better things to do than to check the veracity of statements by public "servants". As a result, we offer this primer on the subject, not only for casual observers of public policy, but also for any members of Congress who might have an interest in veracity.
What is A Subsidy?
A government subsidy occurs when taxpayers are forced to pay for a government service, whether or not they use it. Subsidies are legitimate. Subsidies are needed to fund government services demanded by the electorate, such as welfare services and education. On the other hand, payments made by users of a government service (or private goods and services) in proportion to their use are not subsidies. They are user fees, including taxes on the use of gasoline and other fuels.
This point can be illustrated by looking at the electricity industry. No one would suggest that Potomac Power, Pacific Gas and Electric or other privately owned utilities that are supported by payments from consumers are subsidized. Similarly, government owned utilities like the Los Angeles Department of Water and Power, Austin Energy and the Tennessee Valley Authority are not subsidized, since they receive their funds from users. It would have been no more absurd to characterize user payments to electricity companies as subsidies than to characterize the federal highway program as subsidized (Note 1).
There is a simple way to tell the difference between subsidies and user payments. With subsidies you pay whether or not you use the service. In contrast, with user fees, you don't pay if you don't use. People who don't use electricity from the Los Angeles Department of Water and Power don't pay and people who don't use the highways don't pay either.
Transit Subsidies
Everyone agrees that transit is subsidized. Approximately one-quarter of transit's operating and capital funding comes from passenger fares. Nearly all of the rest is subsidies. Moreover, an "open and shut" case can be made for subsidies to transit as a welfare service in core cities where it provides the only mobility for some lower-income residents who do not have access to cars. The case is, however, less than "open and shut" with respect to the substantial subsidies for upper-middle income commuters such as those from Connecticut, the Hudson Valley and New Jersey to Manhattan, or from tony East Bay suburbs to San Francisco, or for well-paid Maryland and Virginia commuters into the District of Columbia.
A 2004 United States Department of Transportation (USDOT) report indicated that federal subsidies to transit amounted to $0.16 per passenger mile in 2002. Our update of this report estimated that the federal subsidy had risen to $0.17 per passenger mile by 2006. Overall, federal subsidies to transit were $7.7 billion in 2002, which increased to $8.6 billion in 2006 (Figure 1).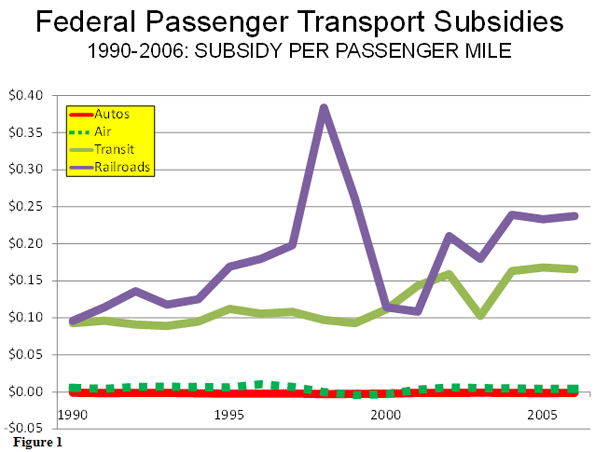 Subsidies to Highways
Virtually all federal highway spending was financed by fees paid by users in proportion to their use of the highways. There was no taxpayer subsidy.
Indeed, the USDOT report indicates that in 2002, the federal government made a profit on automobile use of highways of $0.001 and had made a profit in every year since 1990, the first year reported upon. Overall, automobile use of the highways earned the federal government a profit of $4.5 billion in 2002 and $5.5 billion in 2006 (Figure 1).
The profits made by the federal government on highways indicate that highways are, in fact, subsidizing other government services. Senator Menendez neglected to mention, of course, that last highway bill (called "SAFETEA-LU," its predecessor was called "ISTEA," pronounced by insiders as "ice tea") included $34 billion in subsidies by highway users for transit. For more than 25 years, federal law has required an add-on to highway user fees to support transit. Today nearly 15 percent of highway user fees are used to subsidize transit. In fact, road users pay 15 times as much in gas taxes per passenger mile on transit as they paid for highway expenditures (Figure 2).
The profits do not stop at the federal level. Federal Highway Administration data indicates that user fees exceed the federal and state share of money spent on state highways, these being intercity highways, urban freeways and some other urban roadways. Only at the local government level are expenditures more than highway user fees, indicating subsidy.
A real world parallel: Most of us have had Starbucks coffee. Our Starbucks coffee is not subsidized; rather we pay for it, 100% of it (Note 2). We can call this a price or we can use the public policy synonym, a user fee. As in the case of highways, those who do not drink Starbucks coffee do not pay for it. However, if Starbucks were financed like the federal highway program, 15 percent of the price of the coffee would be taken to subsidize tea drinkers (the authorizing legislation might be called ICECAFE).
Airports
While Senator Menendez did not refer to airports, those afflicted with a love affair with trains frequently claim that airports are subsidized in order to argue for massive expenditures on high speed rail, intercity rail and Amtrak. They are nearly as wrong as Senator Menendez. The air transportation system is overwhelmingly paid for by users, through taxes on tickets and airport fees. As in the case of highways, only those who use airports and the commercial air system pay for them.
There are relatively small subsidies to commercial air transportation. The USDOT report found subsidies per passenger mile of approximately one-half penny.
By comparison, the nation's intercity passenger rail system (Amtrak) was subsidized to the extent of $0.21 per passenger mile in 2002, according to the USDOT report. Our report found that the figure had edged up to $0.24 in 2006, more than 50 times the subsidy to the commercial air system (Figure 1).
These commercial air subsidies, however small, should be eliminated. Failing that, train proponents have grounds to ask for up to a half-penny per passenger mile of subsidy for high speed rail and intercity rail. Beyond that, equity requires that high speed rail and intercity rail be financed the same way as the commercial air system: with passenger fares, taxes on rail tickets and fees for the use of railroad stations.
The Bottom Line
The bottom line is that you pay for your coffee from Starbucks, you pay for your electricity from the Los Angeles Department of Water and Power and you pay for your federal highways with your own money, not with subsidies by people who do not use them.
---
Note 1: Of course, if general taxpayer funding is provided to electric utilities, such payments would be subsidies, whether the utility is privately owned or owned by government.
Note 2: All of this assumes that the local Starbucks is not the recipient of special tax incentives or abatements that might have been used by local government as enticement to locate in the community.
Wendell Cox is a Visiting Professor, Conservatoire National des Arts et Metiers, Paris. He was born in Los Angeles and was appointed to three terms on the Los Angeles County Transportation Commission by Mayor Tom Bradley. He is the author of "War on the Dream: How Anti-Sprawl Policy Threatens the Quality of Life.
"