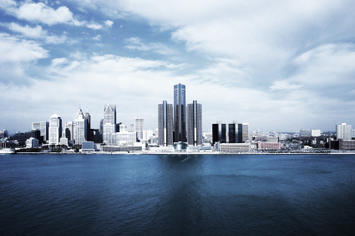 If Brookings' plan for Detroit isn't enough to get the job done, what is?
Turning around Detroit means facing head on the core problems that hobble the region, notably:
• America's worst big city race relations
• A population that is too big for current economic reality
• A management and labor culture rooted in an era that no longer exists and is unsuited to the modern economy
• A tax, regulatory, and political system toxic to business
A robust plan for renewal in Detroit will tackle these problems, recognizing that matters like improving race relations and cultural change need indigenous solutions from courageous local leaders. Then mix this with best practices from elsewhere and innovative, unique to Detroit solutions. And be patient, knowing the turnaround won't be a short journey.
1. Repair race relations. The city-suburb divide in Detroit, to an extent far greater than elsewhere, is a matter of black and white. Bringing racial rapprochement won't be easy, but it is an absolute imperative for future regional success. Perhaps a newly shared sense of economic pain can foster this, along with grass roots connections such as white urban gardeners making common cause with black ones seeking better access to fresh foods.
2. Active shrinkage. Many recognize the need for Detroit to "right size" to its reduced population and for federal help doing so. But beyond adjusting to the city's decline, the region remains too big. Detroit no longer needs large armies of unskilled and even skilled laborers in its factories. There is simply no economic raison d'etre for a region the size of Detroit in that location today. A lot more people need to leave Detroit. Many already would like to but can't because they can't sell their house or afford to move. Serious consideration should be given to a federally assisted voluntary relocation program when the national economy recovers to help Detroiters move to Texas or other places with strong jobs growth if they want to. Detroit should also engage with those who did move away to create an urban alumni network. In a globalized economy, those Michigan expatriates can serve as a sort of field sales force for the city.
3. Improve the Business Climate. Michigan's government needs to be downsized to match a downsized state. Dubious programs of all types, from film industry subsidies to "cool cities" initiatives need to be scaled back or eliminated. The criminal justice system should be reformed to stop over-incarcerating non-violent offenders. Streamline or eliminate regulation wherever possible, and make those that remain operate swiftly and predictably. Eliminate or merge overlapping jurisdictions, and especially non-general purpose entities that are too often patronage dumps operating out of the public eye. Reduce taxes on business, especially small business.
4. Change the culture. Michigan's social and business approach, its labor and management culture and business practices were designed for a stable industrial age dominated by a limited number of large and vertically integrated corporations. Today's economy is based around smaller, more innovative, nimble firms, virtual networks of people and collaborative business relationships, rapid change, and a competitive global environment. This sort of change has to come from the inside. No one can just tell Detroit how to do it.
5. Renew Brand Detroit. How does Detroit want to be known in the world and how can it make itself known? Within a framework of shrinkage, Detroit needs to become attractive to the right new talent and new businesses. It needs an aspirational narrative that is authentically Detroit in a way "cool cities" will never be. Cool, No – but edgy? Definitely. Think of Detroit as the new American frontier, a blank canvas where anything is possible, and the ultimate arena in which to pursue alternative visions of urban life. A place where you can pursue a personal urban vision without getting tortured by a Byzantine blizzard of bureaucracy. This should be nourished – and preserved – by maintaining a "light touch" approach to regulation in the city proper. The region is well positioned to attract new urban pioneers and homesteaders, and to leverage its reputation as both a black city and large Arab population center. Detroit should stand proud as "Detroit". It shouldn't hide behind euphemisms like "Southeastern Michigan" or "The Big D" - as if that fools anybody. Detroit is a name with international recognition and resonance. Wear it with pride.
6. Pursue Targeted Industry Clusters. The auto industry will remain a mainstay in Detroit, particularly management and R&D, though a lot smaller after a federally assisted restructuring. But the city should be wary of overly pursuing "me-too" industries like life sciences without distinctive advantages. Instead, Detroit should look to get its "fair share" of those, then look for where it is positioned to uniquely excel and try to create the environment favorable for investment. Potential targets include:

A lead role in international trade with Canada.
Dominating and expanding non-energy/non-financial trade and relations with the Middle East and Muslim world. With America's largest Arab population, Detroit is positioned to be the American gateway to that ever more important part of the globe the way Miami is to Latin America.
Music. Detroit has one of America's richest and most innovative musical legacies, from Motown to electronica to hip hop. But it hasn't profited from it. Detroit needs to take a page from Nashville and figure out how.
Realize the Detroit Aerotropolis plan.
Alternative urban visions. The recipe for grass roots neighborhood renewal in the city, and a potential innovation cluster for any new Detroit ideas that gain widespread adoption.
7. Rationalize Regional Governance and Infrastructure Investment. Detroit should seriously question any expansion of infrastructure when shrinking in regional population. All subsidized infrastructure expansion outside of currently fully urbanized areas should be terminated. It makes no sense to be widening streets on the fringes when you are ripping them out in the city. In this context, the kind of fixed rail investments advocated by Brookings and other "me too" urban boosters should be avoided in this highly decentralized region. Rather, the central city should start with a quality bus network, with rail added later if and only if existing ridership justifies it.
8. Secure Irreplaceable Assets. Detroit built amazing treasures during its golden age, many of them lost or threatened. Detroit has one of the largest collection of pre-War high rises in America. Yet many of them stand vacant. Another gem, the Lafayette Building, is about to be demolished because it is so badly deteriorated, with trees growing on the roof. Some funds need to be earmarked for securing and and supporting basic maintenance such as roof integrity. While there may not be demand to reuse these structures now, they are irreplaceable and should be saved for future generations. On the cultural side, Detroit needs to ask itself tough questions about institutions like the Detroit Institute of the Arts and the Detroit Symphony Orchestra that are bleeding red ink.
The road back for Detroit won't be short or easy. It will certainly not be back as the colossus of its past. But Detroit can grasp a more successful future if it finds the courage and the leadership to change, and to find a unique path forward for a city that is simply not like anyplace else in the world. Conventional wisdom solutions are just not enough. It will take radical change, new attitudes and an ability to think independently about what's best for the region.
The Brookings Plan

The Urbanophile Plan

Race Relations

Segregation is acknowledged

Improving race relations is a top imperative

Regional Governance

Strong Regionalism Featuring:
- Council of Mayors
- Regional transportation and land use management
- Potential tax sharing
- Receivership for failed government entities

Adopt Brookings Plan

Brand Positioning

N/A

- "The New American Frontier", the land of possibility, a blank canvas, and the ultimate arena in which to realize alternative and new visions of urban life.
- "Detroit", NOT "Southeast Michigan", "The D", etc.

Economic Development Paradigm

Government industrial policy

Improve the business climate

Fiscal Policy

N/A

- Downsize all level of government to match a downsized Michigan and Detroit
- Eliminate dubious programs (e.g., film industry subsidies and "cool cities" initiatives)
- Merge or eliminate overlapping obsolete jurisdictions
- Cut taxes on business, especially small businesses

Regulatory Reform

N/A

- Seek out and eliminate rules without a clear rationale and net benefits, esp. ones that negatively affect the business climate
- Make remaining regulations operate swiftly and predictably
- Reform a criminal justice system that over-incarcerates for non-violent offenses
- Maintain "Light Touch" Regulation in the City of Detroit to Sustain Frontier Appeal

Target Economic Sectors

- Advanced Manufacturing / Auto-Related R&D
- Green Industry
- Life Sciences
- University Spin-Offs

- Advanced Manufacturing / Auto-Related R&D
- International Trade with Canada
- Non-Energy/Non-Financial Trade with the Arab and Muslim World.
- Music-Related Development
- Aerotropolis Industry
- Alternative Urban Visions (e.g., urban agriculture, urban decay tourism)
- "Fair Share" of Green Industry, Life Sciences, and University Spin-Offs

Auto Industry Future

Federally assisted restructuring

Adopt Brookings Plan

Management & Labor Culture; Regional Business Practices

N/A

Urgent change is prerequisite to success

Human Capital Targets

N/A

- New Urban Pioneers
- African Americans
- People of Middle Eastern or Muslim Origin
- Musicians and Musical Acts

Adjusting to Population Loss

- Government sponsored footprint shrinkage
- Brownfield remediation

Adopt Brookings Plan and Supplement With
- A federally-assisted voluntary relocation program
- Creation of a "Detroit Alumni Network"

Transportation

Rail transit

- Terminate highway and other infrastructure expansion outside of fully developed areas
- Build privately funded Woodward light rail, then avoid further rail investments
- Improve the urban bus network
- Build new bridge crossings to Canada
- Support improvements to entire 401/I-75 corridor for freight growth

Historic Preservation

N/A

- Inventory and invest to secure and "mothball" key historic structures, esp. pre-War downtown high rises
Aaron M. Renn is an independent writer on urban affairs based in the Midwest. His writings appear at The Urbanophile.