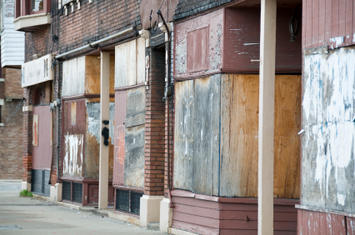 There is reason to think again about the now-current idea of dispersing the population of poor folks in the Skid Row district of downtown Los Angeles and similar precincts in other cities across the U.S.
There's cause to pause over notions such as mixing "affordable housing" that's priced in the range of working-class or poor folks alongside spiffy market-rate units.
There's some research going on that combines data analysis in the law-enforcement profession with efforts in the social sciences, and it's far enough along to raise questions about some commonplace assumptions among policy makers.
One questionable assumption is the notion that it's best to do away with old-fashioned, densely developed centers of subsidized housing – places such as Skid Row, or the many areas of cities across the U.S. known as "the projects." Conventional wisdom currently holds that such clusters on the low end of the socio-economic scale are best relegated to history and replaced with scattered sites.
Here's a simpler way of putting it: Recent years have seen government authorities ditch the old "projects" model – literally blowing them up, in some cases – in favor of programs that shift poor residents from the inner city to residences in outlying areas. They don't bunch the poor folks together, at least not in the cheek-by-jowl way of the old neighborhood. The idea is to mix things up and put a relatively small number of poor folks into any given middle-class neighborhood that is safer and has better schools. The presumption is that spreading poverty out will give the poor a greater chance to work their way up the socio-economic scale.
Such thinking bears a similarity to efforts by some public officials in Los Angeles who aim to make similar shifts possible based on regulations requiring builders to subsidize lower rents for certain numbers of units in their developments.
It's not exactly the same, and you can argue the finer points. But the truth is that the efforts to change the residential patterns of poor folks – and the talk of dispersing the social service agencies that serve low-income residents of neighborhoods such as Skid Row – aim for a goal that's similar to the top-down approach of blowing up the projects and moving folks to places beyond the city's center.
Also similar is the reason behind some of the efforts to move poor residents out of the downtown areas of many cities: gentrification. Cities want to spruce up their historic cores. They want new retail and residential developments that will generate more tax revenue than any densely populated housing project or collection of low-rent residence hotels will ever provide. Public officials have often presented such efforts with a two-birds-with-one-stone argument – poor folks get to go off to nicer, safer neighborhoods and the city gets a shiny new trophy in a redeveloped downtown.
There's an article in the current issue of the Atlantic that looks at recent developments in Memphis, Tennessee, where sociological researchers have been comparing law-enforcement data on crime trends to recent programs to relocate poor folks from the inner city to outlying areas. Some of the findings have the researchers leaning toward a different two-birds-with-one-stone argument on subsidized housing. They think it might just be that both the folks who were shifted from those hard-pressed areas and their new neighbors far away from the inner city are worse off for all the manipulations.
The research has not reached any definitive conclusions, and there are plenty of variables that must be considered with care. Still, there seems to be enough to raise serious questions about a trend in urban planning and public policy that has gone nearly unexamined for some time.
The Garment & Citizen yields to the Atlantic on this matter, urging anyone who is interested to give careful consideration to the piece, "American Murder Mystery."
We also urge all involved in the debate to ask themselves a few questions:
What is a neighborhood? Do common economic circumstances bring a sense of community that is necessary to any neighborhood? Is a poor neighborhood necessarily a bad neighborhood? If so, why?
Jerry Sullivan is the Editor & Publisher of the Los Angeles Garment & Citizen.