The Bureau of the Census has updated its city (municipality or local government area) population estimates for 2009. Predictably, anti-suburban interests saw more indication of the elusive (read non-existent) exodus from the suburbs to the central cities. One analyst even suggested that a "high quality" of life in one central city (Washington, DC) might have kept people from moving to the suburbs. In fact, since 2000, nearly 40,000 people (domestic migrants) have moved out of the city of Washington and in the last year, the city gained 4,500 residents while the suburbs gained 13,700.
In contrast, Buffalo News reporter Jack Ray looked at the data and noted that some cities in that metropolitan area were growing rather quickly, while others were losing population. Generally, he found that outer suburban communities were growing more quickly. Ray's analysis was reflective of trends around the nation.
There are nearly 20,000 incorporated cities, towns and villages in the United States. Population trends in these cities show that urban areas are growing most strongly on their suburban fringes or even in their exurbs. For example, two-thirds of the fastest growing 100 municipalities in the nation were suburbs or exurbs in the nation's major metropolitan areas (those with more than 1,000,000 population). The other third were all municipalities in smaller metropolitan areas or outside metropolitan areas.
The extent of this growth on the edge is illustrated by an examination of the nation's municipalities of 25,000 or greater population that grew more than 25% between 2000 and 2009.
Among the 89 municipalities that grew 50% or more, 59 were in major metropolitan areas and all were suburbs (nearly all near the urban fringe) or exurbs. The total population growth among these suburbs and exurbs was 2.2 million from 2000 to 2009, for an average growth rate of 91%. These major metropolitan suburbs and exurbs grew 1.8 million, while the municipalities outside the major metropolitan areas added 400,000.
Among the 119 municipalities that grew between 25% and 50%, 69 were in major metropolitan areas. This included 67 suburbs and exurbs. It also included 2 central cities, Raleigh (39%) and Atlanta (28%). These major metropolitan area suburbs and exurbs gained 1.7 million residents, while the two central cities gained a total of 200,000. The municipalities outside the major metropolitan areas grew 1,000,000.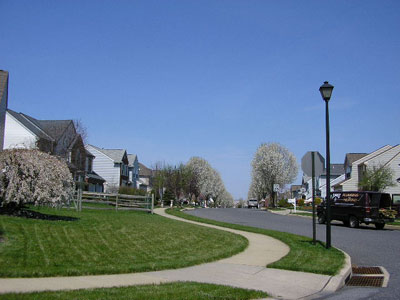 Combined, the fastest growing suburbs and exurbs with more than 25,000 population grew more than 3.5 million, while the municipalities outside the major metropolitan areas grew 1.5 million, for a combined growth of more than 5.0 million. The smaller high growth municipalities (under 25,000), nearly 1,200 of them, both major metropolitan and outside, grew another 2.5 million.
The fastest growing municipalities, excluding the two central cities of Raleigh and Atlanta, accounted for nearly one-third of the nation's growth between 2000 and 20009.
Most of the fast growing suburbs and exurbs have names that are simply not recognizable. Yet, a half-dozen added nearly as many or more new residents than all of the 20-plus central cities combined in the major metropolitan areas that do not have large swaths of suburbanization inside their borders. These include such places as Phoenix suburb, Surprise, Dallas-Fort Worth suburb Frisco and Riverside-San Bernardino suburb Beaumont.
In Crabgrass Frontier: The Suburbanization of the United States
, Kenneth Jackson noted that central Philadelphia began losing population in the early 19th century. The dispersion of America continues.
Photograph: Exurbs of New York: Pike County, Pennsylvania