A bridge crashes into the Mississippi at rush hour. Cheesy levees go down in New Orleans and few come to help or rebuild. States must rely on gambling for revenue to run essential public services yet fall farther into the pit of structural deficits. Clearly we have gone a long way from the legacy of the New Deal.
The forces responsible for this dismantling are what Thomas Frank calls "The Wrecking Crew," the ideological (and sometimes genealogical) descendants of those who have waged war against Franklin Roosevelt's New Deal since its birth 75 years ago. Few today articulate any vision of what Americans can achieve together because "the public" is the chief and intended casualty in that long war.
Those whom the mass media routinely refer to as conservatives better know themselves as counterrevolutionaries against what FDR wrought. Ronald Reagan proclaimed that government is the problem as he made it so. Almost two generations after President Roosevelt's death, President Reagan and his conservative surrogates depended upon the amnesia of those who know little about what the New Deal did and what it still does for them to undo parts of its legacy.
I was not much more enlightened when I began what became the California Living New Deal Project four years ago. I thought that — with a generous seed grant from the Columbia Foundation — photographer Robert Dawson and I could document the physical legacy of the New Deal in California. Since the New Deal agencies were all about centralization, I thought, I would find their records neatly filed back in Washington at the National Archives and Library of Congress. I was wrong on all counts.
I discovered, instead, a strange civilization buried beneath strata of forgetfulness, neglect, and even malice seventy-five years deep. Aborted by the Second World War FDR's sudden death, then covered with the congealed lava of the McCarthy reaction, the half dozen or so agencies that had created the physical and cultural infrastructure from which grew America's post-war prosperity left few accessible records of their collective accomplishments. So many-pronged and multitudinous was the Roosevelt administration's onslaught upon the Depression that even FDR's Secretary of the Interior and head of the Public Works Agency (PWA), "Honest Harry" Ickes, admitted that he could not keep track of it all.
With the help of hundreds of photographs scanned at the National Archives and other collections, journal articles of the period, historical surveys, mimeographed WPA reports, as well as local historians and other informants, an indispensable matrix of public works was revealed to me. Most of our urban airports and rural airstrips, it now appears, began as projects of the WPA and CCC (Civilian Conservation Corps), while California's many community colleges are similarly New Deal creations. (Between two illustrated talks I recently gave to large audiences at Santa Rosa Community College, Professor Marty Bennett led the first New Deal tour of a campus almost entirely built by Ickes' PWA.) Committed to public education in all of its manifestations, the WPA and PWA built and expanded literally hundreds of schools throughout the state to replace older buildings that were seismically unsafe, inadequate, or nonexistent. Most are still in use.
The availability of plentiful and cheap labor as well as PWA grants and loans made the Bay Area one of the most desirable regions in the country by giving it a vast network of public parks and recreational areas. A WPA report on that agency's accomplishments in San Francisco noted that WPA workers had improved virtually every park in the city: that now appears to be true of most older towns in California where federally employed workers left a legacy of handsome stonework, public stadia, tennis courts, golf courses, swimming pools, baseball diamonds, and restrooms but few markers. Other federal employees built a network of all-weather farm-to-market roads enabling growers to get fresh produce to towns and tourists to visit every corner of the state. Still others completed and expanded public water supplies and electrical distribution systems as well as sewage treatment plants that, for the first time, insured the majority of Americans safe and plentiful drinking water.
As the scale and extent of that often forgotten civilization grew ever larger, cataloging and mapping it fast outpaced my organizational and technical skills. With the joint sponsorship of the California Historical Society, the California Studies Center, and the Institute for Research on Labor and Employment (IRLE) at UC Berkeley, the California Living New Deal Project morphed into an unprecedented collaborative effort to use informants throughout the State to inventory and map what New Deal agencies achieved and to suggest what might have been. In particular, I am grateful to the IRLE Library whose staff maintains and continually expands the CLNDP website with input from research assistants and informants.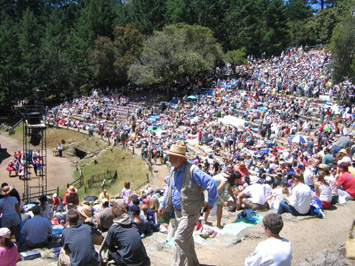 The Roosevelt Administration and those it brought to Washington envisioned a collectively built America whose immense productive capacities could benefit all. A profusion of splendid public spaces such as Mount Tamalpais State Park's Mountain Theater and the Santa Barbara Bowl would, they believed, make citizens and community of a polyglot populace. Together with a plethora of well-built public schools, libraries, post offices, parks, water systems, bridges, airports, hospitals, harbors, city halls, county courthouses, zoos, art works and more, New Deal initiatives spread the wealth and enriched the lives of uncounted Americans.
In his last State of the Union address, FDR's firm and confident voice enunciated the need for a second bill of economic rights that would ensure everyone a modicum of freedom, a freedom that his country promised but so often failed to deliver. If extended worldwide, Roosevelt suggested, that Bill of Rights could short-circuit future wars such as the one still raging as he spoke. "Necessitous men are not free men," he told the nation, a condition afflicting the vast majority of people today.
Gray Brechin is a Visiting Scholar at the U.C. Berkeley Department of Geography and the Project Scholar of the California Living New Deal Project. He is the author of "Imperial San Francisco: Urban Power, Earthly Ruin" and, with photographer Robert Dawson, "Farewell Promised Land: Waking from the California Dream."