When Brent Richardson, a field rep for Cadillac, was told he'd been transferred to Des Moines, he assumed he'd be spending the next year in a small town environment. Des Moines turned out to have much more bustle than he expected. The city had a robust insurance sector among its diverse industries. And the lifestyle was very similar to what he was able to live in big city suburbs like Naperville, Illinois or Bellingham, Massachusetts. Steeped in a decade of Farm Aid concerts, he also expected the surrounding rural areas to be populated with hardscrabble homesteaders struggling to hang on. Instead, he discovered that farming was big business – and, these days in particular, reasonably profitable. And some of those Iowa farmers turned out to be Cadillac buyers.
Richardson's outsider view of Iowa is typical. Few people give it much thought, and those who do conjure up visions of cornfields and American Gothic. There's some truth to that, but the real Iowa today is much more than that. A resurgent but industrialized agriculture sector and thriving cities give the state a 1-2 "agro-metro" punch, although large areas of the state still struggle.
Straddling the Midwest and the Great Plains, Iowa is in a region known for trouble. But the state has managed to pile up impressive statistics. Iowa lost fewer jobs than the nation in the last decade, and has consistently maintained a lower unemployment rate. In 2009, Iowa's unemployment was only 6.0% compared to a national average of 9.3%, a huge differential. Its agricultural sector is booming. So far this year US farm cash incomes were up 23%. That's increasingly driven by large farm operations, as 75% of farm output comes from just 12% of farms. Iowa is right in the middle of this.
But if the state as a whole looks reasonably healthy, this obscures its unevenness. Des Moines and big farms are doing well, but many rural and manufacturing communities are not. This is best illustrated by a map of domestic migration over the last decade.


Net Domestic Migration, 2000-2009, in-migration in gray, out-migration in red. Darker shading denotes intensity.
This shows net in-migration in grays and net-outmigration in pinks. The darker gray areas are clustered in metro Iowa, which is showing incredible growth, particularly around Des Moines. Des Moines population is actually up 16.5% in the last decade, about double the national average growth rate. In a decade where the US as a whole didn't add any jobs, Des Moines powered ahead on employment by 9.3%. It's GDP per capita is actually 12% higher than Chicago's.
Many other Iowa metros are likewise doing well. Dubuque recently landed a 1,000 job operation from IBM and grew its employment by over 3% last decade. Dubuque, along with other Iowa metros like Ames and Sioux Falls, grew economic output per capita faster than the average for the rest of America's cities.
But for non-metro Iowa, it can be a different story. Some big farmers are doing well, but many places are living up to their Great Plains reputation; they are simply drying up and emptying out. They are too remote, too sparsely populated, too lacking in talent concentrations, and ill prepared for the demands of the global economy.
As farming transforms, cities thrive, and other areas shrivel, Iowa in changing, splitting into two states as its regions diverge, and becoming increasingly metropolitan in character.
This divergence is most easily illustrated by a chart of population: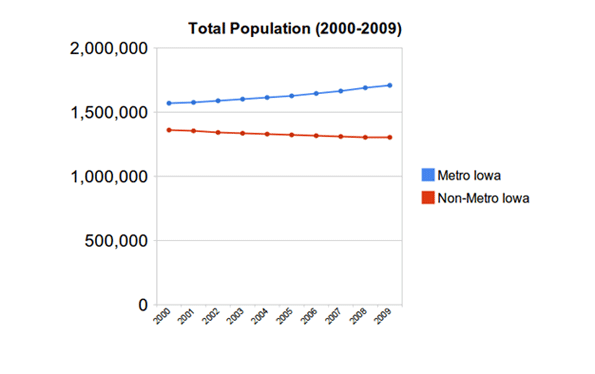 There are already more people living in metro areas than non-metro areas in Iowa, and the gap is only getting wider. Non-metro Iowa is actually shrinking as people leave and the population re-orders itself in the state: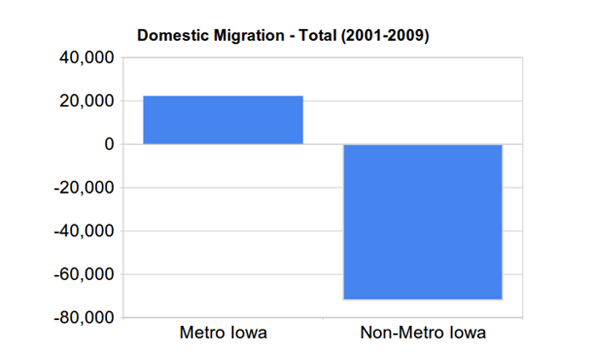 Non-metro Iowa also has a larger senior population and lower population of working age. Generational turnover will drive even further population declines over time: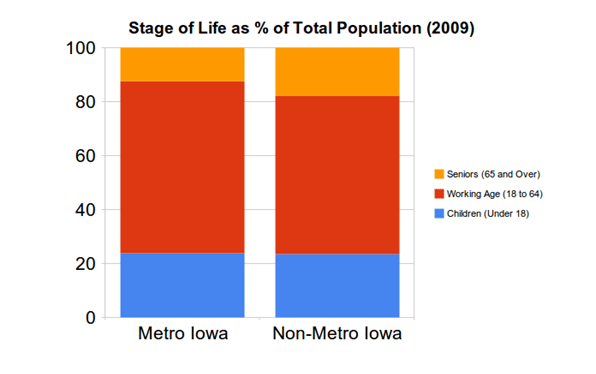 And of course, these demographic trends are reflected in employment numbers as well, with metro Iowa adding jobs even in the last decade while non-metro Iowa is losing them.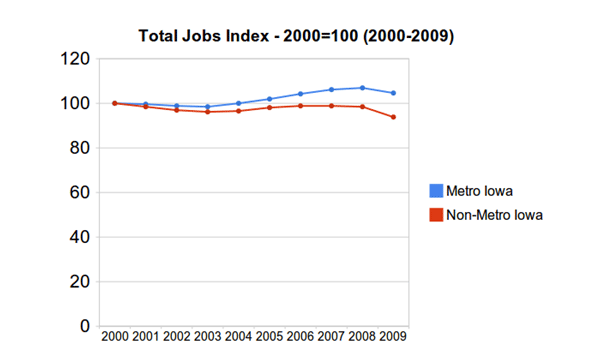 People's opinions of Iowa are largely shaped by which of these two states they are looking at. More people tend to think about the struggling parts because that fits the traditional coastal media narrative and those places look big on a map. Iowa's thriving metro regions are often overlooked because they are smaller and don't fit the mold espoused by big city urbanists. Des Moines might not look like a Boston or Chicago, but that doesn't mean it isn't prosperous - and growing at almost Sunbelt rates.
Like all of America, Iowa is a state in transition. And while it faces challenges to be sure, it's managing that change better than most. Iowa's future is likely to be very different from its small town past. It will be a more urban state, with several thriving metro regions. Farming will remain important, but will increasingly as a big business operation. Iowa's future will be neither small town nor "hip cool" big city; it will represent the kind of agro-metro future that is emerging across wide swaths of America's heartland.
Aaron M. Renn is an independent writer on urban affairs based in the Midwest. His writings appear at The Urbanophile.
Photo by Pete Zarria