The first Census results for Indiana were recently released, painting a picture of an increasingly metropolitan state.  Indianapolis continues to be the growth champion as its strong economy attracted people from the rest of the state, as well as increasingly diverse populations.  Although  the core of Indianapolis fell well below expectations, its population did not fall like that of Chicago. In a switch from some other regions, the outer suburbs also lagged expectations while inner suburbs boasted a robust performance.
Population Change in Indiana
The map below shows how Indiana's counties faired between Census 2000 and 2010, with counties gaining population in black, and those losing population it in red.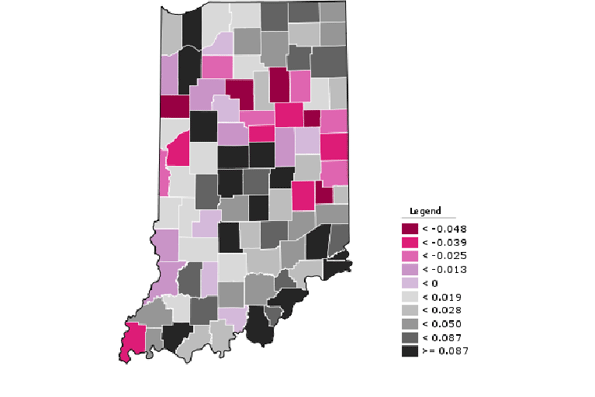 Many rural and small industrial counties either shrank or posted anemic population growth while most metro counties, especially suburban ones, were standouts.  This is particularly illustrated by this map highlighting only those counties that grew faster than the statewide average: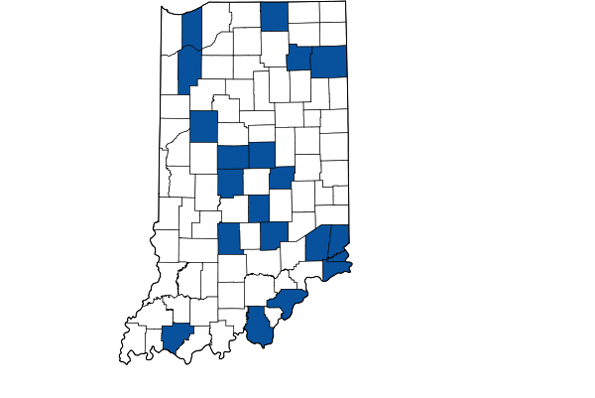 This list features heavily counties in suburban Indianapolis, Cincinnati, Louisville, and Chicago, as well as areas near midsized cities like Fort Wayne and Evansville.  Big Ten college towns Bloomington and Lafayette also did well.
Metro Indianapolis: Indiana's Growth Champion
But the clear population winner was metro Indianapolis, which grew at a rate 15.2%, nearly double the US average and well above that of the state: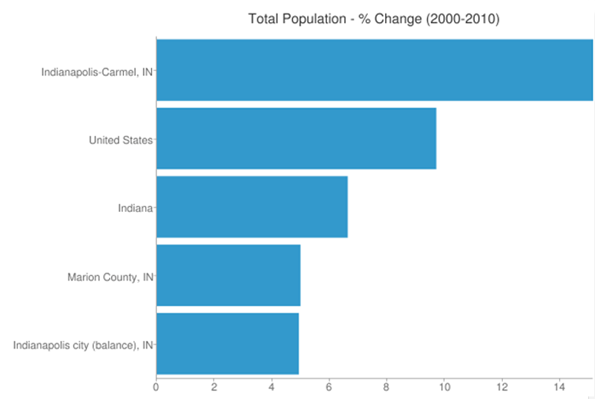 The growth even extended even to the central city/county, with Marion County breaking the 900,000 barrier.   The 231,137 people added by metro Indy was fully 57% of total statewide growth, even though that region only contained 25% of the state's population in 2000.  Unsurprisingly, metro Indy added 15,000 jobs during the last decade while the rest of the state shed nearly 200,000 of them.
Indy Suburban Migration Missed Expectations, But No Core Renaissance Either
Indianapolis showed some of the same urban core patterns as Chicago, which bodes ill for the back to the city story at the national level.  There is a city-county consolidation in effect which muddies the waters here, but the old township boundaries that are still reported by the Census Bureau as minor civil divisions can serve as a proxy for old boundaries.  Center Township covers most of what used to be the old City of Indianapolis, while the remaining townships constitute the Inner Suburbs and the collar counties the Outer Suburbs.
Those of us who are urban boosters were excited that the Census Bureau estimates showed Center Township's decades long population slide ending and even hitting an inflection point during the 2000s. Alas, these Census results demolished that notion as Center Township was shown to have lost 24,268 people, falling well short of estimated population in 2009.  Like Chicago, the inner city also featured a large black exodus.
But the Outer Suburbs didn't fare that well either, especially Hamilton County.  Long ranked among the fastest growing in the entire United States, I had been waiting to see if growth there might have been slightly above trend as in the past and put them over the 300,000 mark. It turns out to be a very different story, as Hamilton County's 2010 population was 274,659, actually coming in below the 279,287 the Census Bureau had estimated in 2009. Still, the majority of regional growth was still in the Outer Suburbs, although less than estimated.
This of course means that the Inner Suburbs did better than expected, particularly the southern ones of Perry and Franklin Townships, which still have some greenfield development opportunities left.  As in cities across the US, older Inner Suburbs of Indy have been experiencing their own problems as they aged. But this shows that the problems may not be as bad as feared.  Though the economy doubtlessly affected this, nevertheless it still buys additional time for transformations driven by demographic growth and entrepreneurship among immigrants and a burgeoning black middle class to take root.
More Diversity, But Still Not That Diverse
Indianapolis and Indiana grew more diverse during the 2000s particularly with Hispanic immigration. But again the changes were concentrated in metro areas.  And Indianapolis, long a very white city with a black minority, showed very strong growth in diversity, but still not enough to make this a truly diverse place in the manner of New York or Los Angeles.
As in Chicago, the core lost black-only population, but other than that it was a very different story.  Metro Indy added 48,824 new blacks, a growth rate of 22.8% that outpaced overall growth.  This boosted black population share by nearly one percentage point.   Unlike Chicago, where local journalists are asking what happened to the city's incredible shrinking black population, leading Indy black talk show host Amos Brown issued a press related titled "Blacks Fueled Indy's Growth in 2010 Census Reports" to trumpet the black numbers there. One big reason might be: in contrast to Chicago, Indianapolis' African-Americans did not have to flee south for jobs or affordable housing.
The black core population decline in Indy seems less driven by gentrification than the prosaic concerns that generally drive suburbanization, such as safer streets,  better housing and schools.  This migration pattern is very evident in places like the Inner Suburban Lafayette Square area, which in addition to becoming a thriving immigrant business district is also home to large numbers of black owned businesses that are helping to transform this once decaying area.
The state's black population as a whole remains heavily concentrated in large urban areas, with Marion and Lake Counties accounting for 62% of the state's total black population.
Indy's Hispanic growth surged as well, with 66,715 new Hispanics representing a 161% increase, though this is less than some expected. Hispanic population growth was more evenly spread, though from a total numbers perspective Indy and northern Indiana dominated the growth, as illustrated by the following chart of total Hispanic population growth in the last decade: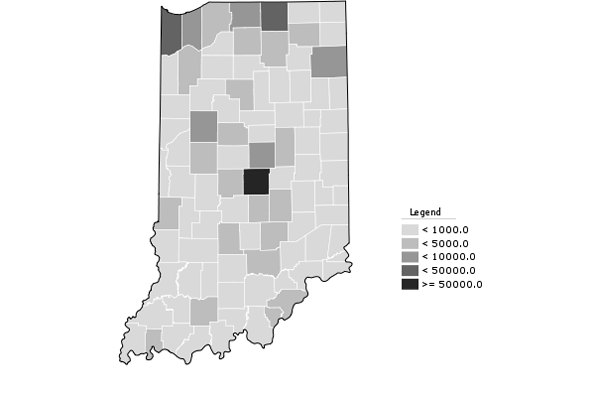 Indy's Asian population also more than doubled to almost 40,000..  Add this all up and the metro area non-Hispanic white-only population share dropped by six percentage points, but remains at 74.6%.  The city of Indianapolis itself is pushing 40% minority, however.  Regardless, this is still a material change and shows that metro Indy is a strong magnet not just for whites, but for pretty much everybody.  Its challenge is to continue building on this for the future, while the state's challenge will be to  pull itself up to Indy's level of demographic and economic performance.
Aaron M. Renn is an independent writer on urban affairs based in the Midwest. His writings appear at The Urbanophile.
Photo by Carl Van Rooy