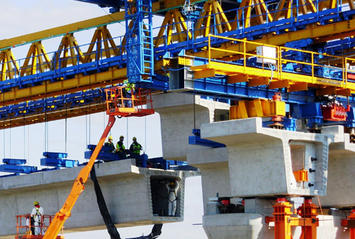 Long overdue rapid transit service from Washington DC to Dulles airport is now under construction. The Dulles Corridor Metrorail Project, known as the Silver Line, may seem like it was an obvious choice as a way to improve the region's public transportation. Construction began in March 2009, and service is expected to begin by 2013. As those who have used bus service from the DC area to the airport can attest, the current system — a regular city bus equipped with luggage racks — is inadequate. The buses are low capacity, and are not designed for highway driving.
While rail might seem like the most obvious solution, it is also by far the most expensive and slowest option. The price tag is staggering, and the rail extension will take years to construct. The better option would have been to make use of the existing roadways, and implement an expansive bus rapid transit system (BRT).
The 23 mile extension of the Washington Metro rapid transit system is forecast to cost $6.8 billion dollars; roughly $296 million per mile. The constant scramble to finance the over-budget project has resulted in more than one construction setback.
In contrast, consider how a BRT system could have worked, and what it would have cost. One lane in each direction on the Dulles Toll Road could have been designated as a high occupancy vehicle (HOV) lane, to ensure that buses could move relatively quickly. The average cost of implementing a BRT system running on an HOV lane is $8.97 million per mile (in 1999 dollars), which would have brought the cost to roughly $230 million. It should be noted that this average is heavily skewed by one costly project; two million to five million dollars per mile is more typical, which would make the final cost in DC between $52 million and $130 million.
The buses themselves would have had to be fully articulating — the kind that bend in the middle, also known as accordion buses — with overhead luggage compartments, and a capacity of roughly 87 passengers. They would likely cost somewhere between $750,000 and $1.68 million.
The overwhelming likelihood is that busses to Dulles would cost near the low end of the price range. The high end is based on the cost of buses used in Boston for their Silver Line BRT system to Logan Airport, where dual fuel electric/natural gas buses are used; these buses run underground, where they cannot burn gas, as well as on surface streets where there aren't any overhead electric lines.
The cost per passenger trip is likely to be lower for rail than for BRT, because of rail's higher capacity per vehicle; the train will transport about 175 passengers per car. Despite this, the lower per passenger operating cost doesn't come anywhere near making up for the massive capital cost. The interest alone on the $6.8 million dollar loan would equal $1,067,317 per day (amortized over 30 years at a 4% interest rate). This doesn't factor in the cost of the principle, or the operating cost.
Even after spending $6.8 billion, only about 10% of travelers to Dulles are likely to arrive by public transportation, according to projections by the Airport Authority. Compare that to 16% for Reagan , which is right in the city (Dulles is more than 25 miles outside of DC's central business district. This highlights another advantage of BRT: modularity. Instead of all or nothing, BRT can be gradually introduced, and levels of service can be adjusted to meet demand.
While access to Dulles isn't the full justification for the Silver Line, it's hard to imagine the rail extension ever paying for itself. At the end of the day, cost is the number one issue, and BRT wins hands down.
Steve Lafleur is a Policy Analyst with the Frontier Centre for Public Policy.
Photo: Metrorail Construction; truss erecting span at I-459 and Rte 123