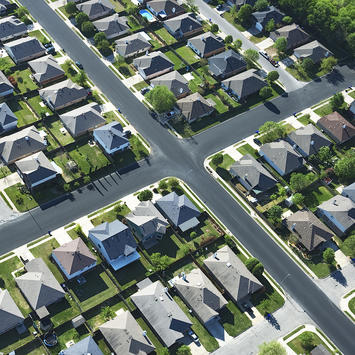 Since the early 20th century, the almost universal adoption of the automobile by US residents has had a profound impact on how we plan and design communities. The widespread use of the auto not only spurred development outside of traditional urban centers, it minimized the need to blend multiple land uses into compact areas.
In contrast, traditional neighborhood design, especially in the northern Midwest and Northeast, accommodated a microcosm of commerce including grocery, butcher, hardware, tavern, cafe and dining establishments to serve relatively small markets living and working within walking distance of the neighborhood.
The advent of the automotive age has spurred the development of suburbs outside the urban core that are characterized by carefully separated land uses, especially between residential and non-residential uses. Most cities developed zoning ordinances which created barriers to 'protect' residential sanctity. In contrast to this style of development, a new school of thought began to evolve in the early 90s, which followed the principles used to guide urban development prior to the dominance of the automobile.
Neo-traditional is the favored label for this new school of planning thought; however, the terms Transit Oriented Design (TOD), New Urbanism, Walkable Communities, Smart Growth and Sustainable Communities are also used to identify subcomponents of this form of urban growth. The basic principles behind the neo-traditional movement include:
enhanced walkability
mixed land uses
ease of access to public transit
sustainability
high density residential
defined town/commerce center
mixture of housing types
Each of these principles has merit and plays a valid role in the development decision making process. However, in the dash to adopt the neo-traditional model for suburban development, planners have attempted to create a formula of inflexible planning techniques that establishes a one-size-fits-all model with the goal of curing all of the ills attributed to suburban growth.
This tactical criteria of the Neo-traditional model, however, can create unintended negative consequences. The criteria to which I refer includes:
grid street patterns
connectivity to adjacent neighborhoods
mixed, non-residential land uses
alley access/rear loaded house
The inflexible application of these tactical criteria enhances opportunities for criminal activities to occur.
Predictable Criminal Behavior
To understand how a space can facilitate criminal activity, it is important to understand the relative opportunities and risks perceived in the criminal mind. 
There are many factors which contribute to criminal activity; however there are four factors a "thinking" criminal evaluates prior to engaging in crimes against property, especially home burglary. The first factor is anonymity; more specifically the ability to engage in a criminal act without being easily identified by potential witnesses. The second factor is the ability to study and evaluate a potential target prior to initiating the specific act. By integrating themselves and their vehicles into a neighborhood's daily routine, criminals can identify potential targets by determining the occupancy of residences or operating patterns of commercial establishments. The third factor is the ability for a quick, inconspicuous departure which is enhanced by the ability to easily flee the scene via multiple exit routes. The fourth factor is accessibility by car. Certainly some crimes are committed on foot, however a vehicle is predominately used to facilitate a hasty retreat and remove stolen goods from a burglary site.
Grid Street Patterns
As early as the 12th century urban design was used to discourage patterns of criminal activity in London. In the 1970s, studies began to document criminal activities and how they were facilitated by the design decisions that shape our everyday environment. The practice of utilizing design decisions to minimize criminal activity became known as "Crime Prevention through Environmental Design" (CPTED).  The CPTED Guidelines were developed through extensive study of criminal activities. I want to stress that environmental design decisions do not cause the criminal activity, but they can facilitate a more accommodating environment for it to occur. Oscar Newman explains in Design Guidelines for Creating Defensible Space how thoughtful design of the places in which we live, work, play and learn as well as the routes which connects them can significantly reduce the occurrence of crime against property. Google lists over 13 million sites on the topic "street design and crime". Simply stated, communities with greater street complexity (fewer exit routes) and fewer common destinations (land uses which attract non-residents) have lower rates of crime as noted in a study by Daniel Beaverton for the School of Criminology at Simon Fraser University. The grid street pattern combined with high level of connection to adjacent neighborhoods provides maximum opportunities for non-residents to enter and leave a neighborhood with minimal notice.
Advocates for highly connected neighborhoods contend that dispersing driving patterns over a greater number of neighborhood streets minimizes traffic congestion. However, it also creates a means for non-residents to traverse neighborhoods without undue notice. These dispersed travel patterns also allow potential criminals easy access and familiarization with neighborhoods in which they have little first hand knowledge.
In Newman's study for the U.S. Department of Housing and Urban Development, Defensible Space – Crime Prevention Through Urban Design, he notes that criminals seldom conduct their activity in areas not familiar to them.  Newman's theory concurs with the study prepared by C. Bevis and J. B. Nutter, Changing Street Layouts to Reduce Residential Burglary that burglars tend to victimize areas with which they are familiar.
Simply put, increased criminal activity is enhanced in communities where transient traffic is encouraged and increased street connectivity allows for ease of access, observation and escape. The practice of merging homes and businesses into a single community to reduce the reliance on the automobile has validity.  However, it also provides anonymity for criminals as they become cloaked within the community. The neo-traditional design relies on straight streets, rectangular blocks and interlinking grids to connect adjacent neighborhoods and provide numerous access and departure points for residents and non-residents. The grid system also provides criminals a means to anonymously cruise their target without detection.
The consequences of the neo-traditional community design are underscored by the National Crime Prevention Council's research that shows a correlation between the increase in accessibility for any street segment and the increase in the crime rate. 
To better illustrate the point, the Los Angeles Metropolitan Area is generally designed on the grid system. The network of streets allows traffic to leave congested roadways and traverse neighborhoods as an alternate route of movement. In 1996, the Los Angeles Police Department studied the effects of roadways on criminal activity, establishing barricades to stop thru traffic in high crime areas. The study concluded "closing thru streets makes offenders escape more problematic". For the two years after the barriers were put in place drug activity, residential break-ins, drive-by shootings and homicides were reduced by 65%. Many other inner cities' designs are based on grid patterns, New York City, Denver, Phoenix, Chicago, et al. This design increases the susceptibility to criminal activities in areas where poor maintenance, vacant buildings and low street traffic compound the pattern of crime.
Common Destinations Attracting Non-Residents
The principle of multi-use communities may provide a reduction of vehicular traffic, however multi-family and commercial uses draw non-residents into the neighborhood. Convenience stores, clubs and taverns operating well into the night provide a convenient venue for potential criminals to congregate and hang out.
Land uses which attract individuals from outside the community provide a neutral location to observe the adjacent neighborhoods as well as a cloak of activity for criminals to remain unnoticed.
Alley Access
Many neo-traditional communities require alley access behind all single-family dwellings. Although this creates a more aesthetically pleasing streetscape and enhances walkability, it also increases the street permeability and opportunity to observe all sides of the house as a potential target for burglary. Alleys also provide an additional means of escape as well as a venue for criminal activity as its utilitarian design discourages social interaction providing a welcome area to foster and avoid detection for criminal enterprise.
The current status of neo-traditional community planning is entering a crucial stage. The imposition of planning techniques to shape our future communities is forcing suburban growth into a dictated one-size-fits-all planning model endorsed and promoted at the federal level and enthusiastically supported by many states, local governments and most of academia. Without the flexibility to incorporate factors such as local values, market preferences and geographic character; future communities may result in higher housing costs, limit the selection of housing types while simultaneously enhancing the opportunity for criminal activity.
Obviously, the negative consequences identified can be mitigated.  However, the key here lies in planning flexibility. Many communities enamored with neo-traditional concepts seek to impose absolute formulaic solutions which offer little flexibility in compliance with the technical standards rather than focusing on achieving the guiding principles which form the basis of the neo-traditional movement.
Joe Verdoorn, a Principal at SEC Planning, LLC, has over 40 years land planning and development experience working with clients such as Pulte/Del Webb, Motorola, Apple and Hunt Investments.  He is a pioneer in the field of active adult community design who continues to research the retiree market to understand their evolving wants and needs. 
Photo courtesy of BigStockPhoto.com.