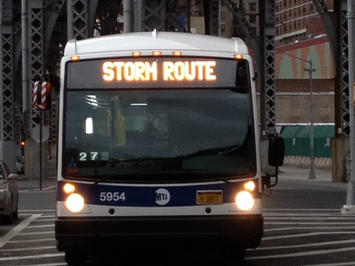 Deadline reporters, especially in weather broadcasts from the surf line, have been wailing about "this enormous storm" or "the unfolding tragedy." What they might also say is that hurricanes are a munificent windfall for newspapers, television stations, the federal government, construction unions, and politicians seeking reelection. In addition to classifying storms from one to five on the Saffir-Simpson scale, going forward it might also be possible to grade hurricanes as profit centers, or by the surge levels that they generate in reelection campaigns.
By all (usually breathless) accounts, Hurricane Sandy delivered a wide band of damage and destruction to areas stretching from North Carolina to Maine. Along with a death toll now approaching 50, a 13 foot storm surge in New York harbor inundated parts of lower Manhattan and Brooklyn, and millions of residents around New York, New Jersey, Maryland, and Pennsylvania lost power in their homes. The aftermath, unlike the legacy of Hurricane Katrina, however, is that the waters which flooded Manhattan's streets, tunnels and subways are receding with ebb tides, although the damage from surging waves and fallen trees is widespread, especially across New Jersey.
Although the storm will have cost the Mid-Atlantic region some $45 billion in cleanup costs, not to mention the loss of work days for many, even this perfect storm not seen in "a millennium" did not rack up the apocalypse that was predicted as Sandy "barreled" up the coast on its "rendezvous with destiny" in Atlantic City. From the teeth of the storm in New Jersey, my sister reported only an epic loss of cable and Internet.
The reasons storms rarely appear as they are cast on television is because, instead of acts of nature with a lot of wind and rain, hurricanes are now best understood as political spectacles, somewhere between nominating conventions and state lotteries.
Take the federalization of the disaster business. Previously storm damage and the costs of clean up were the responsibilities of states and municipalities, who in the first place made the decisions to allow homeowners to build houses and businesses on barrier islands, sand dunes, and low-lying waterfront property.
For much of the twentieth century, insurance companies refused to write flood or hurricane policies for stilted houses perched precariously on Cape Hatteras or wherever, which angered wealthy political donors, who equate their life successes with owning beachfront property.
Enter the federal government into the realm of disaster indemnification, when Congress passed the National Flood Insurance Program in 1968, to mandate that vulnerable home owners in potential flood zones purchase adequate insurance that private companies were refusing to cover. Think of it as Obamacare for beachfront homes.
Although the legislation was designed to cover the undue risks of shore properties, it also gave the political parties a mechanism that would allow (for all those waterfront contributors) a building boom on hurricane-exposed barrier islands.
At a time when global warming has increased the intensity and frequency of major storms and hurricanes (which are nature's teapots blowing off steam), we are living with the fallout of an earlier era, when the federal government doubled down by writing insurance for beachfront condos from Maine to Texas.
After the 2000 recount election came the transformation of Florida into a swing state in presidential elections, insuring that claim adjusters would reach hurricane damage zones as fast as FEMA's first responders. Before the 2004 election arrived, four more hurricanes had passed over Florida. In their wake came billions in federal aid relief, just to insure that neither awnings nor chads would be floating in the wind.
As powerful as hurricanes may be, they are no match for the construction lobbies, something I learned in the 1980s when writing about the National Hurricane Center in Coral Gables, Florida.
The then-director, Neil Frank, a man of ebullience and integrity, showed me a slide show on the back of his office door, explaining that it was folly to allow construction on Gulf and Atlantic barrier islands. That was thirty years ago, and since then cities of flimsy beachside construction have risen along the dunes.
What I admired about Frank was his passion for hurricane preparedness. He had walked the beaches of Biloxi, Mississippi in 1969, after Hurricane Camille, and measured that surge at 25 feet—something he then extrapolated to other beaches around the United States, including Atlantic City. But in urging a ban on beachfront buildings, he was shouting into an ill wind.
Not only was the federal government complicit in allowing places like Myrtle Beach to become housing projects (the poet Robert Watson called it "white Harlem by the sea"), it also assumed that its job performance could be measured by the number of blankets and water bottles that reached those crazy enough to "ride out" a major storm in their seaside mobile homes.
No doubt this is the Katrina Effect in American politics: The truism that if a big storm hits, the best place for the president probably isn't dockside in San Diego, playing Otis Redding tunes on a guitar. Nevertheless, it means that the federal government (not exactly a profit center these days) is on the hook for the rescues, the clean up, and the insurance claims.
The sad reality of Hurricane Sandy is that, despite all the Weather Channel epithets that it was "the storm of the century," a lot of it was ordinary. It wasn't even technically a hurricane when it came ashore near Atlantic City. What made it destructive was its size, and that it arrived late in the hurricane season and, by chance, merged with other Atlantic and Canadian storm systems. Imagine, however, if it had been one of Neil Frank's dreaded Category 4 storms?
Undoubtedly, President Obama would love to turn Hurricane Sandy into a backdrop for reelection spots that show him compassionate to his fellow Americans in times of need. The problem is that neither Wall Street underwater nor the flooded roulette tables in Atlantic City makes an ideal photo op or headline ("President Vows: We Will Not Let This Stop Us From Gambling!"). And I doubt he wants to campaign as the Claims-Adjustor-in-Chief.
Photo: MTA New York City Transit, Bus on the Move. Morningside Heights, 125th and Broadway, October 28, 2012, as Hurricane Sandy approached New York City.
Matthew Stevenson, a contributing editor of Harper's Magazine, is the author of Remembering the Twentieth Century Limited,
a collection of historical travel essays. His next book is "Whistle-Stopping America".