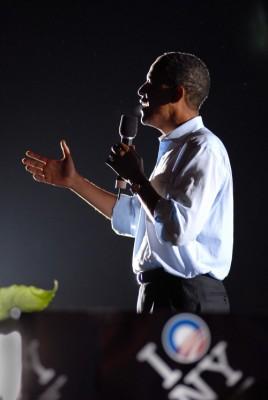 Senator Barack Obama has run the first campaign of the information age, and win or lose he has set the standard for how campaigns will be run from this point forward.
He has parlayed his inspirational speeches and personal appeal to the millennial generation into a base of small donors likely unequaled in modern election history. His campaign understood the power of the Internet and social networking and successfully used it as a resource to create political buzz about him and build a fundraising juggernaut.
It was the breadth of Obama's fundraising base that positioned him to bring the Clinton campaign to its knees in the months following Super Tuesday. Clinton's "big dollar" donors had "maxed out" expecting a quick and decisive victory in February. The lack of financial resources available to Clinton in the months after Super Tuesday allowed Obama to campaign in the marginally significant electoral states and build his delegate count using tens of thousands of $25 contributions.
It was the Obama campaign's ability to replenish its coffers, spend and reload again and again that was a --- it not the major --- factor in derailing the Clinton nomination that a year ago seemed all but inevitable. Obama was able to fight a protracted war, because he has built long supply lines. Clinton went for the early knockout and ran out of gas.
Obama's fund raising advantage has reflected more the way he built his base of support than the momentum he had at that point in the campaign. According to the Center for Responsive Politics, Obama had raised $454 million as of August 31, 2008. The website www.opensecrets.org reports that 94 percent of Obama's funds come from individual donors and 51 percent of Obama's contributions are $200 or less.
When compared with John McCain's base, Obama has much more in reserve. Obama has amassed 95,000 more small contributions than McCain. He has 10,700 more contributions of $2,300 plus than McCain, but this number represents only 30 percent of Obama's total compared to 49 percent of McCain's total in this category. And, 16 percent of McCain's contributors are "maxed out" as compared to 9 percent of Obama's.
It is even more interesting when you break it down to gender. Female donors comprise 42 percent of Obama's base and 28 percent of McCain's base of financial support. Females donors account for 71.6 percent of the total contributed by males to Obama while McCain's female donors reflect only is 38.3 percent of total male giving. In the category of donors from $200 - $499 Obama's base of female donors outpaces McCain's by a ratio of 3.4:1.
Obama has built his political organization around his fund raising base rather than vice versa as is usually the case in political campaigns. This is critical in building his "machine" in states like Virginia, North Carolina, New Hampshire, and Colorado, where he is either winning or close to it.
The beauty of this model is that after the television ads have gone dark and the radio ads ring hollow, Obama is only a mouse click away from continuing the conversation with his base.
On Election Day, Obama will have more than 2.5 million investors who are almost certain to vote. The campaign infrastructure that he has built will enable him to contact them and focus them as a resource throughout Election Day. This may well decide the election for Obama. But win or lose he has set the bar for future candidates in terms of building a base of fund raising support.
Dennis M. Powell is president and CEO of Massey Powell an issues management consulting company located in Plymouth Meeting, PA.