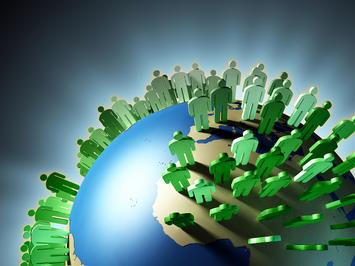 President Barack Obama's proposed tilt of U.S. priorities toward the Pacific – and away from the historical link to Europe – represents one of the most encouraging aspects of his foreign policy. Although welcome, we should recognize that this shift comes about three decades too late and that it may miss the rising geopolitical centrality of sub-Saharan Africa and Latin America. The emergence of these longtime historically impoverished backwaters has been largely missed as American policy-makers and businesses are now obsessed with the challenges and opportunities posed by the emergence of China and, to a lesser extent, India. Sub-Saharan Africa, for example, over the past decade has produced six of the world's 10 fastest-growing economies. Through 2011-15, according to the International Monetary Fund, seven of the fastest-growing countries will be African, and Africa as a whole will surpass the slowing growth rates in Asia, particularly China.
This growth has caused the region's poverty rates, still unacceptably high, to fall from 56.5 percent in 1990 to 47 percent today. Further growth will likely push poverty levels down further.
Outgrowing U.S.
With 600 million people, including a middle class of some 400 million, Latin America represents one of the world's great growth markets. Over the past two years the growth rate in Latin America has been twice – and more in some countries – that in the United States, Europe and Japan. Latin America's unemployment rate is reaching historic lows. A decade ago, it was 11 percent. Today it is 6.5 percent, well below levels in the U.S. or Europe.
As in Africa, growth has worked to reduce Latin America's historic high rate of poverty by 17 percent since 1990. Overall, Latin America's combined gross domestic product is already larger than that of Russia and India combined – larger, in fact, than any nation or region besides the U.S., the E.U. and China.
Demographic trends are likely to accelerate this process. Rapidly aging populations in Europe, Japan and East Asia threaten both workforce growth and fiscal stability. Today, people at least age 60 account for 13 percent of the population in China, 15 percent in east Asia, 32 percent in Japan and 22 percent in Europe, but barely one in 10 residents in Latin America; only 6 percent of Africa's population is made up of seniors. By 2050, one-third of people in east Asia, Europe and China will be over 60, while Japan will pass 40 percent. In contrast, Latin America's over-60 population will be 20 percent, and Africa's half that.
Indeed, over the next decade, Africa is slated to add more people than all of Asia, while Latin America's growth will far exceed that of Europe, East Asia or North America. A surprising percentage of the residents in these regions will be middle class. From 2000-14, according to a McKinsey survey, the number of African households with annual incomes of at least $5,000 will grow from roughly 59 million to well over 106 million. Africa already has more middle-class households (defined as those with incomes of at least $20,000) than India.
This demographic vibrancy is helping spark industrial growth, both for export and domestic consumption. Latin American countries, led by Brazil, have emerged as industrial centers while Mexico is rapidly replacing China as the preferred foreign manufacturing platform for American firms hailing from California to Texas. Manufacturing growth – particularly in textile and garments – has also begun to grow in parts of sub-Saharan Africa, following in many ways the patterns earlier seen in Japan, China, Southeast Asia and Bangladesh.
Hunt for Resources
But much of the importance of these regions lies with their enormous natural resources.
Conventional wisdom in our chattering classes holds that, in the "information age," raw materials no longer represent an advantage for economic growth. Yet as the world's population grows, and its middle class expands, there seems to be a cascading demand for raw materials, either for direct consumption or for use in manufactured goods. Energy consumption itself, according to the International Energy Agency, could rise as much as 50 percent by 2030, with more than 84 percent of that increase coming from fossil fuels.
Increasingly the competition over Latin America and Africa reflects something of a reprise of what was once seen as "the great game," where European colonial powers struggled for control of resources and land masses in regions as diverse as Central Asia, Africa, South America and the Middle East. Today, this struggle includes many more protagonists, including Japan, Korea and, most powerfully, China, all of whom are targeting investments in the continent.
One result has been growing interest in Africa, where foreign direct-investment projects grew by 27 percent in 2011 alone. American companies like Wal-mart and Google are expanding there, but much of the big investment comes from China. China's former vice-minister of commerce, Wei Jianguo, recently told China Daily that Africa eventually will surpass the U.S. and the E.U. to become China's largest trading partner. Last year, Latin America reaped a record $145 billion in FDI, an increasing share from China.
Resource-hungry China has reason to focus on Africa and Latin America, which hold much of the world's diminishing supply of not-yet-developed farmland, as well as tremendous reserves of precious minerals and energy. Africa, by current accounts, possesses 10 percent of the world's reserves of oil, 40 percent of its gold, and 80 percent to 90 percent of the chromium and the platinum metal group.
These supplies, notes a recent McKinsey report, may be grossly undercounted, since much of the continent has not been thoroughly explored. But, to date, Africa has a proven stock of $13 trillion to $14.5 trillion worth of energy resources (oil, coal, gas, uranium); South Africa alone is estimated to have $2.5 trillion in mineral wealth.
Latin America, too, enjoys ample natural resources, to go with its rapidly developing industrial sector. Brazil is the world's third-leading food exporter, and other Latin countries, such as Chile and Mexico, have been emerging as major producers of commodities.
Latin America also seems well-positioned to benefit from the shift of world energy production from the Middle East and Russia to the Americas. Brazil has already made large strides in offshore oil development; possible future offshore oil finds in Mexico and Cuba create an energy boom through the entire Caribbean Basin.
U.S. Needs to Shift
Clearly, the rise of these two regions signals that we need to adjust our foreign policy priorities. American business is already becoming more engaged with these two continents; over the past decade trade growth there has more than tripled, compared with a doubling of trade with Asia and Europe. We need to move not only beyond our old strategic ties with Europe, and embroilment with the volatile Middle East, and look to engage in the places where our primary rivals, notably China, already see the future of the world economy.
Will America, finally awakening from its European slumbers and no-win Middle Eastern involvements, get with the new program? It took three decades for the foreign policy establishment to acknowledge the reality of the Pacific era. Hopefully it won't take nearly as long to acknowledge the growing influence of both our southern neighbors and emergent powerhouse that is Africa.
Joel Kotkin is executive editor of NewGeography.com and a distinguished presidential fellow in urban futures at Chapman University, and a member of the editorial board of the Orange County Register. He is author of The City: A Global History and The Next Hundred Million: America in 2050. His most recent study, The Rise of Postfamilialism, has been widely discussed and distributed internationally. He lives in Los Angeles, CA.
This piece originally appeared in the Orange County Register.
World image by BigStockPhoto.com.