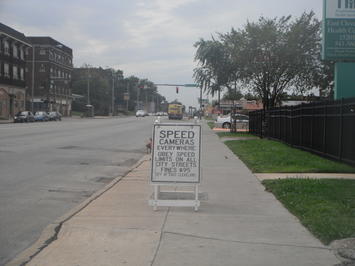 The Ohio suburb of East Cleveland abuts the core city to its west and north, and in terms of physical appearance the boundary between the two is indistinct. A century ago, the City of Cleveland unsuccessfully attempted to annex East Cleveland on two occasions. These days, Cleveland is unlikely to perceive its eastern neighbor as much of a catch. East Cleveland fell on hard times during the deindustrialization that took place throughout the Cuyahoga Valley: since 1970, it has lost more than half of its population. Nearly 40% of the 2010 population falls below the poverty level.
East Cleveland's residents and depressed real estate do not contribute a tax base by which the city can provide fundamental services. In this way, it's no different than numerous exceedingly small towns and micro suburbs scattered nationwide. Can it — and other places like it — survive? And, if so, how?
East Cleveland's 'solution' is to shift the burden to motorists by tackling them with hefty speeding tickets. The 2.5-mile stretch of Euclid Avenue that passes through town is one of the city's few revenue-raisers; a sidewalk sign promises camera monitoring and $90 speeding tickets.
East Cleveland is a "Community of Strict Enforcement" that may not have high road fatalities, but the city's socioeconomics give it few other options to generate the revenue it needs. The placard on the sidewalk (seen above) undoubtedly owes its existence to the debacle that a few years back brought about the demise of another Ohio town, New Rome.
New Rome, outside Columbus, was a tiny village of only about nine city blocks (approximately twelve acres) that, even at its peak, no more than 150 people called home; the 2000 Census estimated its population at 60. It would probably have gone completely ignored if it weren't for a four-block stretch of U.S. 40 (West Broad Street in Columbus) that fell within the town's corporate limits. Within New Rome's 1000-foot segment of highway, the speed limit dropped from 45 mph to 35. The New Rome Police Department had every right to issue $90 citations to motorists going 42 mph within this speed trap — and it did. The village of a dozen ramshackle houses, three apartment buildings, and a handful of small businesses earned nearly all its revenue from traffic tickets. With no other real public agencies, the money paid for the police force (which at times had as many as 14 employees, one quarter of the then-population) and the village council.
A few neighbors eventually grew so frustrated that they launched the website New Rome Sucks. And after a series of corruption revelations, the town attracted the attention of the Franklin County Prosecutor and Ohio Attorney General Jim Petro, who determined that, after decades of incompetent management, New Rome should be abolished. Eventually, Petro convinced the Ohio General Assembly to pass a law allowing the state to seek dissolution of a village under 150 people if the State Auditor found that it provided few public services and demonstrated a pattern of wrongdoing. In 2004, the Village of New Rome was irrevocably absorbed into Prairie Township of Franklin County, Ohio.
In most municipalities, good governance is a selling point. However, New Rome's malfeasance was unequivocally a reflection of the will of its constituents. They got the racket that a majority of them apparently wanted. And eventually the village forfeited its very existence.
While a New Rome could realistically emerge anywhere in the country, it is worth questioning whether the municipal incorporation structure in Ohio — and other states — particularly abets the process. Tiny municipalities exist everywhere. But they seem particularly prevalent in the industrial heartland. Cleveland's Cuyahoga County has 57 incorporated municipalities; Columbus' Franklin County has 25; Cincinnati's Hamilton County has 38. Most states to Ohio's northeast are almost completely incorporated: William Penn mandated this characteristic in his original charter for Pennsylvania. New Jersey is 99% incorporated. It is not uncommon to find boroughs as small as New Rome in both of these states; the Philadelphia suburb of Millbourne, for example, measures only .07 square miles.
Conversely, southern states are more likely to opt for either expanses of unincorporated urbanized land (which characterizes the vast New Orleans suburb of Metairie) or mega-municipalities, such as the "town" of Gilbert outside Phoenix, with a population over 200,000.
The majority of shrinking cities — and towns, villages, boroughs, and townships — now are clustered in the Northeast and the Midwest. "Home Rule" provisions in the Ohio state constitution, and similar legislation elsewhere in these regions, coupled with a small population, allow for a disproportionate amount of self-actualization… for better or worse. Cleveland's most prosperous micro-suburbs have wielded it effectively to stem the erosion of their tax base.
Does this broad-brush distinction between North and South yield any conclusions? At the very least, Rust Belt states must carefully weigh the benefits of entitling tiny populations to remain as independent towns. Otherwise, the only way many communities in a metropolitan mosaic will ever paint themselves out of the red is through surreptitious speed traps.
Eric McAfee is an itinerant urban planner/emergency manager who fuses his cross county (and trans-national) travels and love of contemporary landscapes into his blog, American Dirt, where a different version of this article appeared.
Photo in East Cleveland by the author.