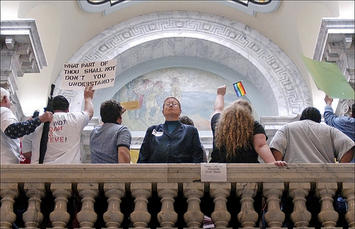 For the better part of a half century, social conservatives have been waging a desperate war to defend "family values." However well-intentioned, this effort has to be written off as something of a failure. To continue it would cause even more damage to many of the things that social conservatives say they care most about.
It's not that we don't need some sort of culture war — a conflict over values is the ultimate liberal value — but it makes no sense to keep waging a losing one. This includes, first and foremost, attempts to oppose gay marriage, something that almost half of Americans accept, according to Pew. Gay marriage wins even more support among millennials, who will over time come to shape our politics. Other social conservative efforts, like prayer in school or efforts to establish Christianity as a state religion, as recently was proposed in North Carolina's legislature, make even less political sense.
Obscured by such divisive approaches are larger issues, such as the durability of the family unit, that should be of concern to both liberals and conservatives. The number of children born to single mothers continues to soar. In 1970, 11% of births were to unmarried mothers; by 1990, that number had risen to 28%. Today, 41% of all births are to unmarried women. Most frightening of all, for mothers under 30, the rate is 53%.
And Americans are increasingly eschewing not only marriage, but having children, although not yet to the extent of their counterparts in East Asia and Europe. This is particularly evident among the young.
Not coincidentally, this is taking place as church affiliation, if not in free fall, is clearly on the downward trend. Secularism and the promotion of singleness and childlessness has gained cachet. Contemporary social thinking, as epitomized by "creative class" theorist Richard Florida, essentially links "advanced" society to the absence of religious values. Indeed virtually the entire span of modern urbanism — which has become entangled with both modern progressivism — not only disdains religiosity but gives remarkably short shrift to issues involving families.
These trends represent a threat to values that many, if not most, Americans still adhere to, such as the primacy of the family, the importance of faith and the centrality of children. You don't have to be an absolute believer in the revealed veracity of the Bible to see the danger posed by a national shift away from family and toward a hyper-individualist ethos.
The question is not whether there should be a debate, or, if you will, a "war" over culture, but on what terms this struggle should be waged. This can't be done, as one conservative writer suggested to me last year, "by marching back to the 1950s." History does not move backward, and trying to inspire the next generations to live or think like their parents or grandparents simply lacks any serious appeal. There is truth to the Democratic claim that conservative Republicans suffer a "modernity deficit" that could assure them permanent minority status.
But for all the failings of social conservatives, we should not ignore the reality that the decline of the family and of child-bearing must be addressed if this society is going to have any dynamism in the decades ahead. The largely native-born population is demonstrating all the essential weakness of their counterparts in Europe and East Asia; last year, more whites died than were born. Despite a total rise in population of 27 million from 2000 to 2010, there were actually fewer births in 2010 than 10 years earlier.
Immigrants may bail us out in the short run — migrants and their offspring have accounted for one-third of the nation's population growth over the past three decades—but the longer they stay, the more marriage and child-bearing decline over time. Even more seriously, 44% of all millennials think marriage is "obsolete"; among their baby boomer parents, the number is 35%. And fewer young people think childbearing is even important in a marriage.
This could have disastrous social consequences, Conservative analysts such as Charles Murray point out the deterioration of family life among working-class whites, as measured by illegitimacy and low marriage rates. Among white American women with only a high school education, 44% of births are out of wedlock, upfrom 6% in 1970. With incomes dropping and higher unemployment, Murray predicts the emergence of a growing "white underclass" in the coming decade.
Sadly, neither of the rising political tendencies — what might be seen as "clerical" liberalism and its libertarian counterpoint — are focused on the fundamental social deficit. Libertarianism, rapidly becoming the most legitimate form of conservatism, is almost psychologically incapable of addressing social issues. "The libertarian priority is meeting market needs," noted Ben Domenach in Real Clear Politics recently.
Markets are wonderful things, but what if, as they evolve, they can also tilt against families and communities? If everything boils down to what Marx called "the cash nexus" or simple individual "empowerment," then having children, or committing to marriage, becomes far less palatable. It's easy for well-heeled tech entrepreneurs, or inheritors of vast wealth, to speak about principles of classical liberalism, but if free markets fail to serve society's needs, then support for competitive capitalism will necessarily fade.
Libertarians tend to detest class warfare, but seem incapable of identifying with anyone other than those they consider "talented." They seem unconcerned about market manipulations (inevitably aided and abetted by government) that might force more people out of homes and into congested, overpriced apartments. Or how technology is destroying whole classes of jobs while programs to train people for needed skills remain poorly funded.
Ironically such an approach plays into the hands of the sworn enemies of libertarians, what I call the clerical progressives, who inhabit  certain cosseted institutions: universities, the media and foundations. This is where the new theology of planning the lives of the masses has been cooked up; it is a dogma of both power and belief, one that sees little role for the family as the central institution in society.
This represents a very dangerous break point from the kind of progressivism embraced by Harry Truman, Pat Brown and traditional liberalism. Rather than see government as something that can help families achieve greater autonomy, and spark voluntary association, the clerical progressives prefer an approach that embraces government in place of parenting, and elevates planning from above over grassroots community.
If you want to glimpse the world view of the progressive clerisy, watch the inane "Life of Julia" presented last year by the Obama campaign. In "Julia," virtually every step in life is predicated on some government service. She does "decide" to have a child although a man is never mentioned (one can't assume that progressive clerics accept the notion of immaculate conception), and the child, once sent off to government-funded pre-school, never reappears. So much for the permanence of family ties.
Julia did not upset modern progressives because it reflected their worldview — Ms. even carried a piece hailing Julia as "a future standard for women" who are increasingly told that they don't need men either as long-term partners in child-raising or even as spouses.
This divergence from familialism represents the real basis for a new culture war. This means moving away from a focus on divisive and peripheral issues, such as gay marriage at least speaks to the desire for long-lasting bonds between people. The new cultural warrior might seek instead combine some elements of traditional social democracy — in terms of a commitment to upward mobility — with the assumption that family represents the essential institution in our society.
Nowhere will this battle be more intense than in the field of urban planning. The current generations of progressives ascribe, almost universally, to the notion that people should be cajoled, by price or by edict, away from owning homes large enough to raise modern families, particularly those with more than one child. Today's progressives, echoing an old tradition among urban aesthetes, find our century-long movement to suburbia — which has slowed but barely stopped — an abomination worthy of contempt and eradication.
In the end what is needed is a new political counterpoint that embraces family as critical to the health of the society. This approach may not fit the conventional preferences of many conservatives, and most progressives, but is a necessary counterpoint to a process that threatens the future trajectory of our society.
Joel Kotkin is executive editor of NewGeography.com and a distinguished presidential fellow in urban futures at Chapman University, and a member of the editorial board of the Orange County Register. He is author of The City: A Global History and The Next Hundred Million: America in 2050. His most recent study, The Rise of Postfamilialism, has been widely discussed and distributed internationally. He lives in Los Angeles, CA.
This piece originally appeared at Forbes.com.