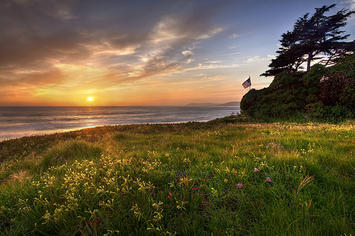 If the prospects for the United States remain relatively bright – despite two failed administrations – how about Southern California? Once a region that epitomized our country's promise, the area still maintains enormous competitive advantages, if it ever gathers the wits to take advantage of them.
We are going to have to play catch-up. I have been doing regional rankings on such things as jobs, opportunities and family-friendliness for publications such as Forbes and the Daily Beast. In most of the surveys, Los Angeles-Orange County does very poorly, often even worse than much-maligned Riverside and San Bernardino. For example, in a list looking at "aspirational cities" – that is places to move to for better opportunities – L.A.-Orange County ranked dead last, scoring well below average in everything from unemployment to job creation, congestion and housing costs relative to incomes.
Yet, Southern California possesses unique advantages that include, but don't end at, our still-formidable climatic and scenic advantages. The region is home to the country's strongest ethnic economy, a still-potent industrial-technological complex and the largest culture industry in North America, if not the world.
In identifying these assets, we have to understand what we are not: Silicon Valley-San Francisco, or New York, where a relative cadre of the ultrarich, fueled by tech IPOs or Wall Street can sustain the local economy. Unlike the Bay Area, in particular, our economy must accommodate a much larger proportion of poorly educated people – almost a quarter of our adult population lacks a high school degree. This means our economy has to provide opportunities for a broader range of skills.
Nor are we a corporate center such as New York, Houston, Dallas or Chicago. We remain fundamentally a hub for small and ethnic businesses, home to a vast cadre of independent craftspeople and skilled workers, many of whom work for themselves. In fact, our region – L.A.-Orange and Riverside-San Bernardino – boasts the highest percentage of self-employed people of any major metropolitan area in the country, well ahead of the Bay Area, New York and Chicago.
Policy from Washington has not been favorable to this grass-roots economy. The "free money for the rich" policy of the Bernanke Federal Reserve has proven a huge boom to stock-jobbers and venture firms but has not done much to increase capital for small-scale firms. Yet it is to these small firms – dispersed, highly diverse and stubbornly individualistic – that remain our key long-term asset, and they need to become the primary focus on regional policy-makers.
Ethnic Networks
Immigration has slowed in recent years but the decades-long surge of migration, largely from Asia and Mexico, has transformed the area into one of the most diverse in the world. More to the point, Southern California has what one can call diversity in depth, that is, huge concentrations of key immigrant populations – Korean, Chinese, Mexican, Salvadoran, Filipino, Israeli, Russian – that are as large or larger than anywhere outside the respective homelands. Foreigners also account for many of our richest people, with five of 11 of L.A.'s wealthiest being born abroad.
These networks are critical in a place lacking a strong corporate presence. Our international connections come largely as the result of both the ethnic communities as well as our status as the largest port center in North America, which creates a market for everything from assembly of foreign-made parts to trade finance and real estate investment. Southern California may be a bit of a desert when it comes to big money-center banks, but it's home to scores of ethnic banks, mainly Korean and Chinese, but also those serving Israeli, Armenian and other groups.
For the immigrants, what appeals about Southern California is that we offer a diverse, and dispersed, array of single-family neighborhoods. Both national and local data finds immigrants increasingly flocking to suburbs. Places like the San Gabriel Valley's 626 area, Cerritos, Westminster, Garden Grove, Fullerton and, more recently, Irvine, have expanded the region's geography of ethnic enclaves.
These enclaves drive whole economies, such as Mexicans in the wholesale produce industry or the development of electronics assembly and other trade-related industry by migrants largely from Taiwan. Global ties are critical here. Korean-Americans started largely in ethnic middleman businesses, but have been moving upscale, as their children acquire education. They, in turn, have helped attract investment from South Korea's rising global corporations, including a new $200 million headquarters for Hyundai in Fountain Valley, as well as a $1 billion, 73-story new tower being built by Korean Air in downtown Los Angeles.
Tech Industrial Base
During the Cold War, Southern California sported one of the largest concentrations of scientists and engineers in the world. The end of the Cold War, at the beginning of the 1990s, severely reduced the region's technical workforce, a process further accelerated by the movement out of the region of such large aerospace firms as Lockheed and Northrop. The region has roughly 300,000 fewer manufacturing jobs than it had a decade ago, largely due to losses in aerospace as well as in the garment industry.
Yet, despite the decades-long erosion, Southern California still enjoys the largest engineering workforce – some 70,000 people – in the country. It also graduates the most new engineers, although the vast majority of them appear to leave for greener pastures. One looming problem: a paucity of venture capital, where the region lags behind not just the Bay Area, but also San Diego and New York. This can be seen in the relative dearth of high-profile start-ups, particularly in fields like social media, now dominated by the Bay Area.
But the process of recovery in Southern California does not require imitating Silicon Valley. Instead we need to leverage our existing talent base – and recent graduates – and focus on the region's traditional strength in the application of technology. A recent analysis of manufacturing by the economic modeling firm EMSI found strong growth in some very promising sectors, including the manufacturing of surgical and medical equipment, space vehicles and a wide array of food processing, an industry tied closely to the immigrant networks.
Cultural Complex
For most Americans, and even more so among foreigners, the image of Southern California is shaped by its cultural exports, not only in film and television but in fashion and design. This third sector epitomizes the uniqueness of the region, and provides an economic allure that can withstand both the generally poor business climate and the incentives offered by other regions.
After a period of some stagnation, Hollywood again is increasing employment. Roughly 130,000 people work in film-related industries in Los Angeles, which is now headed back to levels last seen a decade earlier but still well below the 146,000 jobs that existed in 1999.
At the same time, the sportswear and jeans business in Los Angeles, and the surfwear industry in Orange County, remain national leaders. Overall, the area's fashion industry has retained a skilled production base – over twice that of rival New York's – and has been aided, in part, by access to Hollywood, lower rents and labor costs than in New York.
Taken together, these sectors – ethnic business, sophisticated manufacturing and culture – could provide the basis for a renaissance in the local economy. The smaller firms in these fields, in particular, need a friendlier business climate, a more evolved skills-training program from local schools and a better-maintained infrastructure. More than anything, though, they require an understanding on the part of both government and business that their success remains the best means to reverse decades of relative decline.
Joel Kotkin is executive editor of NewGeography.com and Distinguished Presidential Fellow in Urban Futures at Chapman University, and a member of the editorial board of the Orange County Register. He is author of The City: A Global History and The Next Hundred Million: America in 2050. His most recent study, The Rise of Postfamilialism, has been widely discussed and distributed internationally. He lives in Los Angeles, CA.
This piece originally appeared at The Orange County Register.