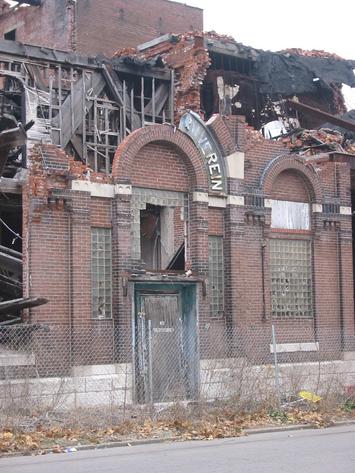 Among potential titles for this article about the Hyde Park neighborhood of St. Louis, I played with The Archaeology of Stasis. My husband suggested It's Not Happening Here. But neither seemed right. Both were too depressing to describe a place where people are working hard for change. I wanted a title that suggested a lot of hard work, but hope nonetheless.
I recently toured the neighborhood on a chilly Sunday morning with a former graduate student of mine, Dan Gaeng. Hyde Park is in north St. Louis, near downtown. Its roots extend to the 1830s and '40s, when large numbers of German Americans settled there. Today, it is predominantly African-American. Dan, whose dad grew up in Hyde Park, had written a paper about the neighborhood, and it captured much of what I feel about the city of St. Louis in general. All the ingredients are here for a city that can turn the corner and make urban living a reality for a wide swath of folks – a few solid industries, devoted locals, an ideal location for communication and transportation with the rest of the nation, beautiful old housing stock, at least the bones of a viable public transportation network, ongoing local traditions, and affordable living. Yet St. Louis never seems to get there.
There are some neighborhoods that have done it, to be sure. And downtown looks a lot better than it did when it served as the post-apocalyptic setting for "Escape from New York." But there's still a sense that St. Louis is stalled, moving neither toward recovery nor toward total desolation.
The negative tinge to my headline candidates no doubt owed something to Kenneth Jackson's 1985 Crabgrass Frontier. The author traces the construction of interstates, federal housing programs, mortgage lending practices, and white flight to explain the abandonment of urban cores for increasingly distant suburbs. St. Louis is a poster child of the phenomenon. Jackson quotes former St. Louis mayor Raymond Tucker, who explained in frustration, "We just cannot build enough lanes of highways to move all of our people by private automobile, and create enough parking space to store the cars without completely paving over our cities and removing all of the economic, social, and cultural establishments that the people were trying to reach in the first place."
Excoriating a 1973 RAND study that suggested that St. Louis could become "one of many large suburban centers of economic and residential life," Jackson suggests that "such advice is for those who study statistics rather than cities. Too late, municipal leaders will realize that a slavish duplication of suburbia destroys the urban fabric that makes cities interesting."
And he paints a grim picture of neighborhoods like Hyde Park, as he notes St. Louis's declining population. "Many of its old neighborhoods have become dispiriting collections of burned-out buildings, eviscerated homes, and vacant lots. Although the drone of traffic on the nearby interstate highways is constant, there is an eerie remoteness to the pock-marked streets. The air is polluted, the sidewalks are filthy, the juvenile crime rate is horrendous, and the remaining industries are languishing. Grimy warehouses and aging loft factories are landscaped by weed-grown lots adjoining half-used rail yards. Like an elderly couple no longer sure of their purpose in life after their children have moved away, these neighborhoods face an undirected future."
Twenty-three years after Jackson's words, Hyde Park's perseverance suggests that his portrait, while apt, misses a remarkably resilient local pride. Indeed, one title I considered was On the One Hand, On the Other Hand. It's not that Hyde Park hasn't suffered from the very trends that Jackson describes. In the mid-1950s, I-70 split the residential side of the neighborhood from its industrial workplaces. Pedestrian traffic virtually stopped. The decline of industrial employment in the city and white flight followed. The neighborhood appeared to hit bottom in the late 1960s, when youths began stealing from elderly residents.
Since then, a series of revitalization efforts have made their own mark. The result is a patchwork of hope and despair. Renovated nineteenth-century homes mix with recently constructed townhouses, shuttered and crumbling row houses, and piles of burnt-out bricks. Some owners clearly take pride in their houses and yards (many yards still proudly displayed Obama signs on my post-election tour), while other properties appear barely occupied. The traces of old business names are visible on the bricks. It's just the kind of local color that proponents of gentrification are fond of preserving, but there are few local businesses in operation now. An artist has purchased a former library, which he hopes to turn into a gallery, but it's not yet open, and there's no public art in the neighborhood.
There is a full grocery store on the northern edge, but it's a hike from the most vibrant part of Hyde Park, the cluster of homes that surround the still-active Holy Trinity Catholic Church and parish school. The church has bought up some of the area's property and encouraged resettlement, much of it in Section 8 housing, but three of the most recent homes are shuttered because no one has purchased them. Former locals and parish school graduates do return to church on Sundays, but the neighborhood is now mainly non-Catholic.
A local developer, who calls his company Blue Shutters (to contrast with the ubiquitous red shutters that signal the city's purchase of a desolate building), has renovated several houses. He also has plans for the Turnverein, a one-time German exercise hall, which could serve as a community center. Dan mentioned that his parents held their wedding reception there. Unfortunately, the Turnverein had a serious fire in 2006. As the St. Louis blog "Ecology of Absence" noted, the fire received hardly any attention in the St. Louis Post Dispatch. The neighborhood received historic district status in the 1970s, but when I mentioned to my co-workers, students and neighbors that I had toured Hyde Park, none of them knew where it was.
And maybe that doesn't matter. I see no way that Hyde Park could become the kind of gentrified neighborhood that lures hipsters and boutiques, and makes city council members salivate. Moreover, the folks who have committed themselves to the slow and steady efforts of revitalization don't seem to want their home to be such a place. As one of the residents whom Dan interviewed said, "Other people have wondered why I haven't left, and I say, 'Why should I? I'm fine here'. The neighbors look out for each other, and I like the house and neighborhood. There is a nice mixture of people, from the poor to the college educated and well-off. That's important to me. I don't want to live in just a homogeneous upper-middle-class area."
A remarkably diverse selection of institutions and people are involved in Hyde Park's revitalization: "Ecology of Absence" blogger Michael Allen (also the Assistant Director of the Landmarks Association of St. Louis), Holy Trinity Church, and the Friedens Neighborhood Association, which is training local high school drop-outs in construction trades and providing G.E.D. preparation. Of course, there are also the dedicated folks who patiently turn out for one redevelopment meeting after another to plot the painstaking steps – the creation of an entry monument, for example, or streetscape enhancements – that could turn Hyde Park into a place that feels fully inhabited.
It's possible that twenty-three years from now Hyde Park will make me think not about Crabgrass Frontier, but about another book I read with my graduate students: Charles Payne's I've Got the Light of Freedom, a study of the grassroots efforts behind the Civil Rights movement in Mississippi. Activist Ella Baker called the day-to-day efforts behind the movement "spade work." It's not glamorous and it doesn't get a lot of credit, but there's no real movement without it. There's a lot of spade work going on in Hyde Park. It just might build a place.
For more on Hyde Park, see:
Ecology of Absence Blogspot, Friedens Neighborhood Foundation, Landmarks Association of St.Louis, St.Louis Development Corp.
Flannery Burke is an assistant professor in the Department of History at St. Louis University. Originally from Santa Fe, New Mexico, she writes about the American West, the environment, Los Angeles, and St. Louis.