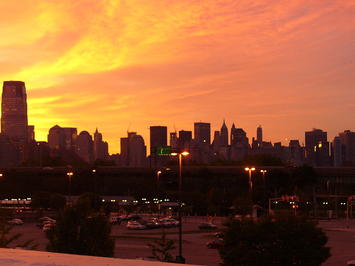 For hundreds of years, New York City has been viewed by Americans and foreigners alike as the default capital of the United States. Though not the official political capital city, New York, New York has been commonly viewed, and certainly among its own residents, as the de facto center for American culture, music, sports, food, and art.
Although far more people migrate out of the New York area than come, it remains a primary destination for those who—in the words of Frank Sinatra—want to be a part of it.
However, today being "a part of it"—particularly in Manhattan and the fashionista parts of Brooklyn—is a lot more difficult than it once was. It no longer involves just a suitcase and a dream. Those looking to move out to the Big Apple increasingly difficult, largely due to huge costs for housing.
The chorus of complaints about skyrocketing real estate prices has become an ever growing occurrence in the area, as most New York City residents and newcomers alike struggle to make ends meet. For well over a decade Manhattan has been so popular, and so expensive, that the real estate boom has spread to other boroughs—in particular, the western reaches of Brooklyn, only a short subway ride from Manhattan.
Once a significant and yet often ignored part of New York City, Brooklyn has for decades held its own identity within the city, usually in variance with more self-conscious Manhattan. However, in this most recent decade, we have seen a shift in that identity. Increasing gentrification and a multitude of new residents have transformed the area and created an unfortunate spike in house prices in their wake. An area that was once populated by longtime family residents and iconic brownstones, is now seeing giant penthouses selling for upwards of $4 million. In fact, as early as 2012, we were already seeing Brooklyn being labeled as the second most expensive place to live in the US.
Brooklyn neighborhoods like Park Slope, DUMBO, Downtown and Williamsburg have seen an influx of new residents along with the resulting spikes in real estate prices. Even the recent trend of supertall residential buildings springing up throughout Manhattan has begun to infest Brooklyn, with developers planning new towers much taller than anything the borough has seen in the past. While longtime Brooklyn residents with rent-controlled and rent-stabilized properties, as well as current Brooklyn homeowners, have little to worry about, all of this is making for an increasingly prohibitive market for anyone hoping to move to the borough.
The result of all of this has been a natural shift in the popularity of Brooklyn as a viable destination for new, young residents. So, while—not too long ago—Brooklyn was being touted as the new Manhattan, we are now seeing a rise in other cities vying to claim the coveted title of becoming the "new Brooklyn." Of course, both of these New York boroughs will still remain popular, but generally younger people, at least those without jobs at Goldman Sachs or trust funds, simply cannot afford the new and skyrocketing prices required to make them their new home.
Thus, with Manhattan and Brooklyn now both out of reach for many New York real estate shoppers, the much maligned state of New Jersey is suddenly becoming more appealing; and in particular, we are seeing the rise of the conveniently located municipality of Jersey City. Jersey City is located directly across the Hudson River from downtown Manhattan, and just like New York in the early 1990s the city is fast shedding its once dangerous reputation and emerging as an appealing option as a uniquely livable area.
At one time, most residents of the area east of the Hudson River lumped Jersey City into "everything west of the Hudson." In other words, it was dismissed out of hand immediately. However, more people are starting to learn that Jersey City is its own unique location, itself comprised of a number of distinct neighborhoods with individual charms and flavors. And most important of all, affordability.
"Three or four years ago, when you would mention Jersey City to people who didn't know the area, you'd get a concerned look," Natalie Miniard, the owner of JCity Realty, told the New York Times, "now everybody wants to know more. It's a much different conversation."
Generally the most desirable section of Jersey City for newcomers is downtown, thanks to its proximity to the Hudson River and concentration of trendy bars and restaurants. Popular spots here include the Jersey City location of Brooklyn's Barcade, Skinner's Loft, the Iron Monkey and the Roman Nose.
And it's convenient, too. Right in the middle of downtown Jersey City is the Grove Street PATH train station. Like every PATH station in Jersey City, Grove Street offers speedy service to several locations in Manhattan 24 hours a day, seven days a week. Unlimited monthly PATH cards are actually cheaper than monthly NYC subway Metrocards, and you can even use pay-per-ride Metrocards on the PATH. As an added bonus for residents, surrounding the Grove Street station is a pedestrian plaza which regularly hosts food fairs and street festivals.
Of course, the gentrification train chugs on, and as with the more popular neighborhoods in Brooklyn, downtown Jersey City is already becoming so popular that many new residents are seeking even more affordable sections of the city. One such neighborhood is Journal Square, which is in close proximity to the Journal Square PATH station. Local flavor abounds in the Journal Square area, and prices in the neighborhood are still lower than downtown, despite being not too far in distance. A bit further from downtown Jersey City is the neighborhood known locally as the Heights.
The Heights is a large section of Jersey City with plenty of lower priced options for real estate shoppers, thanks in part to being not quite as close to the PATH as Journal Square or downtown. However, the Heights is an area jam-packed with plenty of its own great shopping and local restaurants, especially along the main thoroughfare of Central Avenue. Most of the Heights is still within reasonable walking distance to the Journal Square PATH station, and walking from the Heights to the nearby city of Hoboken is also an option.
With a variety of lively, singular neighborhoods and close proximity to Manhattan, Jersey City already boasts several parallels with the borough of Brooklyn. Though it cannot yet compete in terms of culture and "street cred," developers are rushing to construct tens of thousands of new, affordable residential properties, hopping on the newest fashionable real estate bandwagon while it is still hot. What this means is that it is certainly the right time to move to Jersey City. Housing prices are lower across the board than in most sections of Brooklyn—and certainly anything in Manhattan—and the options for condos, rental apartments and even entire houses are multiplying by the day. And people are starting to take notice. An increasing influx of residence—according to the most recent US census data, the total number of residents increased by six percent between 2010 and 2014— revitalizing the cultural and social scene, and many more people are expected to soon follow. With all of this in mind, it would not be a surprise if in the next few years we find fewer people moving to New York City altogether, and many more looking to the exciting reborn metropolis of Jersey City.
Cary is an Oregon native with a flair for fashion and organic gardening. She's passionate about writing and enjoys hiking, reading, and cooking. When she isn't writing about economics and real estate, or health and fashion, she is playing with her rescue pitbull, Mazie.