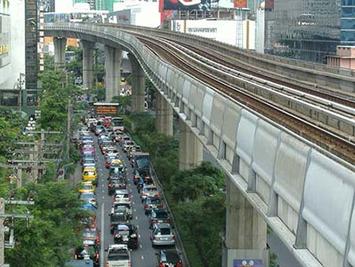 The 2015 Tom Tom Traffic Index shows that Dallas-Fort Worth has the least overall congestion among world (urban areas) with more than 5,000,000 population. The Tom Tom Traffic Index for Dallas-Fort Worth is 17, which means that, on average, it takes 17 percent longer to travel in the urban area because of traffic congestion.
The Tom Tom Traffic Index rates traffic congestion in nearly 300 world cities. This article examines overall traffic congestion levels in two categories of cities, those with more than 5,000,000 population and those with between 1,000,000 and 5,000,000 population.
Over 5,000,000 Population
Tom Tom rated traffic congestion in 38 urban areas with more than 5,000,000 population. Five of the 10 least congested cities are in the United States, including five of the top seven. China placed two cities in the top 10 (Figure 1).
With its Tom Tom Traffic Index of 17, Dallas-Fort Worth was far ahead of Philadelphia and Madrid, which tied for second at 23. This gap of six points is the largest among the 38 cities except for the seven that separate number 36 Istanbul and number 37 Bangkok.
Atlanta ranked fourth, with a Traffic Index of 24, followed by Houston at 25. Suzhou achieved China's best traffic congestion, with a Traffic Index of 26 and was tied for sixth best with Chicago. There was a three way tie for eighth.
Because of a four way tie for 10th place, the bottom 10 in traffic congestion among the more than 5 million population included 13 cities (Figure 2). The greatest traffic congestion was in Mexico City, with a Travel Index of 59. This means that a 30 minute trip can generally be expected to take 48 minutes, 18 minutes more than without congestion. Bangkok, which is often suggested as one of the most congested cities in the world, ranked second worst with a Traffic Index of 57.
Rio de Janeiro had the fifth worst traffic congestion with a Traffic Index of 47, while Moscow's legendary traffic congestion rated a 44. Los Angeles, long the most congested city in the United States, had a Traffic Index of 41, and ranked seventh worst. Chengdu in China tied Los Angeles. The eighth and ninth most congested cities were St. Petersburg, at 40 and Tianjin at 39. London and three cities in China, Beijing, Chongqing, and Hangzhou tied for 10th worst traffic, at 38.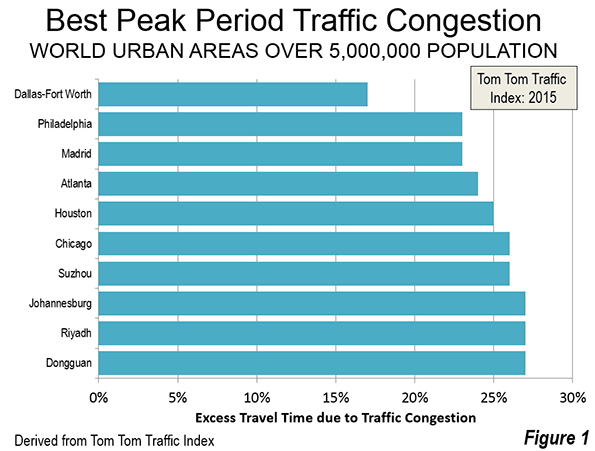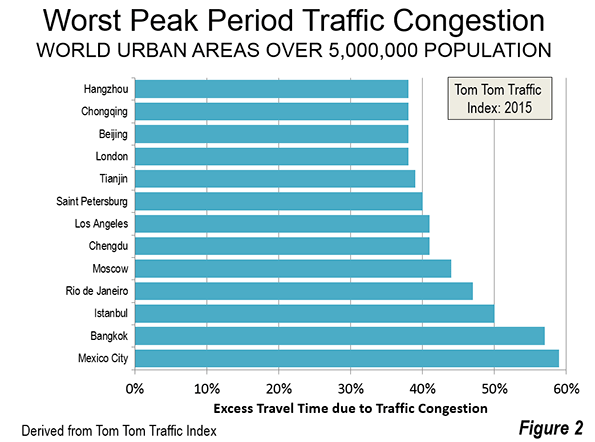 1,000,000 to 5,000,000
Generally traffic congestion is less severe in smaller cities, all things being equal. This is illustrated among the cities with between 1 million and 5 million population (Figure 3). Three United States cities tied for the best traffic congestion, Kansas City, Indianapolis and Richmond, Virginia, each possessed  a Traffic Index of 10. Because of a four way tie for 10th place, 13 cities are included in the top 10 and only one of these 13 cities is outside the United States.
Cleveland ranks fourth, with a Traffic Index of 13, followed by St. Louis, Milwaukee, which are tied at fifth with a traffic index of 14. The conurbation (urban areas that have grown together, in this case Katowice, Gliwice and Tychy) Katowice, Poland had a Traffic Index of 14 and   Salt Lake City and Cincinnati for the seventh best traffic congestion.
The three cities tying for 10th best traffic congestion all had a Traffic Index of 15 and were Minneapolis-St. Paul, Phoenix, Detroit and Columbus.
Four other cities ranked above much larger Dallas-Fort Worth, with a Traffic Index of 16. These included Charlotte, Jacksonville, Memphis and Raleigh. Louisville tied Dallas-Fort Worth, at 17. Dallas-Fort Worth is approximately twice the population of the largest cities in the 1 million to 5 million classification, Detroit and Minneapolis-St. Paul and more than three times the population of Katowice.
Three cities were tied for the worst traffic congestion in the 1 million to 5 million category with a Traffic Index of 43, Recife and Salvador in Brazil and Bucharest in Romania. Five of the bottom ten cities were in Europe, with Dublin, one of the smaller cities having a particularly high Traffic Index 40, nearly as bad as much larger Los Angeles (Figure 4).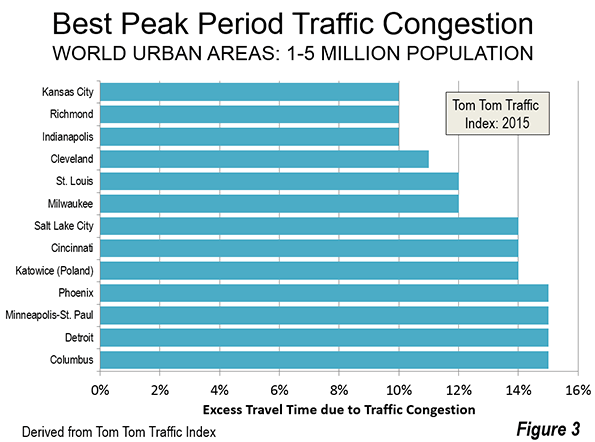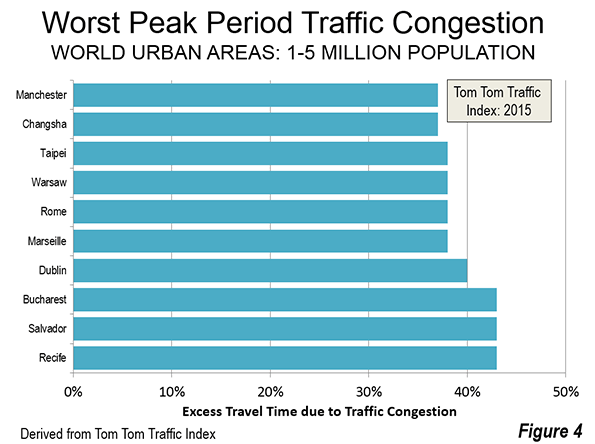 Overall Rankings
Confirming the ratings above, the United States had the overall best traffic conditions (Figure 5), in all three population categories (under 1 million, 1 million to 5 million and over 5 million), though South Africa tied the United States in the over 5 million category.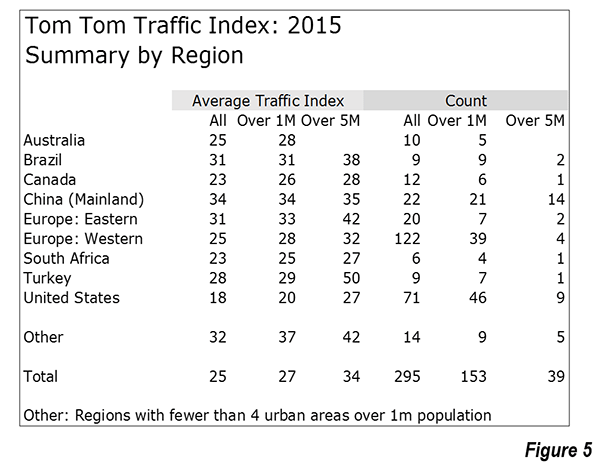 Progress
Every year, it seems like more cities are added to the international traffic comparisons. This year's addition of Bangkok, with its dreadful reputation for traffic was a huge step in the right direction. Bangkok, of course has bad traffic for decades, but was edged out by Mexico City. I still wonder whether the prize does not belong to Jakarta (as it did for the "start-stop" index a few years ago), and I hope that data on India's huge cities and the cities of Japan will soon be available.
Wendell Cox is principal of Demographia, an international pubilc policy and demographics firm. He is a Senior Fellow of the Center for Opportunity Urbanism (US), Senior Fellow for Housing Affordability and Municipal Policy for the Frontier Centre for Public Policy (Canada), and a member of the Board of Advisors of the Center for Demographics and Policy at Chapman University (California). He is co-author of the "Demographia International Housing Affordability Survey" and author of "Demographia World Urban Areas" and "War on the Dream: How Anti-Sprawl Policy Threatens the Quality of Life." He was appointed to three terms on the Los Angeles County Transportation Commission, where he served with the leading city and county leadership as the only non-elected member. He served as a visiting professor at the Conservatoire National des Arts et Metiers, a national university in Paris.
Photo: Bangkok: not the worst traffic congestion (photo by author)