In a recent column in the Sunday Independent, Ireland's largest weekend newspaper, one of Ireland's leading economists, Colm McCarthy of University College (Dublin) raised the prospect another housing bubble in Dublin, Ireland's leading weekend newspaper. Dublin is the nation's capital and home to approximately 40% of the population. This is a potentially serious concern, given the economic devastation that the previous Dublin housing bubble contributed to across Ireland during 2006-2010.
The Housing and Economic Bust in Ireland
Ireland suffered one of the worst economic reversals of any nation during the Great Financial Crisis. This had been preceded by Ireland's impressive economic advance, which had the nation registering a higher gross domestic product per capita-purchasing power parity (GDP-PPP) than even its former colonial overlord, the United Kingdom. Anyone who had predicted in 1960 that Ireland would be more prosperous than the United Kingdom would have been summarily dismissed.
But the Great Financial Crisis brought an 11.3 percent reduction in GDP-PPP to Ireland between 2006 and 2010. This was nearly double the reduction in the United Kingdom (6.0 percent). The loss was nearly three times the peak to trough decline in the United States (4.0 percent). Unemployment reached above 15 percent and Ireland required bail-out loans totaling €67.5 billion ($75 billion or C$95 billion) from the European Union and the International Monetary Fund.
Happily, however, Ireland has struggled back and now has nearly reached its peak 2006 GDP-PPP. But as in the United States and elsewhere, restoration of previous levels of prosperity at the national level has not made whole many of the individual victims of the downturn (Figure 1).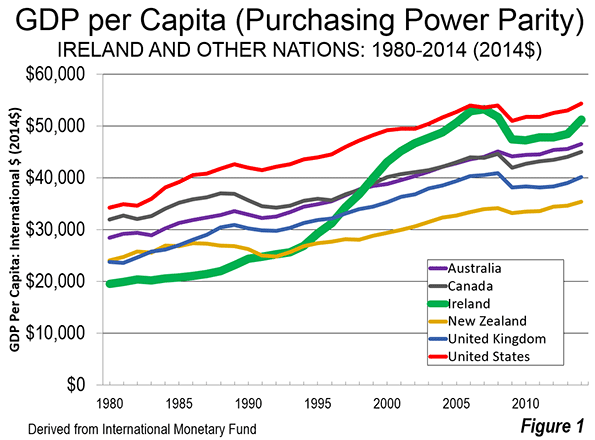 Urban Containment Policy and Higher House Prices
In a previous Sunday Independent commentary, McCarthy noted asserted  Ireland's land use regulations had been an important contributor to the housing bubble (see: "Urban Containment and the Housing Bubble in Ireland").
Ireland's planning regulations have been copied and imported from the British Town and Country Planning Act of 1947, which have been largely responsible for the continuing and worsening housing crisis in the United Kingdom. In Ireland, as in the United Kingdom, these regulations deny planning permission to suburban locations. McCarthy attributes the "dysfunctionality of the housing market" in Dublin to such land use restrictions, which are called "urban containment" as well as other terms (such as growth management, smart growth, livability, compact city policy, etc.).
McCarthy notes that the housing shortage in Dublin is not caused by a lack of housing so much as it is by restrictions imposed by planners (planning permission), which slows the pace of home building. This policy environment drives house prices up, which reduces household discretionary incomes and results in a lower standard of living than would have occurred without urban containment.
Urban Growth Boundaries
As elsewhere, Ireland's urban containment policies seek to minimize the urban footprint (urban land area) by rationing land for housing development, often by urban growth boundaries. Urban growth boundaries come in various forms, such as lines around cities that forbid new urban residential development on the outside, euphemistic "growth areas," usually small and  inadequate, outside of which building is not permitted. This includes the apparent intention very difficult to build new detached housing on the urban fringes in California metropolitan areas, with a strong policy preference for high density, transit oriented development. Urban growth boundaries may be urban containment's "killer app."
The problem is that restricting the supply of any good or service (such as land for housing) leads to higher prices as demand swamps supply (other things being equal). A similar relationship between supply restrictions and higher prices can be seen in the fluctuating price of oil, based especially on OPEC production decisions, the large increases in banana prices in Australia, when periodic cyclones produce shortates by devastating crops.
Urban growth boundaries and related land rationing strategies are associated with huge price differentials between land that may or may not be developed. In Auckland and Portland, virtual "across the street" land values vary on average by 10 or more times at the urban growth boundary. In the United Kingdom, differences of hundreds of times have been cited in the UK by London School of Economics researchers Paul Cheshire, Max Nathan and Henry Overman. The impact of urban growth boundaries on land within a metropolitan area is illustrated in Figure 2. The theoretical economic relationship is that land prices are forced higher within the urban growth boundary, while declining to the outside, where development is severely restricted (other things being equal, with the assumption that the urban growth boundary is "binding," or strongly enforced).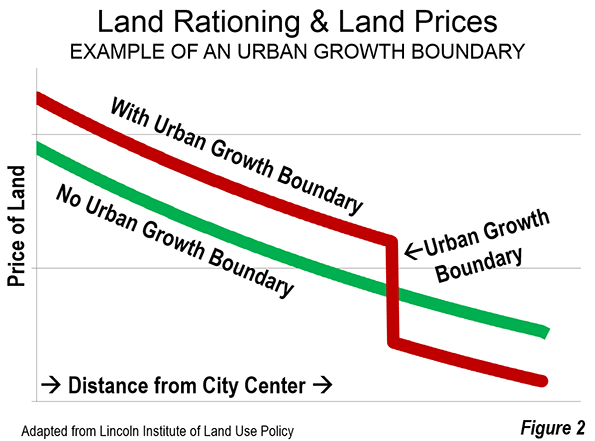 Not surprisingly, urban growth boundaries are the most common feature of the severely unaffordable housing markets (where the median multiple exceeds 5,0) in the 12 annual editions of the Demographia International Housing Affordability Survey.
The Next Housing Bubble?
McCarthy details rising land and house prices in the Dublin area that have largely driven first time home buyers out of the Dublin area. Many are being forced to buy housing that is affordable 70 to 80 kilometers (35 to 40 miles) away. This requires "a daily commute of up to two hours through the vacant countryside. "McCarthy refers to the "huge rolling prairies of land that can be found north and west of the ring road" (The M-50 belt route) on which new housing could be built as close as 10 to 12 km from the city center (6 to 7 miles).
The locations McCarthy refers to could easily shelter households in less expensive housing, without the necessity of long commutes, producing, ironically, perhaps  less of the dreaded "sprawl".
Not surprisingly, rents in Dublin are now reported to be higher than at the peak of the property bubble. Further, the problem is spreading to other parts of the country. In Cork, with its burgeoning information technology growth, with firms like Apple and Pay Pal, there are concerns that the shortage of housing could limit further business expansion.
Needed Reform
A Dublin and an Ireland interested in not repeating the devastating economics of a decade ago would be wise to heed economist McCarthy's advice. He calls for cheaper housing, which requires "the zoning for residential development of the very large volume of derelict and undeveloped land in the Dublin area." Ireland's middle-class needs more jobs, but it also needs lower house prices to maintain its affluence.
Photograph: Dublin by Barcex (Own work) [CC BY-SA 3.0], via Wikimedia Commons
Wendell Cox is principal of Demographia, an international pubilc policy and demographics firm. He is a Senior Fellow of the Center for Opportunity Urbanism (US), Senior Fellow for Housing Affordability and Municipal Policy for the Frontier Centre for Public Policy (Canada), and a member of the Board of Advisors of the Center for Demographics and Policy at Chapman University (California). He is co-author of the "Demographia International Housing Affordability Survey" and author of "Demographia World Urban Areas" and "War on the Dream: How Anti-Sprawl Policy Threatens the Quality of Life." He was appointed to three terms on the Los Angeles County Transportation Commission, where he served with the leading city and county leadership as the only non-elected member. He served as a visiting professor at the Conservatoire National des Arts et Metiers, a national university in Paris.