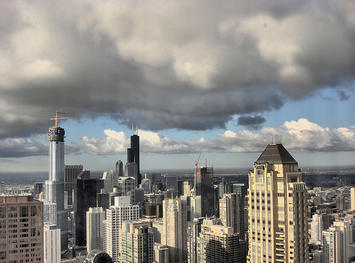 When I wrote that Chicago is the duck-billed platypus of American cities, I noted that there were a lot things about Chicago that were unique – both good and bad – putting it in a class of its own and making it hard to compare Chicago with other cities.
Today I want to put together a starter list of some of the positive distinguishing factors about Chicago. This doesn't include things like a downtown construction boom because lots of places have one of those. If Chicago's boom is big, well, it's a big city. I only want to put something on the list if it is truly distinguishing, or perhaps something limited to only one or two other places.
I'll create a starter list. Feel free to share yours in the comments.
Cheap – least expensive major urban center in America. A middle management level couple can afford a very nice condo in Chicago.
Only globally important financial exchange in America outside NYC (the CME Group)
Only full slate of globally renowned cultural institutions outside NYC
Only large scale, transit oriented central business district outside NYC – and with a skyline to match
Fantastic architecture
Not only does Chicago have great skyline, it's got great vistas of the skyline even from within the city (something missing in NYC inside Manhattan)
It's the alley capital of America
Improv capital of the world, and one of only three major training locations for comedy in the US (with NYC and LA)
Incredible lakefront park system
Most car friendly urban big city in America (traffic is bad, but much of housing stock comes with a parking spot, and there are plenty of stores you can drive to – great for families)
There are probably some things like food and music scene were you can rate Chicago as in a league above most cities, but it's tougher to make that case since you can get great food everywhere now, etc.
Share your thoughts in the comments because I don't want to leave anything out.
Aaron M. Renn is a senior fellow at the Manhattan Institute, a contributing editor of City Journal, and an economic development columnist for Governing magazine. He focuses on ways to help America's cities thrive in an ever more complex, competitive, globalized, and diverse twenty-first century. During Renn's 15-year career in management and technology consulting, he was a partner at Accenture and held several technology strategy roles and directed multimillion-dollar global technology implementations. He has contributed to The Guardian, Forbes.com, and numerous other publications. Renn holds a B.S. from Indiana University, where he coauthored an early social-networking platform in 1991.
Photo by Doug Siefken