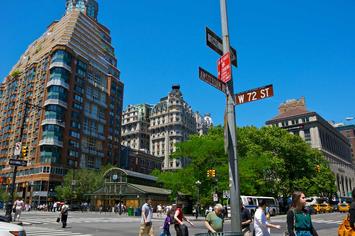 I live on the Upper West Side in New York and love it. But when Paul Krugman wrote a blog post using the UWS an example of what's right in America – "If you want to feel good about the state of America, you could do a lot worse than what I did this morning: take a run in Riverside Park" –  I had to respond.  Not only is the UWS obviously unrepresentative of America, but many people see its prosperity as purchased at least in part at their expense.
My piece "Paul Krugman's Bubble" is now online at City Journal:
Most Americans have never heard of gorgeous Riverside Park. In fact, they may have only a vague idea about the Upper West Side of Manhattan, the neighborhood where Riverside Park is located. But they understand that life on the Upper West Side—and places like it—is fabulous for the people who live there. Such places have boomed thanks to changes in the economy, but also from deliberate government policies designed to make them prosper. Wall Street, unlike Main Street, got bailed out during the financial crash. Most Americans may not be able to tell you what TARP stands for, or what quantitative easing is, but they have a good understanding of who profited the most from them—and that such people often take morning jogs in places like Riverside Park.
Click through to read the whole thing.
Aaron M. Renn is a senior fellow at the Manhattan Institute, a contributing editor of City Journal, and an economic development columnist for Governing magazine. He focuses on ways to help America's cities thrive in an ever more complex, competitive, globalized, and diverse twenty-first century. During Renn's 15-year career in management and technology consulting, he was a partner at Accenture and held several technology strategy roles and directed multimillion-dollar global technology implementations. He has contributed to The Guardian, Forbes.com, and numerous other publications. Renn holds a B.S. from Indiana University, where he coauthored an early social-networking platform in 1991.
The Upper West Side of New York – Image via City Journal