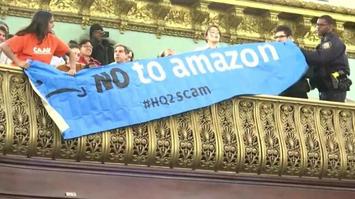 Amazon's decision to abandon New York City—leaving a $3 billion goodie bag of incentives on the table—represents a break in the progressive alliance between an increasingly radicalized Left and the new technocratic elite.
For a decade, the oligarchs of Silicon Valley and Puget Sound worked overtime to win over progressives. For the most part, they enthusiastically back the Left on its immigration, environmental, gender, and racial agendas. The merger of the tech oligarchs with the Democrats went swimmingly—until the contradictions became too obvious. Even as they muzzled conservatives both inside and outside their companies and donated heavily to President Obama and other Democrats, they have remained at their core ruthless capitalists, determined to crush competition and shape society to their liking.
As Amazon has discovered, though, progressives now seek to limit the power and influence of these monopolistic behemoths. The Left's new firebrands, including New York's freshman representative Alexandria Ocasio-Cortez, much as Bernie Sanders did in 2016, openly regard both tech oligarchs and Wall Street billionaires as class enemies. The progressives' alliance with private-sector unions, whose presence has shrunk in tech-driven urban economies like San Francisco and Seattle, has drawn attention to Amazon's non-unionized warehouses and fulfillment centers, where widespread claims of low pay, brutal management practices, and an accelerated search to replace workers with robots have energized labor advocates. The new scrutiny is especially critical because an increasing number of millennials—soon to be the nation's largest voting bloc—say that they prefer socialism to capitalism, threatening the future profits of even the most "woke" Silicon Valley plutocrats.
Read the entire piece at City Journal.
Joel Kotkin is the Presidential Fellow in Urban Futures at Chapman University, director of the Chapman Center for Demographics and Policy and executive director of the Center for Opportunity Urbanism in Houston, Texas. He is author of eight books and co-editor of the recently released Infinite Suburbia. He also serves as executive director of the widely read website www.newgeography.com and is a regular contributor to Forbes.com, Real Clear Politics, the Daily Beast, City Journal and Southern California News Group.
Photo credit: Via CBS 6 News.