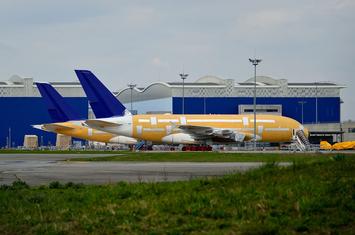 Airbus' cancellation (February 14) of the four engine, wide-body A380 jumbo jet ends the troubled life of a plane that always was too big and out of sync with changing market realities. Little more than 11 years after its October 2007 maiden commercial flight by Singapore Airlines, Airbus could no longer justify proceeding with the unprofitable program, as orders were drying up and other, smaller jets were meeting current demand much less expensively. Already, two A380s operated by Singapore Airlines are in the process of being scrapped for parts.
Initial Optimism
This is an ignominious end for a plane some considered to be the future of international passenger transport. According to the Airbus website, the "A380 offers solutions to overcrowding; needing fewer journeys to carry 60% more passengers, making it the perfect solution to airport congestion, fleet plan optimization and traffic growth." According to BBC, "When Airbus's A380 first took off it was hailed as a technological marvel that would meet airlines' needs for a new large aircraft to connect the world's crowded airport hubs - London, New York, Dubai, Tokyo. Airbus said the market for the giant planes would be 1,500."
Reality Dawns
In the end, the A380 program was to cost Airbus $25 billion, paid by the customers of airlines and potentially by European taxpayers, whose governments are owed €1 billion for the project. Costs escalated wildly from the 2000 estimate of less than $11 billion, rivaling (after inflation) the cost blowouts of the HS2 London-Birmingham-Manchester-Lees high speed rail line and the now emasculated California high speed rail line.
Last year, the company considered and rejected a proposal to discontinue the A380. But Dubai based Emirates decision to cancel 35 of their on-order 55 planes may have precipitated the final decision. Just a week before, Qantas had cancelled an order for eight A380s. This was devastating because A380 seemed "tailor made" for the Australian market, so far removed from much of the world, with flights from such destinations as Los Angeles, Dallas-Fort Worth, Hong Kong and London (one-stop through Singapore).
One winner from the A380 program has been Emirates, with its world-wide hub in Dubai. Emirates operates more than 40 percent of the current A380 inventory, which has relied on the plane to nearly triple both its capacity and patronage over the past decade. Yet, as it was cancelling much of its outstanding A380 order, Emirates decided to purchase smaller jets, especially the Boeing 777-9X, a two engine jet better equipped to handle the increasingly dispersed international airline origins and destinations.
For other airlines, the A380 was deemed to just not fit. Hong Kong's five-star (highest rating by Skytrax) Cathay Pacific preferred to rely on smaller (but still large) 777s, partly because they could offer more frequent service, running five services per day to London, instead of the three A380s trips to serve the same traffic. Further, Cathay Pacific uses the smaller jets due to their higher relative cargo capacity, an important consideration in the Hong Kong market.
No American, Canadian or Latin American airline flies A380, while demand from China and Japan has been miniscule.
Forecasting Demand 500 Percent High
Given the marketplace reaction, production fell precipitously from optimistic models. The company's projection of 1,500 A380s was 500 percent above the actual total of approximately 250 that will be produced. This shortfall did not come as a surprise to many in the industry. According to Don Reed in Forbes, "many aircraft manufacturing experts, airline executives, industry consultants, airport planners, travel marketing and planning executives, tourism promoters and chamber of commerce-type officials around the globe" advised Airbus not to go forward with the jet, which was considered to be too large, while the future of the market was in smaller jets. Boeing had at one point discussed the possibility of joint production of a new larger jet with Airbus, but backed out. Boeing's own 747, was the original jumbo-jet. Part of the problem, according to Reed may have been that the company was "… laboring under pressure from their political masters in France and Germany…" to go ahead despite these factors.
Two Engine Jets Displace 747s Even Before, even Before A380 Planned
The "writing was on the wall" for four engine jets, as early as Boeing's 767 made the first two-engine commercial jet crossing of the Atlantic in 1985. The measures that made these flights sufficiently safe played a major role in displacing not only four engine planes, like the 747, but also three engine planes, such as the Lockheed 1011 and the DC-10. It is ironic that the 767, which reduced the demand for 747s and contributed so importantly to the pre-production obsolescence of the A380, was last produced in 2014, only seven years after the first A380 commercial flight. Meanwhile, Airbus is profiting from the smaller wide-body jets, with nearly 900 firm orders for the Airbus A350-XWB, which entered commercial service in 2015.
Indeed, two engine narrow-body jets are increasingly being used in transatlantic service. This allows service between smaller markets, such as Air Canada's new seasonal 737 service between Montréal and Bordeaux. Much of discount carrier Norwegian's traffic is on 737s, which will be augmented by narrow body Airbus A321-Neos on order.
Too Little Seat Density, Too Much Frivolity
The A380 may have had respectable load factors, but these were misleading, because the seat density of the planes was so low. According to the South China Morning Post, "The A380 is capable of carrying more than 800 passengers, but most airlines choose to transport no more than about 500 people, instead decking out the cabin with fancy features from in-flight bars to showers and multi-room suites that come with flourishes like butlers and sofas. Such fripperies were a hit with passengers, who often went out of their way to book a flight on the A380, which promised a more spacious, quieter, more luxurious flight experience than older long-distance models."
However, as runwaygirlnetword.com explained, "… these features were not the objective; they were usually the clever solution to utilizing cabin dead space."
Too Much, Too Late
Airbus President Tom Enders said that the A380 may have "come 10 years too late." Given the rise of two-engine transatlantic service less than 15 years after the launch of the 747 and 32 years before the A-380, 30 years too late seems a better assessment. According to airline analyst Richard Aboulafia, Vice President of the Teal Group, the A380 "was born to die. Simply the dumbest program of modern times."
Wendell Cox is principal of Demographia, an international public policy and demographics firm. He is a Senior Fellow of the Center for Opportunity Urbanism (US), Senior Fellow for Housing Affordability and Municipal Policy for the Frontier Centre for Public Policy (Canada), and a member of the Board of Advisors of the Center for Demographics and Policy at Chapman University (California). He was appointed to three terms on the Los Angeles County Transportation Commission, where he served with the leading city and county leadership as the only non-elected member. During that time, he authored the amendment that created the Proposition A 35% set aside that established the first local funding for the rail system. His involvement on the Commission is detailed in Transit in Los Angeles.
Photograph: Cancelled Skymark A380s parked in France.
https://commons.wikimedia.org/w/index.php?curid=38969664