One of the toughest challenges in real estate is revitalizing urban boulevards. There are dozens of plans for remaking these, but very few of these plans have actually sparked much private investment back of the curb line, and the reason is that in most cases these streets are simply so big and busy that people don't want to live or shop along them. It's time to use a new strategy, one of building at right angles to them, and of re-attaching underused land to the surrounding neighborhoods. This article takes a tour of three places on the West Coast where the retail is at right angles to the big boulevard, including one area in Vancouver, BC where the multi-family towers have been brought into the neighborhood itself.
We'll start in southern California with Birch Street Promenade, a 1990's lifestyle center created by the City of Brea in northeast Orange County. Fifty years ago Brea's downtown straddled its major street, Brea Blvd., but when the Orange Freeway came through parallel to that old route, it drew the retail away and the old shopping street died. The City of Brea wanted to create a new center for itself, and rather than trying to make Brea Blvd. itself the center of activity. as it had been in the past, it instead put most of the walkable new retail on Birch St., which runs perpendicular. The photo below shows both of these streets. The distance from building face to building face on Birch St. is about 75 feet. The equivalent distance across Brea Blvd. is almost twice that.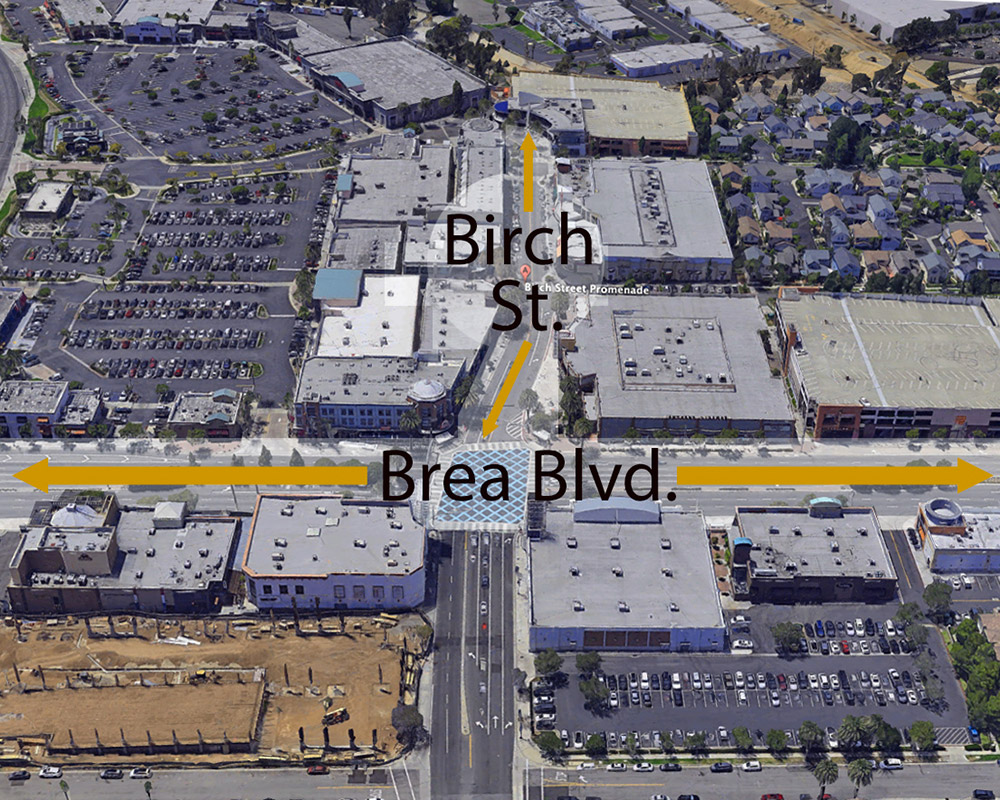 The genius of this design is that it anchors the retail with big box users on Brea Blvd., which value the access and exposure there, and then feeds the traffic they generate to the smaller stores and restaurants on Birch st. Shoppers enter the big box uses from the parking parking lots to the rear and then make their way to Birch St. across a big painted intersection. Given the way the retail and parking lots are configured, its likely that most of the shoppers never even walk along Brea Blvd.
Now let's go to Fourth Street in Berkeley, another specialty shopping area which, like Birch Street Promenade, also sits perpendicular to the major boulevard there, University Ave. Fourth Street is located several blocks off the University Ave. exit from I-80, and it too, has parking lots at its gateway that intercept visitors and get them out of their cars to walk the rest of the way into the district. The building-to-building distances across Fourth St. are about 70 feet, compared to 135 feet on University Ave.
While Birch Street is a formulaic 1990's town center, Fourth Street is distinctively different, even from the rest of Berkeley. For one thing, most of the buildings are old warehouses, which gives this place a decidedly industrial chic. Fourth St. itself has perpendicular street, Delaware, whose crossing bleeds off retail demand a block in either direction. Third, the old industrial buildings here are a variety of sizes and in different ownerships, which makes for very different improvement. Finally, there are loading docks in front of the key center buildings which have been made into plazas and patios which lift the browsing and dining up off the street and away from people parking their cars.
Now for a final stop in Vancouver's Kerrisdale, where the strong retail on the cross street, 41st, reaches a full 1300 feet into the neighborhood. The big urban boulevard here, Arbutus, is largely a car route to and through the area. The local shopping sr the big urban boulevard remains largely a car route. As shown in the photo below, the local shopping street, 41st, is only about 60 feet across from building face to build face, while Arbutus, the big boulevard, is more than three times that.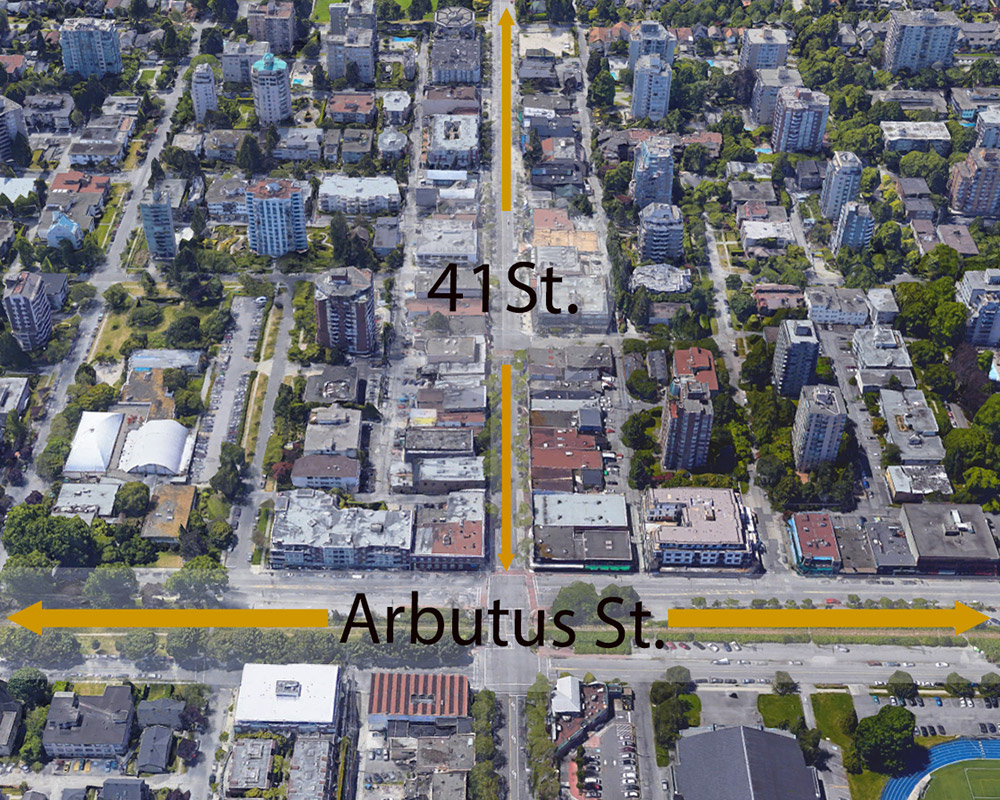 There's something even more important going on here: most of the newer mid-rise residential housing is actually in the neighborhood, and not forced to face out onto the busy boulevard, as in so many of those failed plans. There's a simple reason for this: people want to live in quieter, greener places, and they will pay a higher price to do so. Look closely at the photo above, and you'll see zones of mid-rises book-ended to either side of the local shopping street. In Vancouver the rents are significantly higher for the apartments that are within a neighborhood than for those that are on a busy street where you can see the traffic from your living room.
This points to an important change we need to make in our public investments in revitalizing our suburbs: we need to focus on re-attaching all of that underused land along the boulevards to the surrounding neighborhoods, rather than trying to make it a place unto itself. (The idea of a "linear place" along these busy streets is an oxymoron.) Vancouver's Kerrisdale provides a model for that. Challenge one: providing more walkable streets, off the major boulevard, for both shopping and living. Challenge two: up-zoning areas of dilapidated housing for new, middle-density housing that is in the neighborhood, not besides it. Yes, that will create redevelopment, but that up-zoning will create a windfall for current property owners, and the final result will be a better area, with higher values, for everyone who lives nearby.
---
Rod has worked in real estate for nearly 40 years, planning innovative new projects so they work, and fixing those that have failed. He has dual professional positions in this: as principal of Business Street, an urban consultancy, and as señor director of Revitalization Partners, one of the Pacific Norhwest's premier turnaround management firms, where he is the in-house real estate expert. Rod has worked on large scale commercial real estate projects in many communities up and down the West Coast, as well as across the country in Salt Lake, Denver, Albuquerque, Chicago, Houston, Chapel Hill and Sarasota. Learn more: business-street.com.
Photo credit: Xicotencatl via Wikimedia under CC 4.0 License.