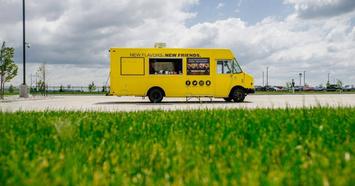 In September 2019, President Trump issued an executive order allowing local officials to decide whether their regions should continue accepting resettled refugees.
Yet despite fears of rising opposition to refugee resettlements, local county boards in some places, such as Fargo, Bismarck and Grand Forks, North Dakota, voted to continue the practice with little fanfare. North Dakota's Governor Doug Burgum, a Republican technology executive, flying in the face of opposition in his own party, views refugee resettlement so important to the region's future that he pledged the state government would take over resettlement work.
Refugee resettlement has been key to the globalization of the Great Plains. As of 2016, prior to President Trump's reduction of resettlement volume, Nebraska and North Dakota were the top two states for per capita refugee resettlement, with South Dakota and Minnesota close behind at seventh and eighth. Roughly 30 percent of all foreign-born residents of the Dakotas and Minnesota were born in Africa – ranking these as the top three states – largely due to refugees resettled from the continent.
Though many local officials support resettlement, the process has not been entirely smooth. In late 2015, the Juba Café, a Somali-owned restaurant in Grand Forks, ND, was firebombed. Ran by a group of female entrepreneurs who originally moved to the U.S. as refugees, the café had been targeted previously with Nazi-themed graffiti. Five years later, the burnt-out building still sits on the main thoroughfare of this city of 55,000, though the owners have since opened a grocery store up the street.
After the very public attack on the café, many in the community rallied with emotional support for the women who owned the business. Local resident Pete Haga saw an opportunity to continue to use the power of sharing food to support bridge-building between cultures. Haga, himself just a handful of generations removed from fair-skinned Norwegian immigrants to the region a century before, snared a grant from Miami-based Knight Foundation for a non-profit food truck.
Dubbed New Flavors Food Truck, Haga quickly assembled a board of advisors from the local immigrant business community and seasoned restaurant operators, seeking to simultaneously become a business incubator for immigrant restauranteurs and a vehicle for local residents to be introduced to their new American neighbors by sharing a plate of food. "We were having conversations about how best to engage the community in getting to know our new Bhutanese and Somali refugees and immigrants," Haga says about the impetus for the project.
Read the rest of this piece at Heartland Forward.
---
Mark Schill is an economic development community strategic planner based in Grand Forks, North Dakota. He has led community multi-stakeholder committees to create visions and plans for downtowns, community housing policy, homelessness, community arts policy, workforce and talent strategy, and many non- and for-profit organizations across 14 states. His economic and population analysis work has appeared in Chief Executive, Forbes, Money, the LA Times, and The Wall Street Journal. He is managing editor and co-founder of NewGeography.