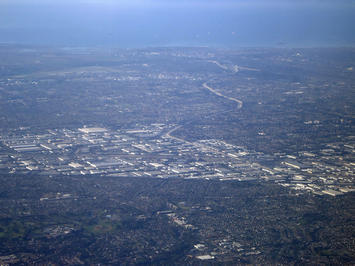 Some longtime Californians view the continued net outmigration from their state as a worrisome sign, but most others in the Golden State's media, academic, and political establishment dismiss this demographic decline as a "myth." The Sacramento Bee suggests that it largely represents the "hate" felt toward the state by conservatives eager to undermine California's progressive model. Local media and think tanks generally concede the migration losses but comfort themselves with the thought that California continues to attract top-tier talent and will remain an irrepressible superpower that boasts innovation, creativity, and massive capital accumulation.
Reality reveals a different picture. California may be a great state in many ways, but it also is clearly breaking bad. Since 2000, 2.6 million net domestic migrants, a population larger than the cities of San Francisco, San Diego, and Anaheim combined, have moved from California to other parts of the United States. (See Figure 1.) California has lost more people in each of the last two decades than any state except New York—and they're not just those struggling to compete in the high-tech "new economy." During the 2010s, the state's growth in college-educated residents 25 and over did not keep up with the national rate of increase, putting California a mere 34th on this measure, behind such key competitors as Florida and Texas. California's demographic woes are real, and they pose long-term challenges that need to be confronted.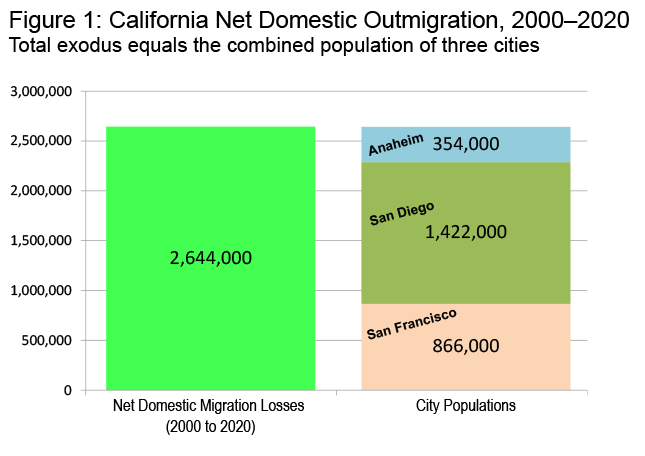 The state has suffered net outmigration in every year of the twenty-first century, but its smallest losses occurred in the early 2000s and the years following the Great Recession, when housing affordability was closer to the national average. Home prices have risen since then—and so have departures. Between 2014 and 2020, net domestic outmigration rose from 46,000 to 242,000, according to Census Bureau estimates.
The outmigration does not seem to have reached a peak. Roughly half of state residents, according to a 2019 UC Berkeley poll, have considered leaving. In Los Angeles, according to a USC survey, 10 percent plan to move out this year. The most recent Census Bureau estimates show that California started falling behind national population growth in 2016 and went negative for the first time in modern history last year.
The comforting tale that only the old, bitter, and uneducated are moving out simply does not withstand scrutiny. An analysis of IRS data through 2019 confirms that increasing domestic migration is not dominated by the youngest or oldest households. Between 2012 and 2019, tax filers under 26 years old constituted only 4 percent of net domestic outmigrants. About 77 percent of the increase came among those in their prime earning years of 35 to 64. In 2019, 27 percent of net domestic migrants were aged 35 to 44, while 21 percent were aged 55 to 64. (See Figure 2.)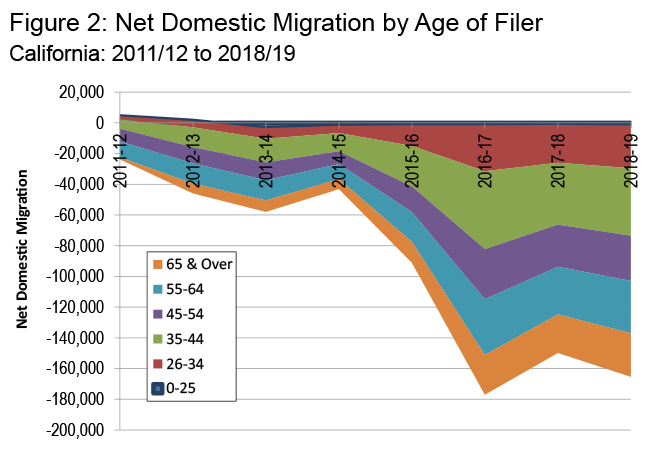 To be sure, the largest increase in net domestic migration was among those aged 65 and over. But the second-largest increase came in the 25 to 34 categories—with the state's exorbitantly high cost of living the likely culprit.
Read the rest of this piece at City Journal.
---
Joel Kotkin is the author of The Coming of Neo-Feudalism: A Warning to the Global Middle Class. He is the Presidential Fellow in Urban Futures at Chapman University and Executive Director for Urban Reform Institute. Learn more at joelkotkin.com and follow him on Twitter @joelkotkin.
Wendell Cox is principal of Demographia, an international public policy firm located in the St. Louis metropolitan area. He is a founding senior fellow at the Urban Reform Institute, Houston, a Senior Fellow with the Frontier Centre for Public Policy in Winnipeg and a member of the Advisory Board of the Center for Demographics and Policy at Chapman University in Orange, California. He has served as a visiting professor at the Conservatoire National des Arts et Metiers in Paris. His principal interests are economics, poverty alleviation, demographics, urban policy and transport. He is co-author of the annual Demographia International Housing Affordability Survey and author of Demographia World Urban Areas.
Photo: Outer suburbs of Los Angeles (western San Bernardino County), by Wendell Cox.