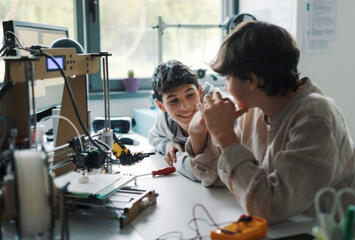 When people ask me, "Exactly what do you consider Flyover Country?" I generally point to the logo of The Flyover Coalition and say: "There!" Because our logo nearly perfectly circumscribes the part of the country that basically is linked economically and psychographically, including Florida, Georgia, West Virginia — even Colorado and Montana.
But now and again, we are bound to stretch our definition of Flyover Country to include western and upstate New York, where the reigning economies of metal manufacturing and dairy cows make those areas much more akin to Wisconsin and Missouri than they are to Manhattan.
And that's where Jay Baker comes in: The CEO of Jamestown Plastics — named for Jamestown, New York, also known as the birthplace of Lucille Ball — runs one of the most dynamic mid-market manufacturing operations I know of. When Baker isn't rolling out new products, adding new customers and expanding his injection-molding business, he's tending to the future supply of workers for his operations in Brocton, New York, and Brownsville, Texas.
And more than that, the CEO is providing a model that is effectively addressing a common plaint among his peers in American manufacturing: How do we get kids interested in careers in our factories? There's much to learn from his successful approach.
Different Kind of Lunch Club
Baker started a STEM- and manufacturing-focused "lunch club" at the Chautauqua Lake Central School in western New York for high-school students who wanted to become "makers" and now, a few years later, the program has been integrated into the local curriculum for junior-high and high-school students.
The kids are getting real-world experience in taking a concept and creating a physical product using CAD-CAM equipment and computer numerical controls (CNCs). Because of the intensity of their learning, they can earn up to 30 credit hours at Rochester Institute of Technology (RIT) in nearby Rochester, New York, one of the best research universities in the country.
"We've got three individuals who went through that program and now are our employees and doing a fantastic job," Baker told me. "They're going to [college] at the same time. One kid is working full-time and carrying 20 to 25 credit hours in manufacturing at the local community college, building on his skill set. We're getting the cream of the crop at Jamestown Plastics while these kids continue their education at the same time."
Baker is inspiring other New York manufacturers to follow suit and would like to see the lunch-club model sweep manufacturing across the country. His "aha moment" came about five years ago when he thought, "We have boys' and girls' clubs using our school facilities. Why not start a manufacturing club?'' Baker, a former member of the local school board, worked with another nearby manufacturer, Randy Stuart, CEO of Stuart Tool & Die, and presented the idea to the school.
Read the rest of this piece at Flyover Coalition.
---
Dale Buss is founder and executive director of The Flyover Coalition, a not-for-profit organization aimed at helping revitalize and promote the economy, companies and people of the region between the Appalachians and Rockies, the Gulf Coast and the Great Lakes. He is a long-time author, journalist, and magazine and newspaper editor, and contributor to Chief Executive, Forbes, the Wall Street Journal, the New York Times and many other publications. Buss is a Wisconsin native who lives in Michigan and has also lived in Texas, Pennsylvania and Florida.
Photo: courtesy Flyover Coalition.