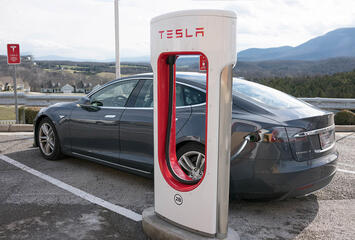 California is working overtime to prove something that is obvious to most middle-class Americans: electric vehicle mandates are something of a scam.
A week ago, California announced it would ban the sale of new gas-powered cars by 2035—only to beg residents this week to stop charging their electric cars for fear of breaking the power grid amid a massive heatwave.
This is the untenable future that California's green agenda promises. California Governor Gavin Newsom's decision to eliminate gas cars over the next decade represents an enormous bet on a single, increasingly pricey technology which will assuredly raise basic costs to middle and lower-income Californians in the decades ahead. And it places the once proud auto industry at the mercy of China, which dominates the market for electric vehicle (EV) components and the raw materials that go into them.
Perhaps the most dubious aspect of the all-electric policy is the simple question of where will the new juice come from to power these cars. In the UK, EVs are projected to double the demand for electricity by 2040, and the government is already looking to ban the use of home chargers during peak hours.
Expect the same in California, which has not been adding capacity along with its decrees, forcing the state to import over 30 percent of its electricity from other states. This has made California the nation's largest net electrical-importing state by a wide margin; by 2050, state consultants estimate that electrification mandates, including those for trucks, will cause total demand to skyrocket, with some estimates of demand rising 60 to 90 percent by that time.
Nor will electric cars provide much relief to middle or working-class families. The price of rare metals and computer chips has surged of late, raising the prices of EVs; electric truck maker Rivian recently raised the price of their pickups by $12,000, to nearly $80,000 (not coincidentally, the original amount of the rebate promised in Build Back Better).
Simply put, EVs—which last year sold for an average of at least $56,000—are not a viable option for most Californians, particularly as enormous demand for lithium, copper, and aluminum has soared. Middle-class Americans certainly won't be snatching up the newly planned $300,000 Cadillac EV, or even the popular Model Y Tesla SUV, now $70,000 due to rising battery prices. The best they can hope for is to use the EVs of the ride-sharing companies, whose electric transition will be financed by taxpayers, if a new ballot measure passes.
As with President Biden's college debt forgiveness, the EV drive raises enormous issues of class and equity. When Newsom announced an accelerated schedule to ban gasoline-car sales by 2035, Assemblyman Jim Cooper, an African American from Sacramento, denounced the proposal, pointing out that the low- and middle-income drivers he represents can't afford electric cars. "How will my constituents afford an EV? They can't," he tweeted.
Read the rest of this piece at Newsweek.
---
Joel Kotkin is the author of The Coming of Neo-Feudalism: A Warning to the Global Middle Class. He is the Roger Hobbs Presidential Fellow in Urban Futures at Chapman University and Executive Director for Urban Reform Institute. Learn more at joelkotkin.com and follow him on Twitter @joelkotkin.
Photo: Austin Kirk via Flickr under under CC 2.0 License.