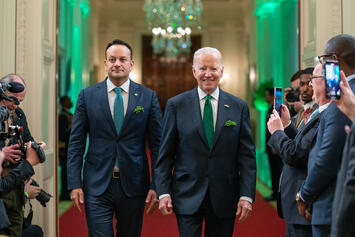 President Biden may have received a rapturous welcome in Ireland, but Democratic strategists in Washington will have taken little notice. With next year's election looming, they increasingly look like they are stuck with a candidate who most in the party do not want and whose poll numbers remain consistently underwater. And these foreign forays won't do much for this. While media baths can be helpful, the key challenge for Biden and the Democrats lies not in promoting his leadership profile, but in finding ways to distance the party from the divisive agenda associated with progressive politics.
To an extent, this shift is already taking place, as leading Democrats, from Biden to California's Gavin Newsom, start to inch away from orthodoxies of 2020. Take the movement to "defund the police", which, observes former Clinton advisor Bill Galston, "is now over". Even the increasingly Left-leaning USA Today admits the slogan has little support and that it is particularly resented among Latinos and African-Americans.
Aware of this change, Biden has correspondingly worked to bolster his crime record. He recently dropped his opposition to a Congressional initiative to clamp down on a lenient sentencing bill that would have lessened penalties for property crimes and even carjacking in Washington D.C. — to the great agitation of his progressive media allies. On the southern border, meanwhile, the administration has begun revamping its stricter asylum policies, particularly in border states with large Hispanic populations.
Perhaps more remarkably, the Democratic "post-woke" turn has also extended to climate policy. Of course, the spectre of ecological crisis still obsesses many on the Left. But barely 3% of the broader population consider it America's most pressing concern, something some Democrats appear to have finally registered. Biden, for instance, recently stopped echoing the extreme predictions of the climate lobby. Instead, he appears more relaxed about fossil fuel development than early in his term — to the chagrin of green activists — and has taken tentative steps to restart the US's largely moribund nuclear industry. Such changes are critical, notes long-term Democratic strategist Ruy Teixeira, to winning over the increasingly diverse working class.
Even in the bluest of states, political reality is reasserting itself. California's Gavin Newsom has kept nuclear and natural gas operating (in large part to prevent politically unpalatable blackouts) and has even suggested amending the state's landmark environmental law. Newsom and other Democratic governors are also having to revise their free-spending ways. Faced with an economy weakened by Silicon Valley's meltdown, Newsom has tried to reinvent himself as a fiscally conscious moderate in the mould of Bill Clinton, making budgetary trims while avoiding the large wealth taxes which could prompt a brain drain from his state.
After all, it is increasingly embarrassing that the two rival states Newsom likes to criticise — Florida and Texas — enjoy large budget surpluses, and that several red states are initiating tax cuts. Aware that disorder in Californian cities is becoming a potent talking point on the Right, Newsom has also abandoned several other progressive shibboleths. Last year, for example, he even vetoed a bill that would have legalised "shooting alleys" — so-called safe drug-injection sites — in San Francisco, Los Angeles, and Oakland.
Read the rest of this piece at UnHerd.
---
Joel Kotkin is the author of The Coming of Neo-Feudalism: A Warning to the Global Middle Class. He is the Roger Hobbs Presidential Fellow in Urban Futures at Chapman University and Executive Director for Urban Reform Institute. Learn more at joelkotkin.com and follow him on Twitter @joelkotkin.
Photo credit: The White House via Flickr, U.S. Government Work.