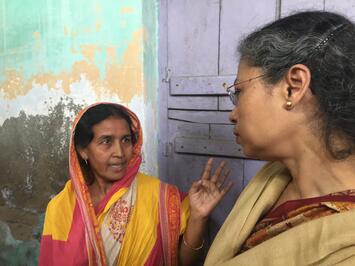 When I met Rehena Jamadar, she was 44 years old. A soft-spoken, elegant woman, she had her first child, a girl, when she was 16. Two other children, a boy, and a girl, came shortly afterward.
Rehena lives in the village of Majlishpukur, a tiny agricultural settlement located southeast of central Kolkata in a region known as South 24 Parganas. The road to the village is intermittently paved with bricks and is barely wide enough for two full-size vehicles to pass safely. Most of the vehicles on the road had two or three wheels. Bicycles were the most common conveyance. Chickens, pigs, and dogs roamed freely. Rainwater collected in trash-strewn drainage ditches on both sides of the road. Smoke from dozens of small cooking fires had left a light blue-gray haze that softened the late-morning December sun.
My dear friend, Joyashree Roy, a professor at the Asian Institute of Technology in Bangkok, a senior fellow at the Breakthrough Institute, and a lead author of several reports issued by the Intergovernmental Panel on Climate Change, arranged our visit to Majlishpukur. She was our guide and interpreter.
Rehena's modest home had been connected to the electric grid 14 years earlier. She led us to the side porch of her brightly painted home to show us her electric meter. She was getting cut-rate electricity thanks to the federal government's electrification program. She paid the bill every three months. Inside her home were a few light bulbs, a fan, and an outlet in the kitchen. One of the things she liked best about having electricity was that kitchen work gets done faster. She was using an electric grinder to prepare the spices she uses in her food. Before electrification, she had to do that grinding by hand, which consumed much of her time in the kitchen.
I had lots of questions. Joyashree easily translated them into Bengali. What was it like before her home got electricity? What was it like now? Rehena told us about the beneficial impact that electricity had on her children. Thanks to electricity, her children were able to read books, practice their writing, and manage their schoolwork at night. That had had a clear and positive result: one of her daughters was attending college in Kolkata, a fact of which Rehena was clearly proud.
After we'd talked for a while longer, I asked Rehena: "If you had lived in a house that had electricity when you were growing up, would you have gone to university, too?" A brief smile flashed across her face and without a nanosecond of hesitation, she nodded her head to the right, in the way typical of many residents of West Bengal, and said, "Yes. I would have."
Read the rest of this piece at Robert Bryce Substack.
---
Robert Bryce is a Texas-based author, journalist, film producer, and podcaster. His articles have appeared in a myriad of publications including the Wall Street Journal, New York Times, Forbes, Time, Austin Chronicle, and Sydney Morning Herald.
Photo: courtesy Robert Bryce Substack, by the author.