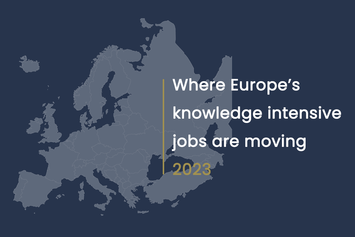 Preface: Europe is becoming more integrated – not only in terms of its defence policy but also through the spread of knowledge intensive jobs. The trend shows that a shift is underway and that brain business jobs are increasingly found in the Eastern and Southern parts of Europe. The study finds that the nations with the highest growth rates all seem to have relatively low tax rates, while high tax countries are stagnating.
Since 2017, the Brain Business Jobs project has mapped out the geography of knowledge-intensive jobs in Europe. The index, published by the ECEPR with support from Nordic Capital, comprises 31 nations and 277 regions in Europe and measures the share of the population (15-64) currently employed in highly knowledge-intensive companies within the following sectors: Technology, IT, communication, advanced services, design, or other creative jobs. The study concludes that Europe has become an increasingly integrated knowledge economy. The findings reinforce the connection between high shares of knowledge-intensive jobs and low unemployment rates.
While much of the policy discussions focus on how European nations are integrating their defence and foreign policy (in response to Russia's invasion of Ukraine), simultaneous economic integration also takes place. One significant development is that nations in Eastern and Southern Europe have recorded an impressive growth of these jobs and are catching up.
The capital cities in Southern Europe (Paris, Madrid, Rome, Lisbon, Athens, Cyprus, and Valletta) together have more than 2.4 million knowledge-intensive jobs. This is far more than the 1.6 million jobs recorded in the capital cities in Western Europe (London, Berlin, Amsterdam, Vienna, Brussels, and Luxembourg).
The capital cities in Eastern Europe have twice as many knowledge-intensive jobs as the ones in the Nordics. Warsaw, Budapest, Bucharest, Prague, Sofia, Bratislava, Zagreb, Latvia, Ljubljana, Vilnius, and Tallinn together have more than 1.5 million of these jobs. Whereas the Nordics (Stockholm, Copenhagen, Helsinki, Oslo, and Reykjavik) have recorded an impressive and strong culture of creating and fostering knowledge-intensive jobs, but the smaller populations mean that the number of brain business jobs stands at about 700,000.
The concentration of these jobs remains the highest in Western and Northern European nations. Switzerland has the highest share (10.7%), and Sweden comes in second place (10.1%), with Ireland in third place and continuing to see growth (10.0%). Interestingly, Ireland has because of a favourable tax system and business-friendly policies, risen through the ranks and now caught up with Sweden.
The main growth, however, primarily takes place in Eastern and Southern Europe. Between 2014 and 2022 the relative increase of these jobs was 62% in Lithuania and Cyprus. In addition, Portugal, Romania, Hungary, and Bulgaria all recorded growth rates above 50%. For comparative purposes, some of the continent's most notable nations struggled in the same period: Germany (28%), the UK (16%), and France (9%).
Table 1.
Rate of change in brain business jobs concentration
(per capita working-age inhabitants) between 2014 and 2022
Lithuania
62%
Netherlands
20%
Cyprus
62%
Belgium
17%
Portugal
61%
Finland
17%
Romania
53%
United Kingdom
16%
Hungary
51%
Italy
13%
Bulgaria
50%
Sweden
12%
Croatia
42%
Luxembourg
11%
Poland
42%
France
9%
Slovenia
42%
Norway
7%
Estonia
40%
Austria
7%
Malta
40%
Denmark
6%
Slovakia
37%
Iceland
6%
Latvia
37%
Switzerland
5%
Spain
36%
Greece
4%
Germany
28%
Czechia
25%
The study finds that the nations with the highest growth rates all seem to have relatively low tax rates, and vice versa. More than 33 percent of the variation can be explained by the variance in tax levels as share of GDP.
On a regional level, Eastern Europe is already on top. This is because an unusually high share of knowledge-intensive jobs is located exclusively in the capitals – most of which combine competitive taxes with a strong pool of talent within the sciences, technology, engineering, and mathematics sectors.
In all previous studies, Bratislava has had the highest concentration of these jobs per capita. Whereas it remains impressive that about 22.8 percent of people in Bratislava are employed in knowledge-intensive companies, the latest index has another region on top. In 2023, Budapest records its first-ever gold medal (23.9%), ahead of both Bratislava and Prague in second and third place, respectively. These are followed by Upper Bavaria, Paris, Stockholm, the Southeast England region (Berkshire, Buckinghamshire and Oxfordshire), Copenhagen, London, and Bucharest. In the top ten, four regions are found in Eastern Europe, three in Western Europe, two in the Nordics and one in Southern Europe.
The number of knowledge-intensive jobs is mainly increasing in East and South, two regions that long used to be far behind its counterparts in North and West. While Stockholm and London remain frontrunners and hubs, Eastern Europe suddenly records impressive growths and now has three capital regions at the top.
As English has become the go-to language professionally and digital connectiveness continues to transform the continent, Europe is increasingly becoming an integrated economy.
Healthy co-operation and institutional competition have always laid a solid foundation for progress and success in Europe. We are certain that this is the way forward, too. Southern and Eastern Europe are now catching up, by combining competitive taxes and investments in education. This, naturally, spurs Western and Northern Europe to sharpen their own offerings and policies. It is common for knowledge-intensive firms in Europe to co-operate through value-chains that span across the continent. Some firms in Stockholm and London, for instance, may have a few employees working on-site for a particular project, while the lion's share is carried out by subcontractors in talented and more affordable places such as Budapest, Bratislava, or Bucharest.
As Europe is becoming an increasingly important platform for security and defence cooperation, we believe that it is also important to recognise the significant integration that is happening within knowledge-intensive jobs. This is, ultimately, a positive development. By combining competition and cooperation, Europe can create more secure communities and achieve stronger economic and technological progress.
Understanding and acknowledging the growth patterns of knowledge-intensive jobs in Europe is also relevant for policymakers and businesses on the other side of the Atlantic. Nowadays, Europe is increasingly progressing as a whole.
Northern and Western European nations have historically developed strong institutions with low corruption rates but exaggerated public sectors and high taxes have halted their development. Eastern and Southern European countries aim at strengthening their institutions, reducing the historically high level of corruption, and leveraging the evident benefits with lower taxes.
We believe that this trend will continue – similarly to the one seen in the US, where technology firms are expanding outside of Silicon Valley. Digitalisation is a key explanation, as it allows for knowledge-intensive businesses to cooperate over vast distances. That the growth is shifting to the East and South creates an institutional pressure on the governments in Western and Northern Europe to adopt business-friendly policies, invest in and encourage more people to pursue careers in the sciences, technology, engineering, and mathematics sectors. This would set the stage for a more dynamic and stronger European economy to emerge.
---
Nima Sanandaji, Director, European Centre for Entrepreneurship and Policy Reform (ECEPR)
Klas Tikkanen, Chief Operating Officer at Nordic Capital