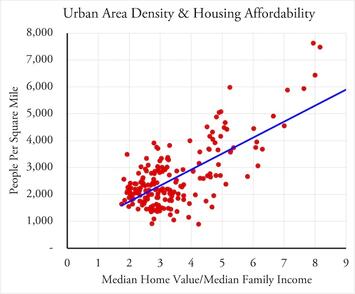 A new report on housing decries the fact that many unaffordable housing markets have gotten even less affordable in the last few years. The report's solution is in the name of the organization that published it: Up for Growth, as in "grow up, not out." View or download a 24MB PDF copy of this report here (link opens in new tab or window).
The reports calls for cities to identify what neighborhoods to build in, "the appropriate increase in density for each location," and the "optimal housing mix," in other words, the mix of single-family vs. multifamily housing, for each neighborhood. Where people actually want to live and whether they prefer to live in single- or multifamily housing are not to be considered.
Ironically, the report specifically decries the high housing prices in places like San Francisco and Seattle. Yet these cities have arguably followed the up-not-out process for several decades. The density of these two urban areas have both significantly increased since 1970. The San Francisco-Oakland urban area had less than 4,400 people per square mile in 1970; as of 2020 it was more than 6,800 people per square mile.
That increase in density was not accompanied by an increase in housing affordability. In 1970, median home prices in the Bay Area were 2.3 times median family incomes. As of 2022, prices were 7.7 times incomes. As shown in the above chart, there is a strong negative correlation between population density and housing affordability.
Read the rest of this piece at The Antiplanner.
---
Randal O'Toole, the Antiplanner, is a policy analyst with nearly 50 years of experience reviewing transportation and land-use plans and the author of The Best-Laid Plans: How Government Planning Harms Your Quality of Life, Your Pocketbook, and Your Future.
Photo: chart from the Antiplanner.