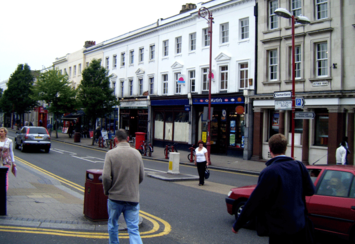 Localism, a longstanding agenda of the Green Party in the context of the UK economy, is gaining ground in the current economic crisis. In a recent edition of the London-based Daily Telegraph, a striking contrast is made between Chester in north-west England – which is suffering from the decline of its relatively narrow economic base and Totnes in south-west England, which with its longstanding interest in alternative living, and more localised economy, seems to be weathering the situation much better. The underlying message from the article is that small is good – particularly for businesses not overextended in their borrowing, and familiar enough with their immediate context to be able to adapt to a changing economy.
The New Economics Foundation think-tank, has been for several years campaigning against Clone Town Britain (namely, the over preponderance of chain stores at the expense of small chains and independent stores). Past criticism of the foundation for having an overly romantic notion of what constitutes a successful town centre may still continue, but there may also be some economic logic to a more locally oriented town centre strategy.
Perhaps the best approach is to avoid either free-market efficiency ideology, on the one hand, or a strict local-only approach. It seems clear from other recent research into successful suburban town centres that a combination of national chains and good quality independents makes for the best mix to ensure long-term economic sustainability.
This issue, like perhaps too much else in Britain, is currently subject to government action. The new Sustainable Communities Act now makes it mandatory for the UK government to assist local councils and community 'stakeholders' in drawing up local sustainability strategies for enabling independent businesses to survive in the increasingly cut-throat high street (the equivalent of the US 'main street').
Yet as usual the government seems to overlook where most people live: the word suburb or suburban is nowhere in the Act. Possibly this is not surprising as the main focus is on large scale, infrastructure projects, but the continuing lack of attention in policy terms to the suburbs should be a matter of concern to those who believe a diffuse network of connections is essential to the continuing sustainability of the economy.
It is equally worrying to see that the influential group set up by London's Mayor Boris Johnson to focus on the outer London suburbs (which are cited as being his main source of political support in the mayoral elections) continues the pattern of focusing on the larger metropolitan centres at the expense of the smaller suburban centres in the capital. At an 'Outer London Summit' held on 11th June, Mayor Johnson made it clear that the policy focus continues to be on strengthening a constellation of "growth hubs" of economic activity, such as the metropolitan centre of Croydon in south London, despite the clear evidence demonstrating how smaller centres have an important role in making suburbs more sustainable.
Within the next 20 years, most housing growth in England and Wales is predicted to occur in suburban settlements. This development is expected to be sustainable economically and environmentally, which means that suburbs will increasingly be required to provide local economic activities in order to minimise travel and to support cohesive and vibrant communities.
The Towards Successful Suburban Town Centres research project at University College London has investigated the strategic contribution of Greater London's smaller and district centres to the sustainability of the metropolitan region. 'Sustainability' in interpreted by the project team as referring to conditions favourable to local concentrations of long-lasting socio-economic and cultural activity.
The research also has found that the widespread perception of suburbia as synonymous with social and architectural homogeneity belies its spatial, social, ethnic and economic diversity. With pressure to build large numbers of new homes increasing, there is a real danger that such perceptions become self-fulfilling.
Initial findings suggest the success of local centres depends on the ability of their built environments to adapt to social and economic change by allowing pedestrian movement around an extended central area, balanced with accessibility to vehicular and public transport at larger scales of movement. Centres that support a wide range of locally generated activity are likely to be more resilient in the face of change than retail or purely residential monocultures. The results show that spatial variety and economic adaptability are both crucial to economic sustainability.
This adaptability inherent to the suburban built environment needs to be more widely understood and promoted. The Towards Successful Suburban Town Centres project has found that where the town centre supports a diverse range of activities it benefits from increased by-product movement, where people do more than what they deliberately came to do during their visit to the centre. People visiting local town centres such as Surbiton (made famous by the 1970s BBC sitcom The Good Life), are not like shoppers at a 'power centre' dominated by a Wal-Mart. They don't just shop for a specific item; they linger, eat lunch, drink coffee, research local cultural activities and indeed might be there for a business meeting. Surbiton, like many of London's smaller town centres, has close links to larger centres such as Kingston, which alongside retail, offices and a university, boasts the new Rose Theatre led by Sir Peter Hall.
The benefits here go well beyond the strictly economic. More time spent locally leads to a more vibrant mix of people on the streets and helps enliven the town centre throughout the day. This street network potential provides a critical element for sustaining the vitality of suburban and small town centres. The extensive and varied activity in lively areas enables complex routine daily and weekly movement patterns to emerge, thereby furthering the engagement of individuals with their locality.
With the closure of chains such as Woolworths, however tragic for long-time customers and employers, the economic downturn also opens up opportunities for alternative high street activities. In one example, Art Space + Nature, an avant-garde Scottish art collective, have produced plans to bring new activities to empty shop fronts by putting on art exhibitions. The Institute of Community Cohesion is working on plans to create new indoor markets for local communities in closed business units.
These and many other grassroots initiatives are localist at heart. The key may be in making sure that these attempts remain grassroots, and not too impacted by either large governmental units or major non-profits. To succeed, localism must be properly bedded in the community. Economic trends, as well as history, demonstrate that a bottom-up approach to creating lasting viable communities works not only in cities, but in suburbs as well.
Laura Vaughan is a Senior Lecturer in Urban and Suburban Settlement Patterns and the Director of the MSc in Advanced Architectural Studies at the Bartlett, University College London and a member of UCL's Space research group.