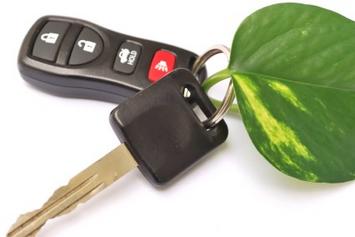 Innovation in urban transportation is the only long-term correction for expensive environmental losses and energy waste. Why, then, isn't there a US plan for more vigorous exploration and demonstration of new systems using advanced technologies, particularly automation? Where is the Personal Rapid Transit — PRT — in US transportation policy?
PRT utilizes automated, energy efficient, very lightweight four seat vehicles that operate on narrow, electrified, dedicated guideways. PRT vehicles reduce pollution and conserve land use. The system preserves the benefits that have made automobiles our current dominant transportation mode: personal, on-demand, fast travel directly to arbitrary destinations. For non-drivers, it's a form of public transportation that upgrades travel to the personal level now available with the automobile. It allows travelers to avoid the slow, stop and go, repetitive service schedule which has prevented meaningful acceptance of conventional mass transit in all but a few very dense cities.
PRT works like this: At an off line station, a rider goes to a waiting group of personal cars, inserts a card, punches in a destination and joins the main line for the automatically controlled trip directly to his or her destination.
By direct use of electric energy to power very efficient drive motors, the limitations and inconvenience of batteries are primarily avoided. In some cases, when complete area coverage for the guideway net is not completed, dual mode cars with minimum battery use can deliver the "last mile" to destinations. Of course, current programs for significant automobile improvement should continue until PRT operations are ready to supplant them.
There is a safety bonus, since these very light weight, energy efficient cars are segregated from the mixed flow of heavy cars and trucks.
The simpler, lighter PRT vehicles would use significantly less energy than hybrids or battery powered cars. PRT offers the most potential for deep cuts in greenhouse gases in a few decades, without restricting the mobility necessary for regional productivity.
Community-useful PRT coverage is not possible "overnight". But PRT and other emerging technologies can stimulate whole new job producing industries while reducing dependence on both fossil fuels and conventional autos for personal transportation.
Billions are being spent on mass transit installations that few travelers want. Meanwhile, urban congestion increases. Urban "streamlined" mass transit is seldom faster than 100-year-old trolleys. No really new concepts have appeared, since government has not prioritized new systems. Instead, it supports minor changes in existing models. Look at the military's successful history of taking advantage of risky new technologies. Imagine if it overlooked a comparable potential; it's equally difficult to fathom telecommunications companies still offering "Ma Bell" style dial phones.
There is some limited evidence that the concept and hardware are being adopted. Heathrow airport near London is about to open on-demand personal ground travel between parking and terminals. Masdar is a United Arab Emirates new city which will replace automobiles with PRT. In the US, completely automatic on-demand travel on a small, funds-limited basis has been operating successfully at the University of West Virginia for thirty years.
Some investigators hope that private funding — perhaps an office park, or a campus — can give PRT its initial boost. Maybe a city would be willing to start such a system in a congested area.. Certainly, the automobile revolution started in piecemeal ways. The commitments that are needed today are larger, however. Today's climate of regulation and progressive income tax discourage risk capital at the needed levels.
There are signs that the Federal government realizes that transportation policy has lost direction. A recent National Transportation Policy Project report proposes performance-based investment decisions for economic productivity. Compared to other vital infrastructure and private enterprise accomplishments, truly new concepts in transportation have been missing for many decades. With an opportunity to stimulate the economy, and create new job producing industries of global significance, hopefully this new form of vital personal transportation can be the win-win basis for national economic health and efficient urban transportation.
For more on PRT vehicles, see the Liberator Car by MonoMobile or the British/Swedish/Korean Vectusport-Vectur Transport.
Walter Brewer is a retired Vice President of a concepts and management center supporting military missile and space programs.