The Information sector of the economy is has followed an interesting trajectory over the past 15 years. The info sector built up to a huge peak in the early part of this decade, and has seen general decline since that time.
Growth in Information Subsectors:


The big boom and bust was caused by employment inflation of the telecommunications sector. Publishing followed a similar, but less extreme path. Both industries have reverted to employment levels in the early 1990s.
Motion picture and recording, data processing, broadcasting, and Internet publishing have all seen modest gains since the early 1990s.



Information growth by percent: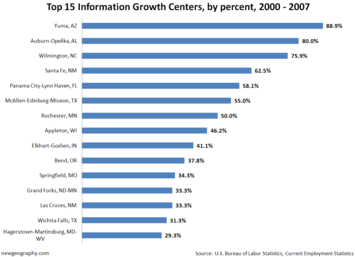 Here's the fastest growing metro areas in the information sector through the recent period of decline. We're seeing a decentralization effect here: smaller metros with historically manufacturing-centric otherwise specialized economies are building information industries.






Information growth by number of jobs:


Seattle is leading the charge and Madison is rapidly becoming and information center in the central states. I wouldn't have guessed Springfield, MO or Orlando would show up here.