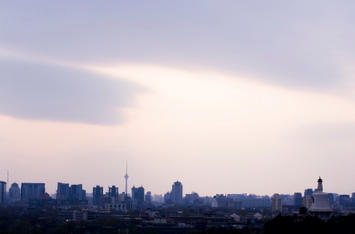 "What the Western fantasy of a China undergoing identity erasure reveals is a deep identity crisis within the Western world when confronted by this huge, closed, red alien rising. There is a sense that world order is sliding away from what has been, since the outset of industrialization, an essentially Anglo-Saxon hegemony, and a terrible anxiety gathers as it goes." – Adrian Hornsby, "The Chinese Dream: A Society Under Construction".
One year after the conclusion of what may have been the most bombastic Olympic Games ever staged, the host city of Beijing has solidified its position as a growing influential global metropolis. While the rapid pace of change and development in China is well-documented by the Western media, the foreign consensus regarding The Middle Kingdom's ascendancy to global super power remains decidedly ambivalent. Yet a closer look at China's second largest city may yield a different, more promising outlook for this gigantic yet mysterious country.
Much like London was to England in the 19th Century and Los Angeles was to the U.S. in the 20th Century, Beijing is today ground zero for opportunity in China. Shanghai holds on to its reputation as the country's most cosmopolitan city and banking center, but Beijing continues to strengthen its role as political and cultural hub of China.
To call Beijing an 'opportunity city' is counterintuitive based on its monumental physical characteristics and history as imperialistic capital. Home to the massive Forbidden City and the adjacent Tiananmen Square, the city is defined by a tradition of architectural pomposity. Continued today in buildings like the Olympic Bird's Nest Stadium and the ominous CCTV Building, subtlety and grace are not Beijing's strongest suits. Yet underlying these iconic structures is a restless population of 17 million, including many newcomers eager about the prospect of upward mobility.
As construction of new buildings came to a screeching halt in the U.S. late last year, I also heeded the call of opportunity and headed to Beijing myself. My story is not unique in this regard as the phenomenon of recent American graduates moving to China for jobs was documented earlier this month in an article from the New York Times. Now working with a young, up-and-coming Chinese architecture firm, I am bearing first-hand witness to phenomenal changes.
Problems exist of course, but criticizing Beijing or the rest of China from afar for its poor air quality or the rampant destruction of its old neighborhoods is too easy. The reality underlying these problems is much more complex, much of it depending on varying perspectives of how Westerners as opposed to Chinese view the country's direction.
For instance, Western planners and architects lament the razing of the charming alley and courtyard Hutong neighborhoods as significant losses of urban history. Yet most Chinese people view the process of destruction and rebuilding as a necessary piece of the modernization of their country. As 21-year-old film student and native Beijinger Ashley Zhang observes, "Although the loss of the Hutongs is sad, the reality is that most people would prefer to live in modern buildings where they do not have to go outside and use a shared bathroom or live in an old structure where they are going to be cold during the winter."
Other Beijingers have noted how owners of homes in Hutongs are more than willing to trade in their digs for large paydays. Ms. Zhang went on to explain to me that a "change in accommodations will not necessarily alter the spirit or the culture of the Chinese people". This presents a markedly different perspective from the Western view on the relative importance of permanence in the built environment.
It could be argued that a true sense of Chinese-ness exists more in the tradition of language and cuisine than in the built form. As such, the new and prolific building and infrastructure projects of China represent more a desire to join the modern world rather than to celebrate its architectural history.
Yet to say that there is no urban planning in Chinese cities would be off the mark. As put forth by the Beijing Municipal Commission of Urban Planning in 2004, the 'Beijing 2020 Masterplan' calls for high intensity development eastwards towards Tianjin and low intensity development westward towards the mountains. The 'Two Axes, Two Corridors – Multicenters' Plan' aims at relieving congestion towards the historic center of Beijing by strengthening outlying polycenters.
Lisa Friedman of the New York Times recently lambasted the city's development pattern as Beijing locking itself into a pattern of Los Angeles-type sprawl. In fact, Beijing's polycentric development can be attributed to the fact that the historic core of the city is already well defined and remains off-limits to new development.
Also, contrary to most American cities, the designated 'Central Business District' lies east of the center of the city. Concentrations of jobs form other business 'nodes' in all directions around Beijing. This is not due to any desire to copy Los Angeles per se but rather because the city is gaining tremendously in population and must 'sprawl' in order to accommodate these newcomers. In addition, businesses prefer to set up shop in places where land is cheaper.
Detractors of rapid urban development like to note how sprawl creates unbearable automobile traffic. Yet they forget that the first great exemplars of "sprawl" – London and Los Angeles – did so with massive commuter rail systems long before the rise of LA's freeway system or London's ring roads.
In fact what you have in Beijing is sprawl abetted by a Metro system that would be the envy of American public transportation enthusiasts. There are currently six subway lines operating in the city and in addition, 10 new lines which are under construction are all slated to be completed by 2015. In the end, Beijing's rail network will constitute 350 miles of track. Compare that to Los Angeles, which destroyed its own huge rail system in favor of buses, where a planned 'subway to the sea' consisting of a mere 14 miles of rail is estimated to not be completed until the year 2036.
Beijing is well on its way to 'megacity' status. Along with the city of Tianjin, about 70 miles southeast of Beijing, the Beijing-Tianjin mega-region will be one of the largest in the world. Tianjin, as the fifth-largest city in China and boasting a population of about 11.5 million residents, is going through a building boom of its own. Acting as Beijing's main port, the two cities together form an economic powerhouse. The marriage between the two cities was consummated a year ago with the opening of the 350 km/h (217 mph) Beijing-Tianjin Intercity Rail – reducing travel time to a mere 30 minutes. I rode this train myself recently and had to cover my eyes from the constant flashbulbs going off recording the speedometer on the monitor in the front of our car.
China has come a long way since the days of Chairman Mao's 'Great Leap Forward'. Although still 'Communist' in terms of a political system of one-party rule, traversing the streets of Beijing gives the impression that China may in fact be the most capitalist place on earth. From weather-worn women selling fruit to crafty young men hawking fake watches and pirated DVDs, no piece of the city is off-limits to commerce.
There's a huge generation gap between the younger generations and those who were unfortunate enough to have lived through the Cultural Revolution. But I would warn Westerners to not be fooled into thinking that China will forever be just a 'cheap place to manufacture things'. The country is still very young, and as more young people get educated and travel abroad, China will evolve into an important player in everything from architectural design to green technology and the arts. At that point in time, sadly, there will no longer be any need for 'Western experts' like me. But for the time being, as I wait for our economy to recover, I am enjoying the ride as I witness perhaps one of the most compelling urban development stories of the 21st Century.
Adam Nathaniel Mayer is a native of the San Francisco Bay Area. Raised in Silicon Valley, he developed a keen interest in the importance of place within the framework of a highly globalized economy. Adam attended the University of Southern California in Los Angeles where he earned a Bachelor of Architecture degree. He currently lives in Beijing, China where he works in the architecture profession.