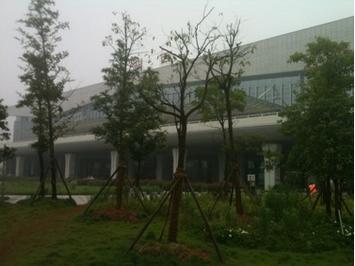 No two countries would appear more divergent than France and China, especially in the age of Eurozone collapse. One country represents the Asian future, while the other is the capital of the failed, if diverting, old world.
The French recently elected a socialist president and assembly on the basis that everyone should share the country's deficits and decline. The Chinese, meanwhile, have enough surpluses to buy out the European Union, should they wish to exchange their EU debts for an equity stake. (Maybe they will choose to have Paris shipped east in boxes?)
To take the measure of the two economies — although I admit this survey lacks academic rigor — I recently crossed each country by rail.
In China, I rode a succession of trains, high-speed and low, between Beijing and Hong Kong, with stops along the way in Yenan (Mao's revolutionary capital), Xian (of Terra Cotta Warrior fame), Chongqing (Chiang Kai-shek's wartime capital), Zhuzhou (a rail junction), Guangzhou (used to be Canton) and Shenzhen (the biggest city near Hong Kong you've never heard of).
I have also recently taken a number of train trips between Geneva and Bordeaux and crossed "France profonde" through the mountainous Massif Central, or gone on more roundabout routes through Toulouse and Tours.
My conclusions, which even I find surprising: France has a better balance between its land and cities, as well as richer farms and a more sustaining political culture, even if the presidency is a reality show.
China, at least from a train window, seems to be devoting most of its budget surpluses to moving the population into fifty-story, high-rise apartment buildings, the dormitories of its industrial revolution.
Like France, China has a high-speed rail network that travels on segregated tracks, allowing for speeds close to 200 miles per hour. I went from Zhuzhou to Guangzhou in about four hours, a trip that used to take overnight. The stations of the expanding high-speed Chinese network, however, are outside the downtowns of most cities, so getting to them feels like a trip to the airport.
Unlike trips in France, most intercity trips in China take place on slow night trains, with thousands of passengers tucked into open couchette berths. On my trip south, I was usually assigned the cramped middle bunk and rode, even during the day, like "John Malkovich" on floor 7½.
The French have largely given up on night trains. My regional train from Geneva to Bordeaux is a milk run (skim, I would say, to judge by the amenities), with beautiful views but few passengers. French high speed trains — Trains à Grande Vitesse or TVGs — do go downtown, although the French have the annoying habit of routing every trip through Paris.
In the current economic crisis, however, funding is being bled from the rails, and many TGV cars look thread-worn. Nevertheless, the TGV remains the inspiration for the Chinese high-speed system, perhaps because many Communist leaders had warm memories of their Paris underground cells.
Sadly, Chinese cities retain few of their French inspirations. Apart from old Beijing and some quarters of Shanghai, Xian and Guangzhou, Chinese cities are faithful to Maoist doctrine in that that they serve as worker housing and base camps for industrial output.
I may, however, be one of the few who prefers Beijing over Paris; the biking is better and the hotels are cheaper. Nevertheless, the average Chinese city is going the way of Los Angeles and Phoenix. The streets are less forgiving to cyclists, pedestrians, and kids playing after school. The outskirts of Chinese cities are great walls of housing projects that probably can be seen from the moon.
In France, because I often travel with a bike, during waits between trains I sometimes go for a downtown spin, which has allowed me to discover the old world charms of Orleans, Tours, Toulouse, and Blois.
Because French cities were laid out in the eighteenth and nineteenth century and not in 2003, they have narrow streets, often unsuitable for cars, but perfect for walking, bikes and sidewalk cafés. Bordeaux, a hive of narrow streets and small, self-contained neighborhoods, is an excellent example of a car-unfriendly French city that is flourishing.
Away from the glittering high-rise buildings in places like Dalian and Shanghai, much of train-window China remains a poor country, a succession of terraced subsistence farms, cut out of rocky hillsides and inevitably encased in a steamy fog. Elsewhere, China has the fault lines of runaway development: a population confined to worker housing, and agricultural provinces that are stripped for minerals or exports.
By comparison, French trains are never far from verdant pastures or neatly tended vineyards. Ironically, China's detached "people's" government is the largest consumer of first-growth French wines.
The wine industry is one of the few meeting points where the French and the Chinese find harmony. China is now fifth (ahead of the U.K.) in wine consumption, and at the high end nearly all of it comes from Bordeaux and Burgundy. (The low end is a concoction of bootlegged Algerian and Rhône reds.) The reason that the wines of Château Lafite Rothschild can command $2000 a bottle is because newly coined Chinese millionaires find it a must-have brand.
Since France produces a surfeit of wines, the trade should stimulate the economies of both countries for a long time. Nevertheless, French producers live on the precipice of Chinese wine tariffs, should the Beijing government want to promote its own vineyards south of Shanghai at the exclusion of those in Pauillac.
Which country will fare better in the coming decades: China with its Dickensian economic juggernaut, or France with its budget deficits, despite having well-fed cows and landscapes worthy of Monet?
Just because my Geneva to Bordeaux train crosses through the contours of an Impressionist painting does not mean that France will return to its imperial glories. Nor do China's traffic jams mean that it will dissolve into Manchu feudalism. Furthermore, to paraphrase Chou En-lai on the French revolution, it may be "too soon to tell" if Chinese communal capitalism will put an end to the party or to free enterprise.
Ironically, France does have the surplus of a self-contained economy, even if now it is in hock to German debt markets. Similarly, China has the deficits of post-Maoism—something close to the state capitalism of fascism—including that the best that can said of its Politburo is that it keeps the high-speed trains running on time.
Personally, I hope that both countries do well. I love that in each I can take trains, get around by bike, read about the Revolution or the Franco-Prussian war, enjoy the cities—especially Beijing and Bordeaux—and, well, drink French wines.
Photo: The new high-speed rail station, Zhuzhou, China; from the studio of Matthew Brady.
Matthew Stevenson, a contributing editor of Harper's Magazine, is the author of Remembering the Twentieth Century Limited,
a collection of historical travel essays. His next book is Whistle-Stopping America.