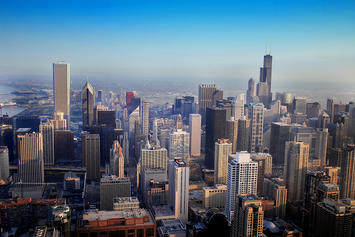 When Louis Sullivan, purveyor of modern American high-rise architecture, said more than 100 years ago that 'Form Follows Function', he perhaps didn't realize the extent to which building form would not be determined only by building type and the laws of physics, but by zoning laws, building safety codes, real estate developer balance sheets and even vocal neighborhood groups.
For every new building project, an architect's role is to balance these opposing forces, while also delivering a scheme that is aesthetically pleasing and appropriate for its surroundings. This can be a challenge, but also an opportunity for designers to find creative solutions working within constraints.
Following are just a few of the many parameters an architect must work with when designing this type of project:
Form Follows Zoning
Zoning is a term with broad implications, used to describe the set of regulations put forth by local governments that dictate what type of building can be built where. For each land plot, zoning laws also indicate floor area ratio (FAR, or how much area of building can be constructed), allowable building height, bulk limits, site density, setbacks, and parking requirements, among other constraints.
The FAR number is of paramount importance: it is the magic number used as a multiplier of a site's area, resulting in the allowable gross floor area. The higher the FAR number, the more area is allowed to be built on a given plot. In most U.S. cities FAR numbers are difficult to amend except through cumbersome political and legal processes. On the other hand, in developing countries such as China, FAR numbers change on an almost daily basis as zoning regulations remain malleable in order to meet of the moment economic growth needs.
For high-density commercial and multi-family residential buildings, real estate developers typically seek to maximize FAR to get the highest return on investment. For tall buildings, that means building to the height limit, and then asking for a variance to exceed the height limit if it does not max out the FAR.
Bulk limits deal with the ascending bulk of skyscrapers, mandating setbacks in the building form as the tower rises up to mitigate shadow impact. That is how you end up with 'wedding cake' buildings like the Chrysler Building and the GE Building at Rockefeller Center, both of which were a result of setback mandates in New York City's 1916 Zoning Resolution. These Art Deco masterpieces are prime examples of how architects cleverly worked within zoning laws to design handsome buildings.
Form Follows Parking Requirements
While parking requirements are indicated in zoning laws, this constraint warrants its own category. It is remarkable how much influence the personal automobile has in shaping the modern city, not only in terms of road infrastructure but also in the space required for parking when cars are stopped. Parking requirements are responsible for urban design situations like the ubiquitous linear strip mall setback a great distant from the street, separated by a sea of parking spaces.
Even in dense urban environments, parking is usually a requirement for new buildings. This means that when designing a multi-story building, the parking layout is what sets the structural column grid that stacks vertically throughout the entire height of the building. A typical 30 ft. column bay (measured from center to center) will accommodate 3 parking spaces, which then results in the building's entire structure being based on the 30' column grid.
Parking garages are either below grade or above grade (above lobby level), and usually do not count towards FAR. There are various reasons (including geological/topographical) for placing a parking garage either below or above grade, but in either case, structure is ultimately designed to accommodate the needs of automobiles.
Form Follows Rentable/Saleable Area
In addition to zoning requirements, architects must also meet the needs of their developer clients. This entails realizing in form what real estate bean counters calculate to be the appropriate mix of area for what is to be built.
If it is commercial office space, developers follow the Building Owners and Managers Association (BOMA) standards of measurement to calculate how much 'rentable area' can be squeezed out of a building's floor given a building's envelope. Of utmost importance in this calculation is the 'load factor' or ratio of rentable area to usable area, determining how much building owners can charge their tenants.
Also important is the 'lease span', with a 45 ft. clear span from service core to exterior wall being the ideal. This allows flexibility in office layout and also ensures enough natural light penetrates deep enough into the office space.
In residential buildings, saleable are is what developers are after and that determines the mix of unit types (studios, 1 bedrooms, 2 bedrooms, etc…) in a given market. This can frequently change during the design process based on changing market conditions
For towers with a mix of uses, designing a functional building places tremendous onus on the architect to balance competing forces of different building types consolidated into one vertical structure. With financial rewards ultimately more important than aesthetic outcome, architects have to struggle to create a beautiful building within these constraints.
Form Follows NIMBY Demands
In the U.S., and other democratic countries with strong property rights, new building projects are subject to the scrutiny of local neighborhood and vocal environmental groups. Often derided as NIMBYs (Not-In-My-Back-Yard) by those on the pro-development side of a new project, these groups usually have predictable objections, the most common being    increases in traffic. Yet if these NIMBYs, especially in urban settings, have objections to traffic, rather than protest individual projects, they should write their local city councilman suggesting a change in zoning to modify parking requirements.
Even after the approval of extensive traffic and environmental studies, NIMBYs may criticize a building's appearance in a last ditch effort to prevent construction. Objections include obscure criticisms such as a design does not fit in with 'neighborhood character'. This criticism reflects a fundamental misunderstanding that even in historic neighborhoods, a well designed counterpoint or contrast can be a suitable proposal. After all, cities are not static museums frozen in time but dynamic and evolving organisms.
Unfortunately, the NIMBY victory can often be a final blow to what would've otherwise been a successful, beautiful design.
Conclusion
For architects, designing a building is more like solving a puzzle rather than an exercise in unrestrained creativity. Surprisingly, there is little discussion of the real world constraints in architecture schools. This is perhaps due in part to the fact that regulations vary greatly from place to place, but the fundamental importance of planning and zoning should be emphasized more often.
For all stakeholders involved in new building projects (developers, local officials and planning departments, the design team, concerned neighbors) what is written in the local zoning code provides the basis for every decision made. For those interested in making better, more informed planning decisions, individuals and governments should focus less on singular building projects and more on easing the process of making changes to local zoning codes.
Adam Nathaniel Mayer is an architectural design professional from California. In addition to his job designing buildings he writes the China Urban Development Blog.
Follow him on Twitter: AdamNMayer
Chicago skyline photo by Bigstockphoto.com.