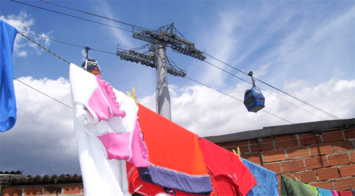 Say the words "cable car" and most people think of trolleys being towed up and down San Francisco's hilly terrain. Most view them as a charmingly antiquated heritage system for the tourists, not as modern mass transit. But cable cars are making a comeback.
Today, cable cars are one of a family of technologies collectively called Cable Propelled Transit (CPT). New generations of CPT not only include cable cars, but aerial trams, gondolas and funiculars as well.
San Francisco cable cars, it should be noted, bare virtually no resemblance to these contemporary CPT systems, save for their basic method of propulsion. The technology used in San Francisco is roughly 120 years old, with little modernization. Wooden blocks pressed against the street are still used as brakes, and vehicles are manually operated.
San Francisco cable cars are not so much cable transit as they are a living history of cable transit's past. So why, then, is cable re-emerging as a technology of choice — preferred to buses, streetcars and light rail — to many public transit agencies around the world? Cities are discovering that cable's inherent flexibility and adaptability gives it capabilities that no other transit technology shares. Adaptability, safety, reliability, price, environmental impact, speed, capacity, and a successful track record all contribute to these newfound positive impressions.
The Innsbruck Hungerburgbahn, one of the world's only Hybrid Funiculars. Image: Steven Dale.
Yet despite cable's growth in the last 10 years, the US transit industry is still largely ignorant about the technology. Ironic, considering the technology has a uniquely American history.
Around 1890 there were roughly 500 miles of US cable car lines. While cable had been invented primarily as a means to ascend steep hills, the simple technology spread. Chicago, for instance, moved 27 million passengers per year. The system was a tremendous money-maker and the poster-boy for cable because - against all conventional wisdom - engineers had the chutzpah to install lines in one of the coldest, flattest cities in the country. A line in St. Paul, Minnesota was soon to follow.
But by the turn-of-the-century, virtually all cable car systems had been converted to electrified streetcars, which at the time were more cost-effective and safer. Perhaps as a result of that legacy, more often than not today's planners assume cable is a slow, expensive and dangerous technology, only useful in mountain regions for carrying a few skiers from one chalet to another. A 1989 study from the University of West Virginia confirmed this perspective, and it seems that perceptions haven't changed much in the last 20 years.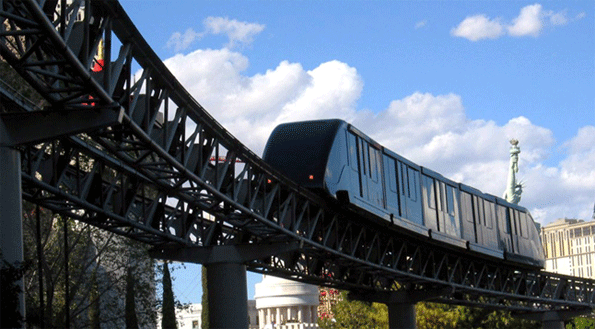 The Mandalay Bay Cable Liner is one of a new generation of cable cars that operate on light-weight elevated steel guideways. This system was installed in less than a year.
Image: amitP at Flickr.com
Here's the real record:
Popularity and Reliability: With the exception of San Francisco's system, modern cable transit is not manually operated; it's fully automated, which eliminates the cost of drivers and increases safety levels. This full automation offers the promise of unmatched reliability and efficiency levels; current systems boast reliable less-than-one-minute (LT1M) wait times between vehicles.
This potential is key to the ridership level of any public transit system. According to the Transportation Research Board, wait times are 2.0 – 2.5 times more onerous to riders than actual in-vehicle time, and the reliability of those wait times is equally important. While most rail-based transit lines experience ridership that is half what was forecasted, cable tends to experience ridership above forecasts.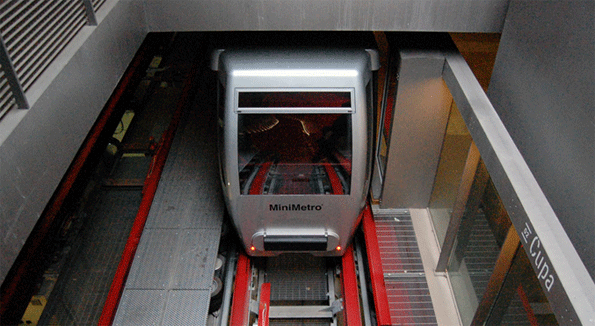 The Perugia MiniMetro, every minute a 50 person vehicle arrives in the station. Vehicles travel above ground, below ground and at grade. Image: Steven Dale.
Cost: CPT is cheap to build and maintain. The vehicles operate without engines, which drives down construction and maintenance costs. Cable transit systems can be built and maintained for a fraction of the cost of typical light rail systems.
Safety: With the exception of elevators (which utilize the same basic technology), there are few public transit technologies with as good a safety record as cable. Over 10,000 cable installations operate worldwide, transporting billions of people per year, yet accidents are rare and fatalities are almost unheard of. The last known death associated with modern cable transit occurred in 2008 when a man fell from a gondola due to drunken horseplay.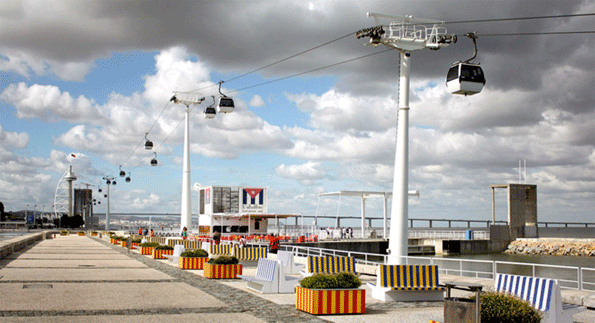 Energy Efficiency: From an environmental standpoint, cable is in a class of its own. Due to its use of gravity and counter-balancing, it is not uncommon for maintenance workers to witness a cable system's energy consumption drop below zero during peak loads. That is, the system itself can generate power.
Speed: Cable transit can operate at speeds of up to 45 km/hr, well in excess of the average speeds of most traditional transit technologies. According to the American Public Transit Association, buses average approximately 20 km/hr; subways 33 km/hr; and light rail 24 km/hr. Average speed in urban public transit is dependent upon station spacing and right of way, not technology choice.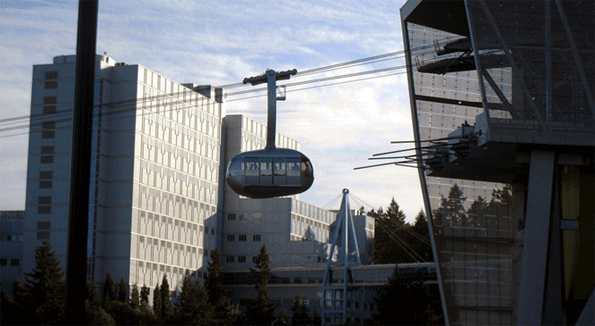 Capacity: Aerial cable transit systems can move up to 4,000 persons per hour per direction (pphpd) and ground-based systems can move up to10,000 pphpd. There is no single light rail line in all of North America that offers capacity greater than 3,700 pphpd and the average is less than 1,700.
Adaptability / Flexibility: While it's true that most cable installations cater to tourists, there is no reason to assume that they must. Similarly, just because most cable transit uses short line lengths, does not mean that the technology cannot be implemented over great distances. The technology is highly adaptable: while crossing rivers and climbing mountains are obvious applications, a system in Slovakia, for example, transports cars instead of people.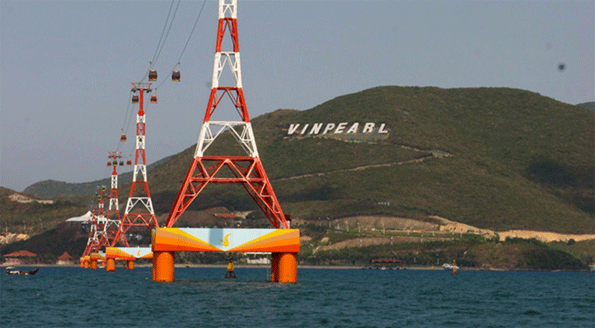 The Vinpearl Island Gondola. The US$6 million dollar system links the Vietnamese mainland with the Vinpearl Island resort across 3 km of sea. The system is designed to withstand monsoons and earthquakes.
Image: Jame at Flickr.com
The Track Record: CPT is proven, unlike imagined but not-yet full-scale technologies like Personal Rapid Transit (PRT). Public transit systems in New York, Medellin, Caracas, Portland and Constantine, Algeria have all implemented aerial cable systems as fully-integrated components of their transit system. In addition, bottom-supported cable cars have found increased usage in airports, hotels and as full-scale public transit in Innsbruck and Perugia.
A track record like that deserves attention.
Steven Dale is the founder of Creative Urban Projects (CUP Projects), a boutique planning shop in Toronto, Canada. He is an expert on Cable-Propelled Transit with several years experience researching and consulting in the field. He recently launched The Gondola Project, an advocacy campaign in support of CPT. For more information, also visit Creative Urban Projects.
Lead image: The Medellin MetroCable. The world's first gondola system fully-integrated into a transit system. The initial line has been so successful, it has spawned an additional two lines in Medellin, Columbia. Image: il Castigliano at Flickr.com