The harvest of this year's U.S. corn crop is about 90 percent complete, and it is going to be a bin-buster. If it surpasses 2009's astonishing 13.1 billion bushels, it could become the largest in U.S. history. American farmers are growing more corn today than at any time in the past, and the trend is accelerating. The last five years have brought us five of the largest corn crops ever. Where to store the stuff is becoming an issue: When the bins and elevators are full, the corn is simply piled on the ground. Bankers are saying that we are experiencing the best farming environment in decades.
Genetically modified seed, powerful fertilizer, and the rich soil of the Central Plains have turned field corn into the most prolific and versatile commodity on earth. It's used in biofuel, animal feed, fabrics, biodegradable plastics, makeup, fireworks, crayons, shoe polish, batteries, and thousands of other products we consume every day.
The U.S. Department of Agriculture reports that of the 13 billion bushels of field corn produced last year, 36 percent was used as feed for domestic livestock (beef, pork, poultry), 31 percent was used for ethanol (also resulting in 1.5 billion bushels of distiller grains, a byproduct of ethanol production that is used as livestock feed), 14 percent was exported to other countries (Japan, Mexico, South Korea, Taiwan and Egypt are the top recipients), 9 percent was used for human food, seed and industrial use, and 11 percent was carried over as a surplus.
According to Nathan Fields, Director of Biotechnology and Economic Analysis for the National Corn Growers Association (yes, that is his real name), today's farmers are good at growing corn—very good. No other county in the world even comes close.
Corn was domesticated more than 7,000 years ago, when the early agronomists of the Americas instigated the upward trajectory of what might be described as the world's first and most successful designer crop. In 1621, Squanto taught the pilgrims how to cultivate corn — maize —that sported only eight rows of kernels and was about one quarter of the length that it is today.
In 2009, farmers in the Corn Belt — usually defined as Iowa, Illinois, Indiana, Minnesota, South Dakota, North Dakota, Nebraska, Kansas, Missouri, Ohio, Oklahoma, northern Texas, and Colorado— averaged a record yield of 165 bushels per acre. In 1927, when the first official records were kept, yield was only 26 bushels per acre. Fields asserts that the genesis of modern agriculture was in the 1880s, when ingenious farmers began to cross pollinate corn, creating hybrid seeds that produced hardier plants with the ability to outperform their parents. In the 1920s, geneticists developed inbred corn; after that, each decade brought and growth spurt after spurt. In the 1990s, biotech hybrids were developed that better tolerated drought, variances in temperature, and insects. But farmers still battle the weather every year. Indeed, it's not unheard of for farmers to be fighting snow drifts during the last few weeks of harvest, and no amount of technology can stop a late summer hailstorm from destroying an entire crop in ten minutes or less.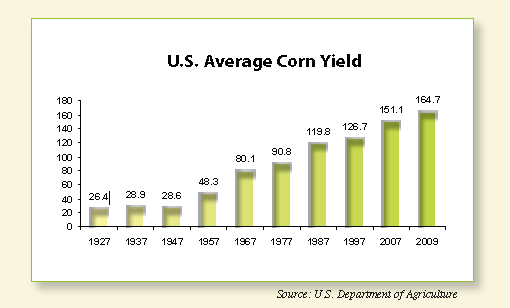 The winner of the National Corn Yield Contest last year grew 307 bushels per acre. A bushel of corn is 56 pounds and the size of a small laundry basket. A bold prediction is the expectation of 300 bushels per acre as a national average by 2030. It would be an 80 percent increase in just 20 years.
Nathan Fields emphasizes that developments have led to higher US corn yields, grown on fewer acres with less water, chemicals, fertilizers, and fuel. Dramatic reductions in inputs per acre mean a smaller environmental footprint. There are 316,000 corn farmers in the U.S., and 95 percent of them are family farmers, the vast majority multigenerational. "For family farmers," Fields asserts, "success is not measured by a single season. Family farmers are determined to leave the land in good shape for the next generation."
Enormous combines harvest biotech hybrid crops with the use of sophisticated GPS navigation systems—it's no longer your grandfather's farm, a fact reinforced to me recently by my 94-year-old grandpa, Ben Radcliffe. Radcliffe was a South Dakota farmer in the 1940s before he became the president of South Dakota Farmers Union and one of the country's most revered farm activists. When Radcliffe's father (my great-grandfather) was farming in the early 1900s, less than 1 percent of planted corn was hybrid; early farmers saved their seed from year to year. By the early 1940s, 78 percent of the corn planted was hybrid.
Radcliffe notes,"Today, farmers use a weed control chemical so they don't have to cultivate [plow between the rows]. We had to cultivate twice a year just to get the weeds out of the row. Today, the rows can be closer and the number of plants automatically doubles."
Today's farmers also plant earlier. In the 1940s there was a farmer tradition that planting corn ideally began May 10th and was completed before June 1. Because today's seed is more resistant to frost, farmers now begin planting in April. Today, most if not all of the corn harvest is sent to grain elevators. In Radcliffe's day, most of it was fed to livestock right on the same farm. "Almost every farm, including mine," he says, "had hogs and cows."
A new market for corn has recently opened up in China. According to CHS market analyst Kent Beadle, "China has undergone dramatic changes over the last decade. As incomes and lifestyles are changing, there is a demand for better food—specifically, more protein." Pork, beef, and chicken consumption have caused demand to exceed supply, putting the world's most populous country in a position to begin to buy U.S. corn.
The U.S. supplies 62 percent of the world's corn. Last year, America's farmers exported $9 billion worth of it, an export surplus that most U.S. industries would envy… all from the ability of a genetically modified kernel of corn that weighs one-hundredth of an ounce to produce a 10 foot tall plant. A"maize"ing.
Photo by Deborah Dragseth: The World's Only Corn Palace, located in eastern South Dakota, twelve miles from where the author grew up in the heart of corn country. A folk art wonder, it is redecorated each year with 275,000 ears of corn. The 13 different colors and shades of corn include yellow, red, brown, blue, black, white, orange, calico and (this year for the first time via genetic engineering), green.
Debora Dragseth, Ph.D. is an associate professor of business at Dickinson State University in Dickinson, North Dakota. She trains and develops leadership curriculum for CHS, Inc. a diversified energy, grains and foods company. The Fortune 100 company is the largest cooperative in the United States. Dragseth's family owns a farm 8 miles east of the World's Only Corn Palace.