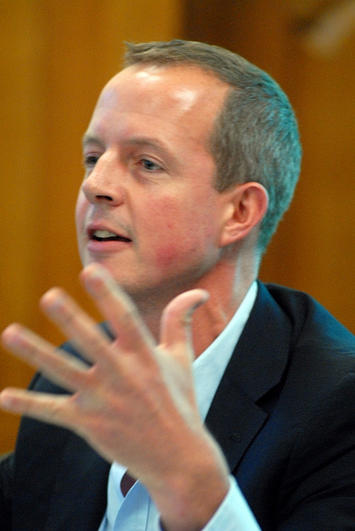 Did Britain's New Labour party conspire against land development? Is it responsible for outdated, "socialist" land planning policies?
The British Conservative Party's favourite think tank, Policy Exchange, would have us think so. Its latest report aims to demonstrate that the British planning system is socialist rather than capitalist. Why Aren't We Building Enough Attractive Homes? - Myths, misunderstandings and solutions, by Alex Morton takes on the British planning system that dates from the 1947 Town and Country Planning Act.
That law was enacted in 1948, when farmers gave up their right to build on their own land in exchange for a continuation of guaranteed food prices. In a genuine legal innovation, government cancelled the right of landowners to build freely on their own property, without nationalising the property itself. By 1954, Prime Minister Winston Churchill had made sure that the owners of land given permission to build by the State, through the agency of a Local Planning Authority, would be able to profit from the "betterment" or planning gain in land value. While land limited to agricultural uses was of low value, the artificial scarcity of land that was granted permission for development was then worth many times that value. Local Planning Authorities negotiated a share of that gain.
It is significant that this post-war measure survives today. The negotiation over planning gain between landowner, developer, and Local Planning Authority is big business still. Farmland in proximity to urban areas can be turned from £4,047 an acre (£10,000 a hectare) to be worth 100 times that in a development deal. Much land within the planning-approved area of Britain is worth over 1000 times the value of land without any planning approval prospect.
Nevertheless, for Alex Morton, the Senior Research Fellow for Housing and Planning at Policy Exchange, '... the 1940s system is "socialist" as it requires councils create a "socially optimal" plan then impose it on everyone. But we know in reality such changes impose clear costs and benefits on specific individual existing residents.' Seeing this as a misunderstanding of Churchill's creation of an artificial scarcity of land that could be selectively inflated in value for profitable development after a negiotiation over the share of the gain, I wrote to Morton and suggested the obvious: that the existing planning system was capitalist rather than socialist. He wrote back, a bit huffed:
'The current system is nothing to do with capitalism. Possibly corporatism (the use of state power to enrich a small business elite through involuntary confiscation of property rights), definitely socialism (at least in original intent given how land uplift was originally to be taken by the state).'
"Nothing to do with capitalism" … This is a myth from the self-proclaimed "myth-buster" think-tank. The 1947 Act made an entirely new beginning for post-war capitalism by repealing all previous town planning legislation, re-enacting some important provisions salvaged from previous law, and innovating significant legal principles.
His is a propagandist's mistake, made before in his 2011 report, Cities for Growth - Solutions to our Planning Problems. At no point does Morton on behalf of Policy Exchange call for the repeal of the 1947 planning law. He knows that no British Planning Minister in any government will argue for repeal of the 1947 law. The Treasury could never allow it, and the members of the Council of Mortgage Lenders would probably have such a Minister hung over the Thames under Westminster Bridge for even thinking about it. To repeal the Churchillian planning law would mean financial disturbance on a scale far more disturbing than events in 2008.
Fresh-faced Nicholas Edward Coleridge Boles was appointed Planning Minister on September 6th, 2012, and was expected to tear up the planning law. Nick Boles knows the planning system through his time with and close links to Policy Exchange, but he will no doubt conclude that the 1947 planning law must be sustained. He has the Planning Minister's job now. In contrast, Morton's inspiration and predecessor, Oliver Marc Hartwich, has imagined a New Labour conspiracy against development:
'The planning system in the UK has been intended to restrict physical development, reducing economic growth as a result. In particular, Labour have made it a matter of policy that 60% of any new housing should be built on so-called "brown field sites". This policy depends on, and results in, both high house prices and higher land prices.'
New Labour did not conspire against development. Yes they rejected "sprawl" and planned to contain development. Urban compaction reinforces the effect of the planning law. However, it is the law that planning relies upon that is having unintended consequences since it was innovated in 1947.
Planning facilitated the New Labour expansion of the fund of mortgage lending up to 2008, so that even in 2012 there is £1,200,000,000,000 of live mortgage debt generating interest. This is a volume of lending made possible by, rather than causing, house price inflation. Inflation caused by the fact that the planning system explicitly prevents people from buying a field cheaply and building a house on it, with a rate of planned new house building lower than at any time since the First World War, not the Second. The effect, by Morton's own measure, is that in England a median priced home now costs seven times the median salary. Averages conceal other realities, but the general trend is clear. House price inflation, highest in the South and deflating unevenly in parts of the North, is inextricably linked to the planning law. Planning equals mortgage security in housing equity. For that £1.2 trillion of debt there is at least £2.4 trillion of equity variously distributed among households.
Rather than question how the planning system intersects with the contemporary character of the desperate attempt to augment low household income, or look closely at the capitalist activities of a development sector consolidated around Local Planning Authorities, Morton sees only "socialism". In our view, the British predicament is a triangulation, characterised as:
A) Social dependence on substantial house price inflation in Britain's political economy
B) Securitisation of mortgage lending by government through the planning system
C) Public acceptance of the low quality of an ageing and dilapidated housing stock
Capitalism in Britain depends on this being a stable triangulation, what we have called the Housing Trilemma. It is not a socialist conspiracy, as Policy Exchange imagines. It is a predicament for British capitalism that is having serious consequences for the population.
Ian Abley is a Project Manager for audacity, an experienced site Architect. He has produced a discussion paper for the 250 New Towns Club to argue the obvious: that planning is capitalist. It can be downloaded from www.audacity.org/IA-20-09-12.htm. He is also co-author of Why is construction so backward?
(2004) and co-editor of Manmade Modular Megastructures
(2006). He is planning 250 new British towns.
Flickr Photo by Green Alliance: Nick Boles, Conservative Party MP and brand new Planning Minister