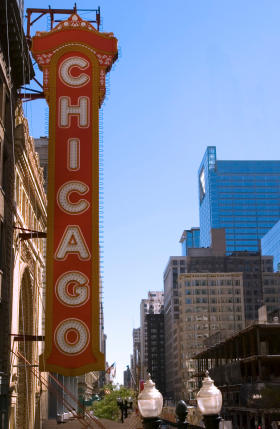 After decades of living in the shadows not only of New York, but such emergent regions as Los Angeles, the San Francisco Bay Area, Atlanta, Houston and Dallas, Chicago suddenly seems to be on a roll. It may be very close to placing its "favorite son" – Senator Barack Obama – as our next President, with all the enormous increase in prestige and patronage that entails. It could win the 2016 Olympics. And recently, Fast Company, the trendoid business magazine for the perennially hip and cool, named it America's "city of the year."
How you view Chicago's rise has much to do with who you are. For many working and middle class Chicagoans, the changes in recent years have been far from favorable, as our blogger Steve Bartin points out. Job growth has been slow, the schools have emptied out as many families have moved to the suburbs. But for those at the apex of society – notably condo developers, well-connected politicos, the cultural elite and a rising African-American upper class – this renewed Chicago represents truly a great city of opportunity.
This shift in identity is quite a change for what was once seen as "the city of big shoulders." Unlike patrician Boston or mercantile cosmopolitan New York, Chicago can be seen as the quintessential American city – a bit rough at the edges, productive and unpretentious. It emerged the biggest and fastest growing of the Midwestern boomtowns of the late 1800s. A settlement of barely 350 in 1835, it mushroomed to 100,000 at the time of Abraham Lincoln's election in 1860, and housed over a million forty years later.
Chicago was elemental – its industry bigger, its politicians more corrupt, its criminals seemingly more lethal and better organized. So, too were its business leaders. Chicago, one speculator wrote following the panic of 1837, "resounded with the groans of ruined men and the sobs of defrauded women who entrusted all to greedy speculators." Undaunted, the city's elites proved relentless in their ambition, lobbying Washington and Wall Street for dominant position in the burgeoning east-west trade. St. Louis businesspeople, noted the Chicago Tribune in 1868, "wore their pantaloons out sitting and waiting for trade to come to them" while Chicago's "wore their shoes out running after it."
Our focus on Chicago shows that this spirit of opportunistic boosterism has not been lost. The excellent piece by Carol Eisenberg on Muckety.com – part of this package – reveals the remarkable unanimity among the city's business, political and cultural elite under the regime of the second Mayor Richard Daley. The impressive recovery of the city's central core, and surrounding waves of gentrification, have turned the city into a favorite role model for younger cities from Los Angeles to Miami looking to prove their urban bona fides.
This marks a dramatic change in popular perceptions of Chicago. A Swedish visitor in 1850, described it as "one of the most miserable and ugly cities" in America. Later, it was known as an industrial powerhouse; when Berlin in the early 1870s developed as a major manufacturing center, it was christened "Chicago on the Spree." Yet by then Chicago was also developing a softer side: it was home to the reform efforts of Jane Addams, whose focus on rough ghetto neighborhoods inspired others around the country. Rebuilding after the devastating fire of 1871, the city also embarked on an ambitious program of civic improvement, constructing over the next three decades a major library system, a new home for the Arts Institute, the Field Columbian Museum and a large expansion of the University of Chicago.
It is this more gilded, elegant Chicago – home of arguably the nation's and even the world's greatest collection of 20th Century high-rise structures – that foreshadows the current city. The success of Millennium Park, the powerful if now fading condo boom, the city's newfound celebratory culture (think Oprah Winfrey and Barack Obama), its growth in fine restaurants, nightclubs and other entertainments has persuaded some observers like the University of Chicago's Terry Nichols Clark to declare that Chicago is indeed the model city of the future.
Clark's new urban vision sees a city that marries upper crust with proto-bohemian elements, providing a spectacle for the well-to-do and distracted. Such cities may no longer serve as a vehicle for class mobility, but as an "entertainment machine" for the privileged. For these elite residents, the lures are not economic opportunity, but rather "bicycle paths, beaches and softball fields," and "up-to-the-date consumption opportunities in the hip restaurants, bars, shops, and boutiques abundant in restructured urban neighborhoods."
Clark and other observers give much of the credit to the political regime of Mayor Richard J. Daley, under whose auspices Senator Obama has enjoyed his meteoric rise. But this is not a partisan issue. Conservative author Joseph Epstein, a usually restrained observer, also is in the Daley cheering section,
Looking behind this celebratory consensus, long-time Chicago observer Steve Bartin sees a far less pretty picture. Corruption, he notes, has not diminished under the younger Daley – new revelations are certain to tarnish Senator Obama's clean image. Nor can the economic performance of the city be seen as widely successful as it appears to luxury real estate developers. Jobs have languished, Bartin points out, and many others are threatened by technology and the shift of employment to the suburbs as well as more affordable Sunbelt cities.
Of course, as in other large American cities, Chicago's real estate market has provided a boon for developers and the high-wage earning elites, including a rising African-American professional class. But many observers, including Bartin, point out that it has not been so good for the poor, who have been often displaced and economically marginalized. At the same time, the middle class, particularly those with children, continue to flee to the suburbs, keeping population growth stagnant or even negative. Roughly half of all white families (as of 2005) leave when their children reach school age.
The editors at Newgeography.com welcome Chicagoans and other observers to post their comments on this collection – or just their comments – to our new site. We invite controversy, but require politeness and respect among combatants.
Joel Kotkin is the Executive Editor of Newgeography.com.