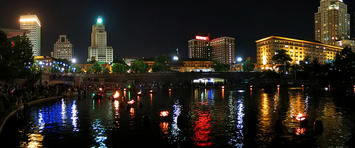 I recently moved from Cincinnati to Providence, Rhode Island, although I still think of the Detroit area as my hometown. All of these cities are based on their access to water. Providence, despite its location at the mouth of an Atlantic bay, is still a river-town at heart. Chicago mayor Rahm Emanuel has plans for a new and improved riverwalk, too. What can these cities learn from each other?
In the '80s, downtown Providence was a much less vibrant and destination-worthy place than it is now. Its urban rivers were buried beneath cement, rail-lines, and acres of concrete until a public-private revitalization effort gained enough traction. Today, in its place, the 11-acre Waterplace Park hosts numerous attractions, including the well-loved Waterfire events, and is a long, winding string of paths and bridges that sprawls through Providence's downtown.
What's best about its place-making design is its versatility. The riverfront offers commutable routes between destinations, areas to picnic or socialize during lunch breaks, and event space throughout the seasons. Gondola rides, kayaking, and even viral pop-up installations all thrive here, making it multi-functional and inviting to a range of citizens.
Chicago, much like Providence, has revealed renderings of parks that show multi-functional, inviting public spaces for rest, socializing, jogging, and enjoying attractive outdoor landscapes. Chicago is also poised to offer kayak rentals, which would allow visitors to interact with the water's surface, rather than simply admire it. Mayor Emanuel has plans for the riverwalk to stretch "from Lake Michigan to the confluence of the three branches," or about 1.3 miles.
That would add a key element: in addition to being multi-functional and inviting, the riverwalk, at least within its blueprints, will be interconnected and able to serve as a pathway between all types of destinations within the city, much like Boston's incredible Emerald Necklace. The Mayor also recognizes the huge potential for retail expansion along this stretch, something that Providence can certainly attest to.
Detroit, too, has been actively improving its waterfront. The shores of the Detroit River now include a long, inviting path for walking, jogging, or biking, with parks and features along the way. The transformation from its earlier state is reminiscent of Providence's overhaul efforts of the '80s, pushing the space from neglected and utilitarian to a pedestrian-focused destination for anyone in the downtown area. A Great Lakes-themed waterpark has recently been put into place, making the riverfront even more attractive to families and young people. In addition to being a long-time hub for local fishermen, the riverfront is now a destination for joggers, dog-walkers, families, and those on their lunch break in a newly recovering downtown business district.
What Chicago should strive to institute is a core of riverfront events and attractions. Like Providence's Waterfire, Detroit hosts events on its riverfront during the summer — even given that it only uses one side of a river it shares with Windsor, Ontario — including the hugely popular River Days concert series and festival.
Many cities have access to only one side of a major river, including Cincinnati. But Chicago, like Providence, has the full body of its rivers. This asset is huge, considering how big a draw water-based or focused events can clearly be for visitors, and how great a reason for locals to meet up and enjoy their city together. This is part of what Chicago can learn from Detroit and Providence.
Still, Providence has a great deal of room for improvement. What Chicago and Detroit have realized is that a river's waterfront isn't exactly a connector for separate parks. It can be one space where different areas bloom larger than the others. That is, that the entire riverfront can be a destination, even between established attractions.
Currently, Providence is preparing for the development of what's being called The Link, an area of open land where I-195 used to cut through the downtown, Jewelry District, and Fox Point neighborhoods. Part of the grassy scar has been designated to become a riverfront park with a pedestrian bridge, and is expected to connect by bike/walk path to the nearby Roger Williams Park and Zoo. This is a big step toward a holistic riverfront that can be accessed from a several neighborhoods.
Providence also offers the vaguely inviting Promenade, with a bike lanes on each side and a pedestrian bridge/plaza. But the Promenade is cut off from Waterplace Park by the mall and the interstate rumbling overhead. From there, looking west, the river is largely ignored before reemerging as the Woonasquatucket River Greenway, which offers a newly installed boat launch and a winding bike path. Utilizing the riverfront along this entire span, not just at certain hotspots, is a key task and goal for Providence and cities like it.
During the blossoming years of metropolises, a river waterfront meant shipping and transportation opportunities. Today, with competition for dynamic downtown areas, the riverfront offers something else, too. Locals gain opportunities and reasons to come together as a community, and visitors, find places to enter and connect with a place… as long as riverfront cities use what they've got.
Flickr photo by yuan2003: WaterFire Panorama1; Waterplace Park, Providence, Rhode Island, June, 2014.
C.J. Opperthauser is a poet and urban thinker who blogs here.