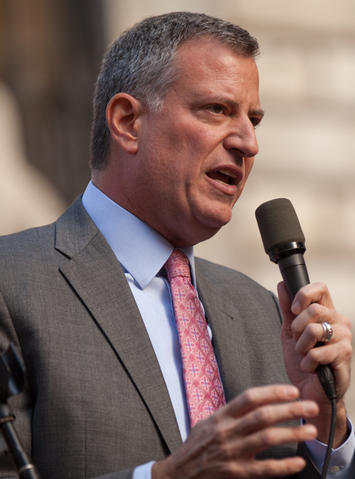 Mayor de Blasio has his work cut out for him if he really wants to end New York's "tale of two cities." Gotham has become the American capital of a national and even international trend toward greater income inequality and declining social mobility.
There are things the new mayor can do to help, but the early signs aren't promising that he will be able to reverse 30 years of the hollowing out of the city's once vibrant middle class.
As the cost of living has skyrocketed while pay has stagnated except for those at the very top, New York has shifted from a place people go to make it to a place for those who already have it made, or whose families have.
And once here, the rich are indeed getting richer even as the rest of the city is barely holding on.
Manhattan is now the most unequal county in America (it was 17th in 1980), with a Gini coefficient — which measures the disparity between the richest and poorest residents — higher than that of Apartheid-era South Africa.
Between 1990 and 2010, the city's 1% saw their median income shoot up from $452,415 to $716,625 in 2010 dollars, even as the bottom 60% hardly saw their incomes budge at all, according to a recent City University study. The trend precedes Michael Bloomberg, the billionaire mayor who envisioned New York as a "luxury city," and it won't be easy for de Blasio to reverse — especially as he rolls out pricey new public-employee contracts and programs like universal pre-K that further expand the city's dependence on its wealthiest citizens.
In 2009, the 0.5% of New Yorkers who made $1 million or more accounted for 27% of the city's income (nearly three times their share nationally), and an even higher share of its tax take. But while the smart set that attends President Obama's frequent Manhattan fundraisers has prospered, in no small part thanks to low-interest Federal Reserve policies that have helped big banks more than working people, just across the Harlem River roughly one in three Bronx households lives in poverty — making it the nation's poorest urban county.Over the Bloomberg years, New York was the national leader in both luxury housing and in homelessness — with a 73% jump in the number of homeless families here. Last January, an unprecedented 21,000 children were in the city's shelter system each night. This year, that number is rising.
And as the city becomes more economically unequal, it's also become more racially segregated. Demographer Daniel Herz' census analysis shows New York is now America's second most racially divided city, behind only Milwaukee.African-American incomes in New York are barely half those of whites, as compared to nearly 70% in Phoenix and Houston.
And New York City now has the nation's single most segregated public school system, according to a devastating report from the Civil Rights Project at UCLA.
As the 2014 report put it: "In 2009, black and Latino students in the state had the highest concentration in intensely-segregated public schools (less than 10% white enrollment), the lowest exposure to white students, and the most uneven distribution with white students across schools."
Nowhere are these divergences more obvious than in nouveau hipster and increasingly expensive Brooklyn. In my parents' native borough, the average income has actually dropped between 1999 and 2011, despite huge increases of wealth in areas closer to Manhattan.
Roughly one in four Brooklynites — most of them black or Hispanic — lives in poverty.
Bloomberg's notion that if "we can find a bunch of billionaires around the world to move here, that would be a godsend," with prosperity trickling down, hasn't panned out, at least for most New Yorkers. The billionaires came, bought and flourished, but the same can not be said for Gotham's middle and working classes.
Using Bureau of Economic Analysis data, analyst Aaron Renn estimates that the city's per capita GDP has grown a bare 2.3% since 2010, below the mediocre 3.8% national rate and behind such traditional hard-luck cases as Buffalo, Cleveland and Baltimore.
The percentage of New Yorkers living in poverty has actually gone up by 1.1% since 2010, while household income has been flat.
Rather than forge a more upwardly mobile society, New York epitomizes what Citigroup researchers have labeled a "plutonomy," an economy and society driven largely by the investment behavior and spending of the uber-rich. This creates great demand for low-end service workers — dog-walkers, baristas and waiters — but not much for New York's middle or aspiring middle class.
Adjusting for the cost of living here, the average paycheck in New York is one of the lowest of any major metropolitan area. Put otherwise, working New Yorkers pay a huge premium to live in the five boroughs, one that repels middle-class individuals and families who aren't compelled to be here.
The exodus of the middle class has been ongoing for 30 years, with New York by one measure now having the second lowest share of middle-income neighborhoods of America's 100 largest cities.As the middle class has waned, even exemplars of the celebrated creative class — musicians, artists, writers — find the going increasingly rough, and unrewarding. Laments rock icon Patti Smith: "New York has closed itself off to the young and the struggling. New York City has been taken away from you."
This is the dynamic New Yorkers elected de Blasio to fix. And he's right the reality of rising inequality and, more important, diminishing opportunity, must be confronted.
Critically — and here de Blasio has better instincts than his predecessor — more emphasis needs to be placed on the outer boroughs. Even if Manhattan remains the prototypical luxury city, the rest of New York can be reinvented as a generator of middle-class jobs and opportunities.
One approach that's paid dividends for workers in cities such as Houston, Dallas-Ft. Worth, Nashville and Pittsburgh is to concentrate on diversified economic growth.
Certainly some middle class jobs could be created by boosting such things as the port and logistics, resuscitating industries such as food processing and specialized household goods, and rolling out policies that encourage, rather than overregulate, smaller firms in the business-service industry.
But de Blasio's press to bring in more tax revenue to pay for ambitious new programs, more generous social services and new contracts for city workers have the perverse effect of doubling down on Bloomberg's bet on the wealthy.
His ambitious ramping up of green-energy policy could be the straw that breaks the back of what remains of the logistics and manufacturing industries in New York, something that has already occurred in California.
And his kowtowing to the teachers union and attempted assaults on charter schools threaten to further undermine the effectiveness of public education, something vital to middle and working class residents.
In fact, the effect of de Blasio's policies may turn out to be more neo-Victorian than progressive. Rather than new homeowners, the city may see a greater concentration of people dependent on government largesse.
The poor-door phenomena, with a few lucky members of the lower class winning subsidized units in buildings for the rich, but with separate entrances and no access to luxury amenities, recreates not social democracy but the Victorian upstairs-downstairs society.
The critical point is this: New York is losing its role as a place of opportunity, and the de Blasio toolbox is unlikely to put back the ladder that's been pulled up.
A great city does not only serve the rich, transforming others into their servants or recipients of noblesse oblige. New York need to be, as Rene Descartes described Gotham's founding city, 17th century Amsterdam, "an inventory of the possible."
That must hold true for most New Yorkers, not just for the very rich.
This piece first appeared at the New York Daily News.
Joel Kotkin is executive editor of NewGeography.com and Roger Hobbs Distinguished Fellow in Urban Studies at Chapman University, and a member of the editorial board of the Orange County Register. His newest book, The New Class Conflict is now available at Amazon and Telos Press. He is author of The City: A Global History and The Next Hundred Million: America in 2050. His most recent study, The Rise of Postfamilialism, has been widely discussed and distributed internationally. He lives in Los Angeles, CA.
Photo by Kevin Case from Bronx, NY, USA (Bill de Blasio) [CC-BY-2.0], via Wikimedia Commons