In recent years there has been a proliferation of traffic congestion rating reports. Tom Tom and Inrix are now making it possible to compare traffic congestion in Louisville or even Lexington to Moscow or Paris. The Castrol Magnatic Start-Stop Index adds places like Jakarta and Bangkok. But the granddaddy of them all is the Texas A&M Transportation Institute Urban Mobility Report, which has just been released with 2014 data.
Los Angeles
Los Angeles remains the most congested major urban area in the nation with an average 43 percent added to travel times during peak hours. This article discusses the largest urban areas in the 53 US metropolitan areas with more than 1 million population.
Los Angeles is long been the champion of traffic congestion in the United States. Since Texas A&M began publishing a traffic congestion scorecard in 1982, Los Angeles has usually had the worst traffic congestion, though Houston was reported to have the worst congestion for a few years in the mid-1980s.
It should not be surprising that Los Angeles has the worst traffic congestion. Los Angeles is the nation's most densely populated larger urban area, with 7000 residents per square mile. This high density means that the demand for both car and truck travel is higher than it would be in a lower density city. The Los Angeles freeway system is extensive and its roadways tend to be very wide. Part of the problem is that much of the planned freeway system was not built, such as the Slauson Freeway, the Reseda Freeway, the Topanga Canyon Freeway, the Laurel Canyon Freeway, the Beverly Hills Freeway and the missing link northern extension of the Long Beach Freeway through South Pasadena. None of these freeway cancellations drove people to transit, as some might suggest, as traffic volumes just continued to increase. Despite billions that were spent on rail and busway systems, Southern California's largest transit system continues to draw fewer riders than when there were only buses in 1985.
Congested in Other Urban Areas
The top 10 congested urban areas include two that share commuting sheds with larger urban areas. These are third-ranked San Jose and 10th ranked Riverside-San Bernardino, which can blame part of their traffic congestion on their larger neighbors, Los Angeles and San Francisco (Figure 1).
San Francisco is the second most congested urban area in the nation. The three most congested urban areas are also the three densest urban areas, Los Angeles, San Francisco and San Jose. Seattle ranks fourth and Portland ranks fifth, despite their much lower densities. Seattle's intense traffic congestion is understandable, given its long, narrow geographical shape and the fact that there are only two north to south freeway routes through the urban area. Moreover, things are likely to get worse, as Seattle seeks to implement urban containment (densification) policies that are likely to worsen traffic congestion (Greater traffic congestion is associated with higher densities).
Portland has obtained the worldwide praise of urban planners who like its densification and anti-automobile policies. Portland, however is paying the price for that with traffic congestion 80 percent as bad as Los Angeles, even with a population density barely half that of Los Angeles.
Austin may also be surprising, because it has a relatively small population (about 2 million) compared to most of the 10 worst congested urban areas. Austin was not large enough to justify more than a single route when the interstate system was designed in the 1950s and was very slow to develop its freeway system. At the same time, in recent years Austin has been the fastest-growing major metropolitan area in the United States, which has also added to traffic pressures.
The least traffic congestion is in Richmond, which has also been estimated to have the best composite traffic congestion among international scorecards. Most of the least congested urban areas have metropolitan population between 1 million and 2 million residents and are located in the East, South or Midwest (Figure 2).
Wasted Fuel
Driving in congested traffic reduces fuel economy and results in wasted fuel (each gallon of gasoline consumed produces the same amount in greenhouse gas emissions). New York and Washington have the largest amount of wasted fuel per commuter, followed by San Francisco, Boston and Portland (Figure 3). The least wasted fuel per peak period commuter is in San Diego, Raleigh, Richmond, Jacksonville and Birmingham (Figure 4).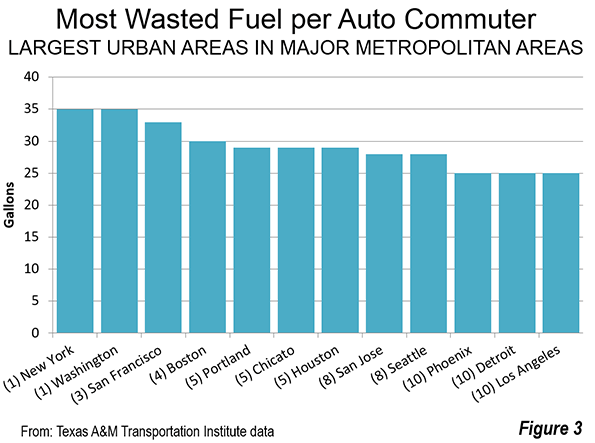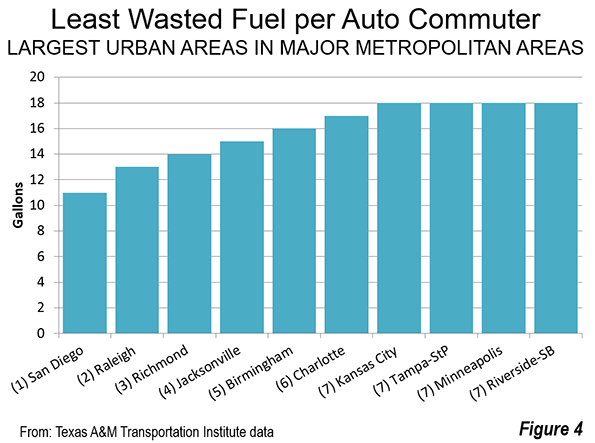 Changes Since 1982
There have been major changes in traffic congestion indexes among the 53 urban areas since 1982. San Jose has experienced the worst percentage point increase in excess travel time, adding 27 percentage points to its excess peak period travel time. Riverside-San Bernardino, Austin, Portland and New Orleans round out the five urban areas with the greatest increases in traffic congestion (Figure 5). With less growth in recent decades, however, traffic congestion has not increased enough to place in the worst ten in trend.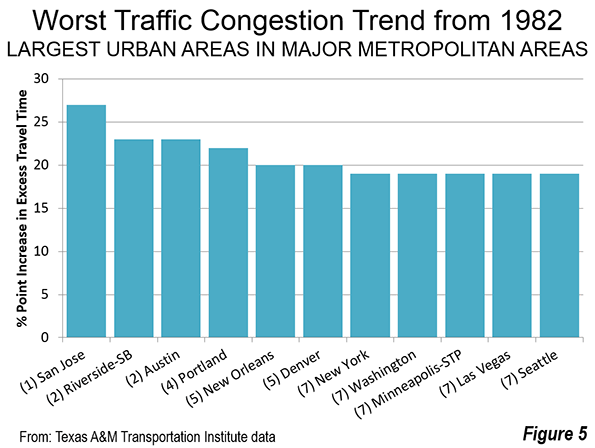 The urban areas best at controlling their traffic congestion include some surprises. Dallas-Fort Worth has been one of the three fastest growing metropolitan areas in the high income world over the period, but has managed to keep up with its traffic congestion as well as any other urban area (Figure 6).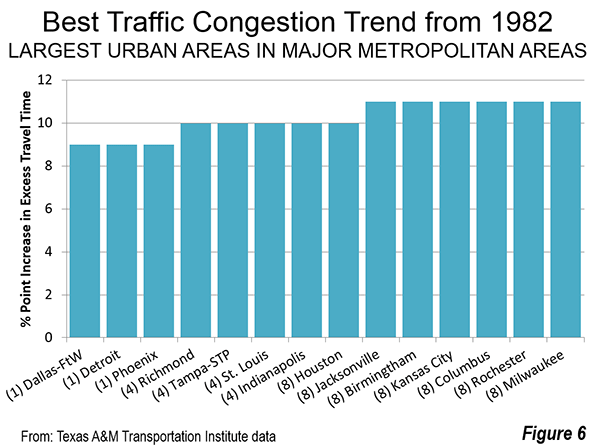 Similarly, Phoenix has been very rapidly growing and has tied Dallas-Fort Worth for first place in best traffic congestion trend. Phoenix undertook a substantial Freeway building program in the 1980s. Detroit also ties Dallas-Fort Worth and Phoenix, though this reflects its long term economic difficulties and shows that better traffic congestion that results from less growth and job creation is not a positive. Five urban areas tied for fourth best traffic congestion trend, Richmond, Tampa St. Petersburg, St. Louis, Indianapolis and Houston. Like Dallas-Fort Worth, Houston was among the three fastest growing metropolitan areas of more than 5 million people over the period. Like Phoenix, Houston began a major freeway and arterial street improvement program in the late 1980s (perhaps partially in response to the publicity about having the worst congestion).
Four Other Cities
Four urban areas rank in the worst ten in each of the categories of traffic congestion, wasted fuel and congestion trend. San Jose abuts San Francisco which has the second worst congestion in the nation. Among the four, Portland is the most consistent, ranking 5th worst in traffic congestion, tied for 5th worst in wasted fuel and ranked fourth worst in congestion trend. Portland also seems the most out of place, being smaller and not having a more congested, larger urban area abutting it. New York is not a surprise, being the nation's largest urban area, and having many bridges and tunnels, which concentrates traffic. Seattle has long been one of the most congested urban areas and also has geographical challenges, with a number of water crossings, as well as its limited north-south freeway capacity.
The Texas A&M Annual Mobility Report pioneered the way for important urban competitiveness information that allows comparisons by public official and companies that were not possible before. The latest edition advances that purpose.
Wendell Cox is Chair, Housing Affordability and Municipal Policy for the Frontier Centre for Public Policy (Canada), is a Senior Fellow of the Center for Opportunity Urbanism (US), a member of the Board of Advisors of the Center for Demographics and Policy at Chapman University (California) and principal of Demographia, an international public policy and demographics firm.
He is co-author of the "Demographia International Housing Affordability Survey" and author of "Demographia World Urban Areas" and "War on the Dream: How Anti-Sprawl Policy Threatens the Quality of Life." He was appointed to three terms on the Los Angeles County Transportation Commission, where he served with the leading city and county leadership as the only non-elected member. He served as a visiting professor at the Conservatoire National des Arts et Metiers, a national university in Paris.
Top Image: Los Angeles Traffic Congestion: AM Peak, September 2, 2015 From: Google Traffic