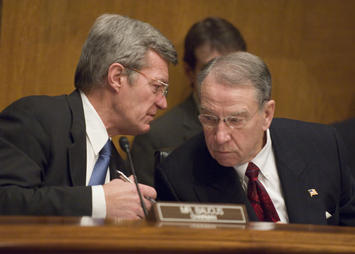 This morning the Senate Finance Committee approved the nomination for treasury secretary of Timothy F. Geithner, head of the Federal Reserve Bank of New York. Geithner is a Wall Street darling, but taxpayers may have a different take. Senator Jim Bunning (R-KY) reminded us at the Senate confirmation Hearing January 20 that Geithner was part of every bailout and every failed policy put forth by the current Treasury secretary. After you read this, you should begin to see why I'm so opposed to Geithner's appointment – I don't want the fox any closer to the hen house than he already is.
For starters, look at what the Fed has admittedly been up to – this is from a recent speech by the President of the San Francisco Fed, Janet Yelin. The Federal Reserve Act authorizes the Fed to lend to "individuals, partnerships, or corporations" in extraordinary times. For the first time since the Great Depression, the Fed is invoking this authority to make direct loans to subprime borrowers – that is, those who can't get credit from a bank.
Basically, the New York Fed, under Geithner's direction, created a couple of special companies so they could print money to get around restrictions on what the Fed can do directly. Now, be perfectly clear on this first point – this is not Treasury or TARP or Congress that's spending this money. It's the Federal Reserve. They don't have to ask Congress for money, they just print it. The Fed is providing "credit to a broad range of private borrowers." And by-and-large, they don't have to tell you who they give the money to, either. Here's how Yelin put it:
"It is worth noting that, as the nation's central bank, the Fed can issue as much currency and bank reserves as required to finance these asset purchases and restore functioning to these markets. Indeed, the Federal Reserve's balance sheet has already ballooned from about $900 billion at the beginning of 2008 to more than $2.2 trillion currently—and is rising."
Notice how easy it is to double our money – they just keep the printing presses running. In fact, the recent expansion is extraordinary. Since 2003 the Fed's balance sheet averaged only $838 billion. So this doubling has all taken place in the past year. In the last recession, around 2002, the Fed's balance sheet increased by only 13%. If the current recession started in 2007, and if the Fed's balance sheet is any gauge, then we're in for much worse.
Average Federal Reserve balance sheet
| | | |
| --- | --- | --- |
| Year | Reserves | % change |
| 2000 | $625,822,500,000 | |
| 2001 | $653,774,500,000 | 4.5% |
| 2002 | $740,502,000,000 | 13.3% |
| 2003 | $762,853,509,434 | 3.0% |
| 2004 | $803,004,846,154 | 5.3% |
| 2005 | $843,397,519,231 | 5.0% |
| 2006 | $877,922,692,308 | 4.1% |
| 2007 | $907,023,653,846 | 3.3% |
| 2008 | $1,228,848,679,245 | 35.5% |
| 2009 | $2,175,364,000,000 | 77.0% |
2000-2002 are for last 2 weeks only; 2009 is for first 2 weeks only. Data available from http://www.federalreserve.gov/releases/h41/hist/
Where are they spending all this cash? You probably didn't hear that the Fed started buying commercial paper through these "private-sector vehicle[s]" created to sidestep an act of Congress. (Commercial paper is the short term debt of corporations.) Another thing you aren't hearing about is that back in November 2008, the Fed bought $600 billion of mortgage-backed securities from AIG. This action, if taken without subterfuge, would not be legal. The Federal Reserve Act limits the Fed to buying securities that were issued or guaranteed by the U.S. Treasury or U.S. agencies. In order for the Executive Branch to get around a limit placed by the Legislative Branch, the Fed got help from the Treasury.
Yelin laid it out unabashedly: "Cooperation with the Treasury is necessary because the program entails some risk of loss and, under the Federal Reserve Act, all Fed lending must be appropriately secured. The Treasury has committed $20 billion of TARP funds to protect the Fed against losses on the Fed's lending commitment of up to $200 billion." Don't kid yourself: this is a credit default swap on a national level.
On June 26, 2008, the Fed used this scheme to buy the assets of Bear Stearns. That money went to JP Morgan. On November 25, 2008, Geithner's New York Fed bought out the underlying assets for which American International Group had written credit default swaps, saving AIG from having to pay off the swaps when the assets failed. On December 12, 2008, they bought more residential mortgage-backed securities from AIG. Those two bailout packages currently stand at about $73 billion. The big ones are those where the recipients are not being named. On October 27, 2008, they bought commercial paper from "eligible issuers." On November 24, 2008, they bought "certificates of deposit, bank notes, and commercial paper from eligible issuers."
In an odd twist of democracy, you can read all about Geithner's personal income tax problem but you won't find anywhere information on who is benefiting from this particular bailout money which Geithner is in charge of passing out. The commercial paper bailout from the Fed (this doesn't include anything that Treasury is doing or that Congress has authorized) stands at $333 billion.
They aren't done, either. According to Yelin, there are plans in place to substantially expand this spree of lending, buying, and guaranteeing to include more kinds of assets issued by more kinds of institutions, like commercial loans and non-agency mortgage-backed securities.
Senator Chuck Grassley (R-IA) referred to this as Geithner's participation in "a monstrous act of government intervention and ownership over our financial markets." While TARP has a Special Inspector General and various congressional oversight duties, similar transparency and oversight does not exist for the bailouts conducted by Geithner in New York. Geithner may be, as Grassley asked him, "the general, drawing on your financial sector expertise, who will marshal the financial troops and assets of the Treasury Department." But he can't "lead our nation to prosperity."
He couldn't, in six years, stop the primary dealers in US Treasuries from selling more bonds than Treasury issued. The only way this could go on to the extent that it did, with an average of $2.1 trillion of Treasuries sold but undelivered for seven weeks from September 24 to November 5, is because Geithner did not have the support of the "financial troops" to stop it. In fact, I will suggest to you that this level of abuse, in what amounts to massive naked short selling of US Treasury securities, could only be done with complicity.
Finally, it is a simple matter to compare Geithner's activities at the Fed to those of Ken Lay at Enron. Remember all those "partnerships" with cool names derived from Star Wars movies? Geithner's New York Fed created Delaware Limited Liability Companies with the name "Maiden Lane" which is the Fed's street address in New York. They are using unregulated companies to make loans and to buy and sell assets completely outside the view of the public. The Senate Finance Committee approved Geithner's nomination on January 22, 2009 in an Open Executive Session. Geithner has proven he can hide the ball; let's not let this scheme move to Treasury.
Susanne Trimbath, Ph.D. is CEO and Chief Economist of STP Advisory Services. Her training in finance and economics began with editing briefing documents for the Economic Research Department of the Federal Reserve Bank of San Francisco. She worked in operations at depository trust and clearing corporations in San Francisco and New York, including Depository Trust Company, a subsidiary of DTCC; formerly, she was a Senior Research Economist studying capital markets at the Milken Institute. Her PhD in economics is from New York University. In addition to teaching economics and finance at New York University and University of Southern California (Marshall School of Business), Trimbath is co-author of Beyond Junk Bonds: Expanding High Yield Markets
.