The 2019 market share data has just been released by the American Community Survey. Looking at driving alone and transit market shares, there has been virtually no change since 2010, with driving alone accounting for about three-quarters of commuting, while transit remains steady at 5%. The big news before Covid: the increase in people usually working from home (also referred to as telework or telecommuting)
Working from Home
Working from home has risen more than three times the rate that of driving alone or transit and about 10 times as much as car pools. Working from home passed transit in the number of commuters in 2017. This represents a reversal of two million commuters since 2010, when there were 800,000 more transit commuters than those working at home. Working from home ranks third behind driving alone and car pools in its share of the market. By the end of 2019, working at home attracted 5.7% of the market, compared to 4.3% in 2010.
This is a nationwide phenomena. Among the 110 metropolitan areas with more than 500,000 population, working from home increased in 104. This is the first year that a larger metropolitan area has achieved a working from home market share exceeding 10%. Working from home is distributed fairly widely around the country. The median (middle) market has a working from home share of 5.3%.
The highest working from home market share was in tech hubs Austin (10.3%) and Raleigh (10.2%). Daytona Beach, Pensacola and Denver all had working from home market shares exceeding 9% (Figure 1). The balance of the top ten were all above 8%, including Atlanta, Tampa-St. Petersburg, Cape Coral (FL), Sarasota (FL) and Ogden (UT).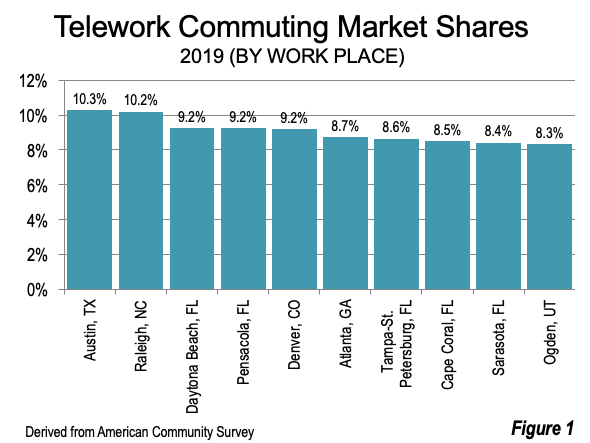 However, during the pandemic this figure has increased exponentially. Stanford University research estimates that the work from home market share is now eight times as high and, even after the pandemic, should reach about 20 percent, almost four times the pre-Covid rate.
Strongest Work from Home Markets and Transit
In some of these metropolitan areas, the rising in working from home comes despite the fact that there have been substantial public spending to establish new rail and busway systems. In Atlanta, where the federal government largely paid for one of the largest new rapid transit systems built in the last half century, more than three times as many people working from home as ride transit to work. Denver, with its more modest, but expensive light rail system opened over the past quarter century has twice as many working from home as transit commuters. Tampa-St. Petersburg, whose taxpayers are under virtually endless pressure to pay for a rail transit system has 8 times as many working from home as transit commuters.
In Austin, with the largest work from home market share, the city council is now asking voters to approve a $7.1 billion package, principally composed of two new rail lines. This would impact only the city, which has less than 45% of the metropolitan area population. Since 2010, transit's share has dropped a quarter in the city, despite the addition of a new rail line. At the same time, the working from home market share increased by half.
The table below indicates the work from home and transit market shares for the 110 metropolitan areas for both 2010 and 2019.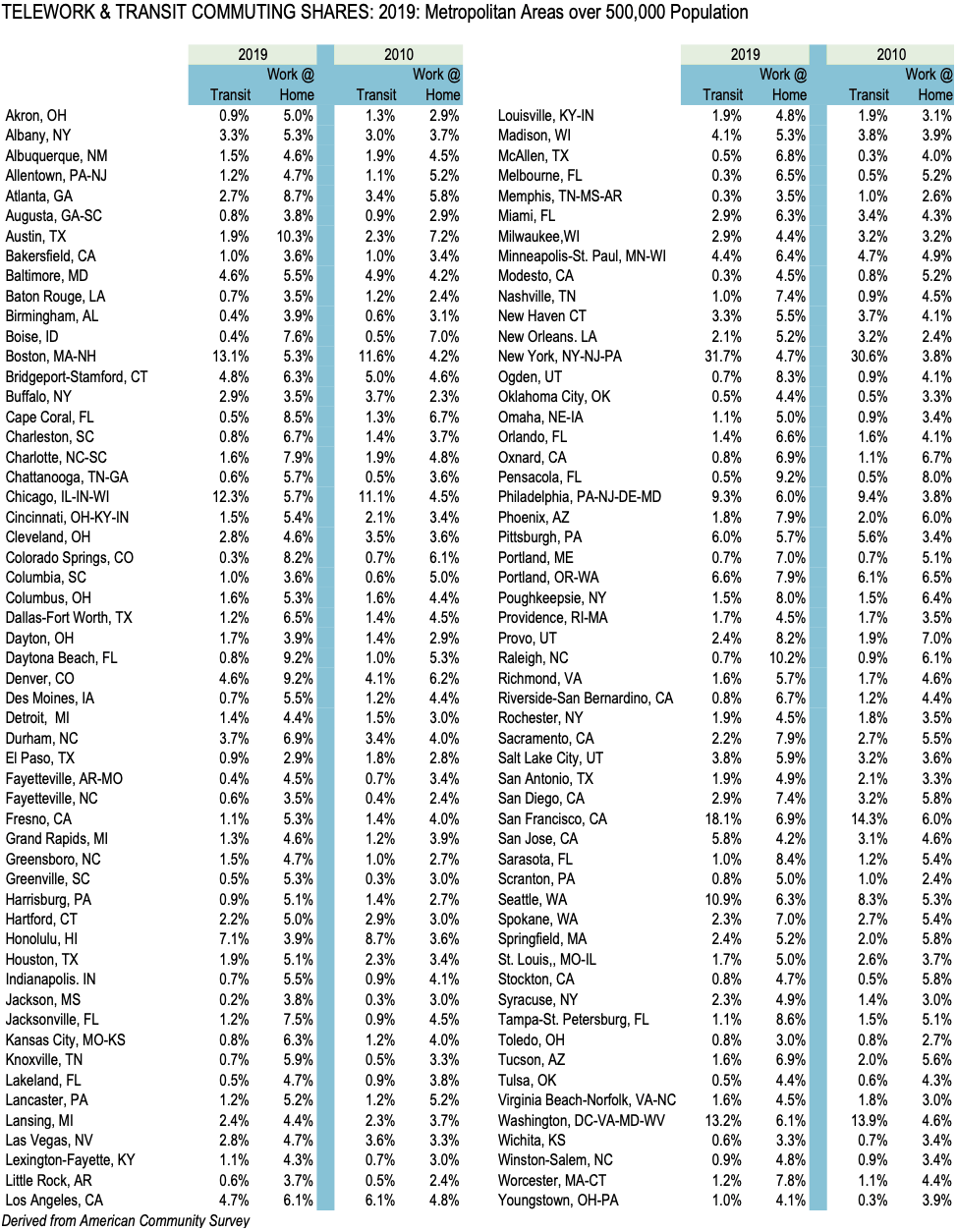 Transit and Working from Home
Transit's median market share among the 110 metropolitan areas is only 1.4%, less than a third that of working from home. This illustrates the concentration of transit commuting in just a few metropolitan areas. More than two thirds of transit commuting is in the transit legacy cities (New York, Chicago, Philadelphia, San Francisco, Boston and Washington).
Transit commuting is very concentrated. Nearly 60% of transit commuters work in just six cities that have only 6% of the jobs. Nearly one half of commuters to these jobs use transit. In the rest of the nation, with 94% of the jobs, only two percent of commuters use transit (Figure 2).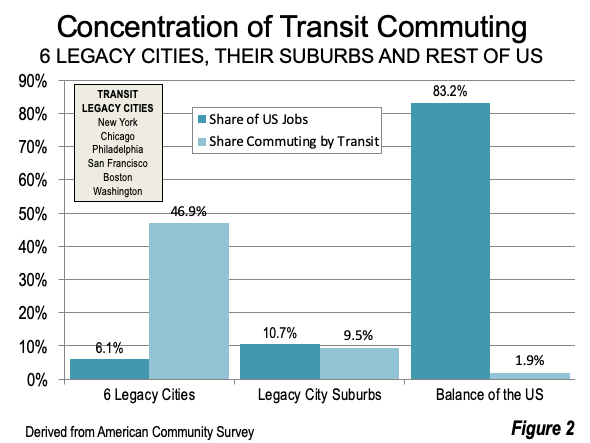 New York has by far the highest transit market share (31.7%), more than four times its working from home share. New York also had the largest ridership gain, at nearly 400,000. San Francisco did very well, increasing nearly 160,000, and now exceeds Los Angeles by a comfortable margin. In 2010, Los Angeles, having spent perhaps $25 billion so far on building its rail and busway system, led San Francisco by more than 50,000, but now trails by 140,000. Chicago added more than 100,000. Boston and Seattle (without a transit legacy city) added nearly 100,000 new transit commuters each.
The Seattle Anomaly: Nearly 90% of the new transit commuting was to locations in the city of Seattle, which has less than one third of the metropolitan area employment, according to American Community Survey data.
In Seattle much of the increase was attributable to the downtown employment growth, driven by a large addition of Amazon headquarters employees. However, Amazon has withdrawn from plans to occupy an under construction 59 story tower, to be the Seattle's second tallest (photograph above), in response to city taxation initiatives. Amazon is increasing its workforce in the suburban Bellevue edge city by 10,000 employees, opening new offices for its cloud services in Redmond, which is even farther from downtown.
Threatened Downtowns: But Seattle and six legacy city downtowns have an even greater problem — the threat that working from home could seriously reduce daytime business populations. During the pandemic, far fewer people are travelling to work locations in dense employment centers, such as downtowns. Last week, according to Google Mobility, work visits were down from before the pandemic 64% in the city of San Francisco, 60% in Manhattan (New York), 57% in Washington, 49% in Boston and 43% in Philadelphia. Each of these cities and Manhattan are also counties, for which there is data. Chicago has little more than one-half Cook County's population, with its largely post-World War II suburban form. Overall Cook County's work visits are down 40%. Suburban work visits have dropped considerably less than to core cities, so it is likely that the reduction in the city of Chicago is much more than the Cook County figure.
Significantly, on September 23, San Francisco's Metropolitan Transportation Commission took action recognizing the importance of working from home. The MTC action recommends a mandate requiring large employers to have 60% of their employees work from home. This is only an observation, not an endorsement. However, the action is particularly notable because transit planning organizations and metropolitan planning organizations have been lukewarm, if not entirely dismissive of working from home as a regional strategy.
Whether or not the mandate is ultimately adopted may have little impact on the trend. Many analysts expect that a large number of commuters will simply not return to jobs in the larger downtown areas in the post-pandemic world.
The Benefits of Working from Home
Society can reap substantial gains with a much increased working from home component. A person working from home drives zero miles to work, a reduction of 100% from the distance that would be otherwise driven. A long term upward shift in working from home could substantially reduce traffic congestion and the highway infrastructure built to respond to it. It can only be hoped that reduced travel demand will reduce spending on transit megaprojects, which have produced no material shift from driving to mass transit, despite routine promises to the contrary. More working from home will also reduce air pollution and greenhouse gas emissions. It's a shame that it took a pandemic to make all of this so obvious.
Photograph: Near complete Rainier Square Tower, downtown Seattle (by author).
---
Wendell Cox is principal of Demographia, an international public policy firm located in the St. Louis metropolitan area. He is a founding senior fellow at the Urban Reform Institute, Houston and a member of the Advisory Board of the Center for Demographics and Policy at Chapman University in Orange, California. He has served as a visiting professor at the Conservatoire National des Arts et Metiers in Paris. His principal interests are economics, poverty alleviation, demographics, urban policy and transport. He is co-author of the annual Demographia International Housing Affordability Survey and author of Demographia World Urban Areas.
Mayor Tom Bradley appointed him to three terms on the Los Angeles County Transportation Commission (1977-1985) and Speaker of the House Newt Gingrich appointed him to the Amtrak Reform Council, to complete the unexpired term of New Jersey Governor Christine Todd Whitman (1999-2002). He is author of War on the Dream: How Anti-Sprawl Policy Threatens the Quality of Life and Toward More Prosperous Cities: A Framing Essay on Urban Areas, Transport, Planning and the Dimensions of Sustainability.