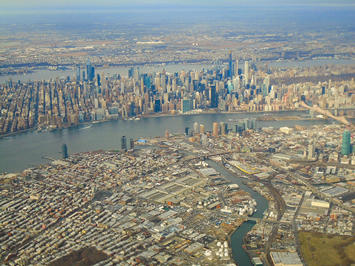 The Partnership for New York City polled its members in the last month and found that, as of early March, 10% of Manhattan office workers who were working remotely (generally working at home) had returned to the office. This is unchanged from October. The purpose of the survey was to project future shares of working in the office and working at home in the nation's largest central business district (CBD). Data from 1990-2000 indicated that the New York's Midtown section of the CBD had the highest employment densities in the world. The author since traveled to all of the largest CBDs, and believes that Manhattan continued this supremacy, at least until the Covid-19 pandemic.
Manhattan has more than 1.9 million workers at jobs south of Central Park, based on estimates from American Community Survey data. The Partnership for New York City includes "the city's pre-eminent business leaders and employers of more than 1.5 million New Yorkers."
Impact of Covid-19 on New York
The Covid-19 pandemic and lockdown measures have devastated on-site working in this high rise business district, which relies on crowded elevators for accessing offices and crowded mass transit for reaching work locations from home. These often insufficiently ventilated spaces increase exposure density and the necessary social distancing was not feasible.
As of this writing (week of March 29), traffic cameras (example: Fifth Avenue at 49th Street) continue to show largely empty streets compared to normal. Mass transit ridership continued last week at well below average. Currently available weekday ridership last week was down a minimum of 78% from last year on the Metro-North Railway, which serves Grand Central Station from the Hudson Valley and Connecticut. Ridership on the Long Island Railroad plunged at least 73%, subway ridership was down at least 66%, while that on buses was down a minimum of 52%. Manhattan relies heavily on mass transit, carrying an estimated 78% of Manhattan CBD employees. The large majority of Metro-North and Long Island riders have destinations within the Manhattan CBD. MTA bridges and tunnels had a reduction of at least 10% in traffic (Figure 1).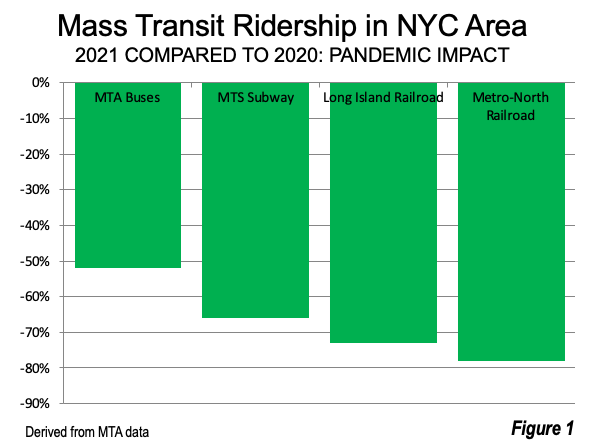 With this massive decline in economic activity in this perhaps most important business center in the nation, there has been considerable speculation about the future. Members polled by the Partnership for New York City reported that:
10% of remote workers have returned to work, a figure unchanged over the last six months.
By September, members expect 45% of remote workers to return to the office.
56% of office workers are expected to continue to work part of the time at home permanently.
Generally, a larger share of remote workers have returned to the office among smaller employers. Companies with fewer than 500 employees report that 20% have returned to the office. Only 8% of employees at employers with more than 1,000 employees have returned to the office.
In the longer term it is expected that 66% of employers will implement a "hybrid model," in which employees work some of the time at home and some of the time in the office. Another 9% do not expect to require workers to return to the office, in effect becoming virtually 100% remote work based. About one-fifth of employers expect to require employees to return to the office full-time.
Traffic Implications
If the 56% hybrid figure materializes, it would revolutionize travel in the New York metropolitan area and transform both office requirements and design in Manhattan. Employers are likely to require less office space, with so many workers at home. Mass transit should not be nearly as crowded. Because much of Manhattan's commuting is by mass transit, the road traffic impacts could be only slight.
But Manhattan is the most unusual business center in the nation. Chicago's Loop, the second largest CBD, had only one-quarter the employment of Manhattan before the pandemic. Only six CBDs outside Manhattan have more than 1/10th of its employment level. However, pandemic related quiet streets and sidewalks have replicated those of Manhattan. In those places, employers will also need less space, but mass transit shares are smaller, and traffic could be materially reduced.
I suspect that the increase in remote work has been smaller outside the largest CBDs, yet it could be large enough to generally reduce traffic congestion and improve urban travel times — and also the quality of life for office workers — for years to come.
---
Wendell Cox is principal of Demographia, an international public policy firm located in the St. Louis metropolitan area. He is a founding senior fellow at the Urban Reform Institute, Houston, a Senior Fellow with the Frontier Centre for Public Policy in Winnipeg and a member of the Advisory Board of the Center for Demographics and Policy at Chapman University in Orange, California. He has served as a visiting professor at the Conservatoire National des Arts et Metiers in Paris. His principal interests are economics, poverty alleviation, demographics, urban policy and transport. He is co-author of the annual Demographia International Housing Affordability Survey and author of Demographia World Urban Areas.
Mayor Tom Bradley appointed him to three terms on the Los Angeles County Transportation Commission (1977-1985) and Speaker of the House Newt Gingrich appointed him to the Amtrak Reform Council, to complete the unexpired term of New Jersey Governor Christine Todd Whitman (1999-2002). He is author of War on the Dream: How Anti-Sprawl Policy Threatens the Quality of Life and Toward More Prosperous Cities: A Framing Essay on Urban Areas, Transport, Planning and the Dimensions of Sustainability.
Photo credit: Midtown Manhattan (Brooklyn & Queens in the foreground), by author.