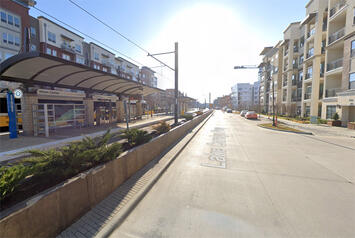 The Dallas Area Rapid Transit (DART), the transit agency serving Dallas and a dozen other cities, is proud of the fact that it has built the longest light-rail system in the country. It is almost as proud of the many transit-oriented developments (TODs) built near light-rail stations. Of course, it never mentions that many if not most of those developments were subsidized through below-market land sales, tax-increment financing, and other government assistance.
The answer appears to be "not very well." DART's vision was visibly failing by 2016, and it has only gotten worse since then. Despite construction of new TODs every year, Dallas light-rail ridership declined in every year from 2015 to 2019. Bus ridership also declined from 2015 to 2018 but recovered in 2019, a recovery not shared by the light-rail system.
Many light-rail stations have seen lots of apartments and offices built within a half mile of the station, yet ridership remains low. A Houston Strategies blog post points out that TOD near the Las Colinas station in Irving includes thousands of apartments and several large office buildings, yet that station attracted the second-fewest riders of any station on the DART system in 2020.
"Everywhere you look in Irving, and particularly in Las Colinas along the DART corridor, you see cranes and construction," DART quotes Irving's mayor as saying. "The transit oriented development projects, when completed, will have delivered 23 projects that include 15,000 residential units, and nearly 11 million square feet of retail and office space."
According to a fact sheet published by DART in 2013, at least 4,000 apartments and condos had been built or were under construction near the Las Colinas station as well as several hotels. The fact sheet claimed that an average of 740 people got on or off a light-rail train per weekday at the Las Colinas station.
If Las Colinas ever had 740 trips per weekday, it certainly didn't in 2019. According to DART's most recent data, average daily ridership at Las Colinas was only 274 per day, the third-lowest in the system. (As Houston Strategies noted, it dropped to the second-lowest in 2020, but declines in that year were partly due to the pandemic.) Keep in mind that number includes both boardings and deboardings so 274 represents just 137 round-trips per day.
Las Colinas is not the only station surrounded by so-called transit-oriented development whose ridership is pathetic. DART quotes the mayor of Richardson saying, "access to DART has had a tremendous and positive impact on our community, spurring transit-oriented developments such as the $1.5 billion CityLine project." According to DART's 2013 fact sheet for Richardson's Gatylyn Park station, development around the station includes hundreds of apartments, several hotels, and offices employing nearly 10,000 people. The fact sheet claims average daily ridership of 550, but by 2019 it was down to 386, making it the fifth-worst performing station in the 64-station system.
Read the rest of this piece at The Antiplanner.
---
Randal O'Toole, the Antiplanner, is a policy analyst with nearly 50 years of experience reviewing transportation and land-use plans and the author of The Best-Laid Plans: How Government Planning Harms Your Quality of Life, Your Pocketbook, and Your Future.
Photo credit: screenshot from Google maps Google Street Maps.