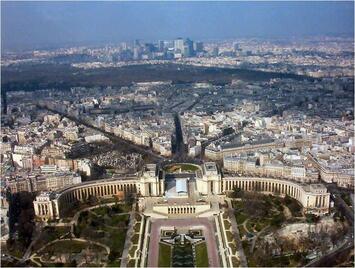 Mayors and urban planners have crucial roles in the management of cities. They must help cities adapt rapidly when confronted with external shocks—the pandemic is only the latest one of these. To be a prudent and efficient janitor is the main task of mayors.
However, mayors and urban planners feel obliged to invent more glorious tasks to demonstrate their creativity during political campaigns. Mayors must now have a "vision" rather than simply being competent managers of the capital represented by urban infrastructure and facilities. Urban planners often promote this confusion about mayors' missions. They pretend that a city is a complex object that must be designed in advance by brilliant specialists. They would then impose their design on the city's inhabitants who lack vision and genius.
In recent years, the mayors' vision expressed itself through qualifiers that changed like fashion: sustainable development, the smart city, the resilient city, the livable city, and more recently, the post-pandemic city. These slogans had the advantage of having a positive connotation without incurring a quantifiable obligation on the politician who proclaimed them. Of course, no one can be against sustainable development or cities being smart. But there are no measurable indicators to prove that a proposed urban policy guarantees sustainable development more than another. Thus planners can easily justify initiatives that tend—for instance—to either increase urban density or reduce it, all in the name of sustainable development, livability, or resilience.
Therefore, we should welcome the innovation coming from the Municipality of Paris, which, by promoting the city of 15-minute, proposes a "vision" that already contains its performance indicator. Carlos Moreno, "Professor of Universities, expert in cities," is the inspiration and leading promoter of the 15-minute city that has become the official policy of Anne Hidalgo, Paris' mayor, since her reelection campaign in March 2020.
Why should we bother to test the feasibility of a political slogan used during a campaign for the reelection of a Paris mayor, even if this campaign was successful? Because strangely enough, the idea of a 15- minute city is taken very seriously across the urban world. It is becoming the motto of many cities and the object of many articles in prestigious press like the New York Magazine, the Washington Post, The Guardian, and the Financial Times.
The 15-minute city idea has been repeated in many forms by mayors and planners worldwide—the latest, by an unsuccessful mayoral candidate for New York City during his primary campaign in May 2021.
Even a prominent urban economist like professor Ed Glaeser has been sufficiently alarmed by the spread of the 15-minute mania that he felt obliged to comment on it. In a blog, he wrote that the 15-minutes city "should be recognized as a dead-end which would stop cities from fulfilling their true role as engines of opportunity."
Continue reading/download the entire article (PDF opens in new tab or window).
---
Alain Bertaud is an urbanist and, since 2012, a senior research scholar at New York University's Marron Institute of Urban Management. He has published a book about urban planning, Order Without Design: How Markets Shape Cities. The book was published by MIT Press in November 2018.
Bertaud earned the Architecte DPLG diploma from the Ecole Nationale Supérieure des Beaux-Arts in Paris.
Bertaud previously held the position of principal urban planner at the World Bank. After retiring from the Bank in 1999, he worked as an independent consultant. Prior to joining the World Bank, he worked as a resident urban planner in a number of cities around the world: Bangkok, San Salvador (El Salvador), Port Au Prince was (Haiti), Sana'a (Yemen), New York, Paris, Tlemcen (Algeria), and Chandigarh (India).
Bertaud's research, conducted in collaboration with his wife Marie-Agnès, aims to bridge the gap between operational urban planning and urban economics. Their work focuses primarily on the interaction between urban forms, real estate markets, and regulations.
Photo: Ville de Paris, Bois de Boulogne and La Defense, Paris from the Eifel Tower, by Wendell Cox